Highlights

NFT cryptos often come with blockchain gaming features, which is compared to the metaverse
Lately, many such cryptos have gained value, and a few analysts predict that a broader rally in cryptos may push prices higher
Sony and Microsoft's metaverse moves are also being closely tracked by crypto experts
The noise is that cryptocurrencies are on a losing spree in 2022. Bitcoin, the heart of crypto world, has lost value, and so have most other cryptos.
But the wider picture is that all riskier assets including listed stocks are subdued. Investors fear that the Fed's rate hike move will suck liquidity from the market. With the passage of time, however, bulls seem to be returning, at least in some capacity. As of now, many cryptocurrencies including BTC and Ether have gained over the past seven days as well as over the last 24 hours.
These gains of Bitcoin and Ether are, however, lesser than some metaverse and NFT cryptos like MANA and SAND. Let's look at the potential top five NFT cryptos for February 2022.
1. Flow (FLOW)
Flow is not a typical non-fungible token asset. Instead, Flow is an ecosystem that supports the development of blockchain games and NFTs.
Almost every blockchain game has NFT features that allow users to win and trade digital assets like an avatar or even a piece of land. Flow blockchain is an enabler for blockchain gaming developers. Though Flow supports a variety of decentralized apps, the primary focus is on games and digital collectibles.
The team behind CryptoKitties, a blockchain-powered game, is said to have developed Flow, which is a proof-of-consensus based blockchain for creation of smart contracts. Flow's FLOW token has gone up almost 50 per cent over the past seven days. As of now, the price is nearly US$6.9, and the market cap is over US$2.2 billion.
Also read: YouTubers and cryptocurrencies: Should you be influenced?
2. Enjin Coin (ENJ)
Enjin is another diverse ecosystem with blockchain gaming at its heart.
The primary function of the network is to allow developers to use Ethereum's blockchain and create in-game tokens. The network claims that every NFT minted on Enjin comes with ENJ token. The token is used to back the value of minted digital assets.
The NFT minting network has a market cap of nearly US$1.5 billion as of now. ENJ token is trading at nearly US$1.8.
3 NFT Cryptos to Watch in February 2022
3. Decentraland (MANA)
A top metaverse token, MANA is popular in NFTs for its digital real estate. Decentraland market cap is the highest among the five cryptos mentioned here.
What makes Decentraland popular is the high price of its virtual real estate, which has stunned market watchers. A piece of land on Decentraland metaverse can sell for millions of dollars. Samsung recently launched its virtual reality store on Decentraland.
MANA token of Decentraland is trading at nearly US$2.7 as of now. In November 2021, it hit US$5.5, but the rally was short-lived. The high market cap and real estate NFTs make MANA a close watch in the near-term.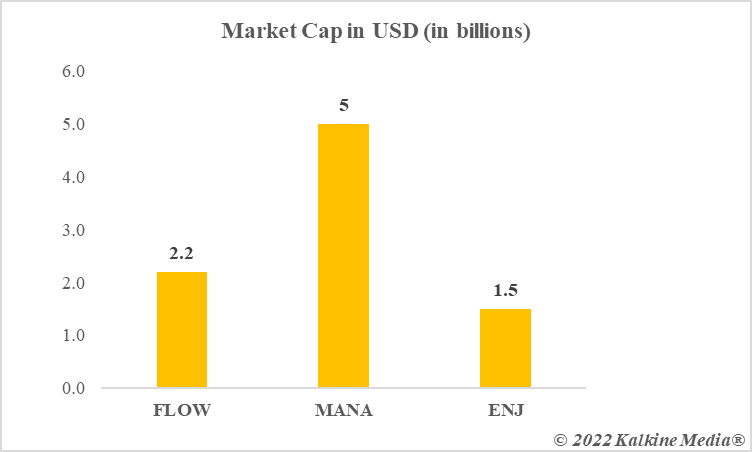 Data provided by CoinMarketCap.com
4. Axie Infinity (AXS)
Axie was not only popular last year, but it was also one of the best performing assets.
Axie Infinity game allows users to earn Axie NFTs, which can be sold at appreciated prices on platforms like OpenSea. Axie Infinity has a high user base. AXS token of this game has so far lost immensely in 2022. At one point in 2021, AXS was trading at US$160. The price as of now is nearly US$52.
AXS may gain in the medium-to-long term if Axie Infinity platform can attract more gamers and if its NFTs trade well.
Also read: Top 5 cryptocurrencies to watch in February 2022
5. NFTX (NFTX)
NFTX is not as popular as the above four, but it claims to provide a unique service. The platform allows creation of funds that track the values of NFTs like CryptoKitties. These funds can be traded.
NFTX index funds may find acceptance among NFT enthusiasts that do not want to trade in these assets directly.
With a current market cap of nearly US$57 million, NFTX is not among major cryptos. But within a year of launch, the platform has gained enough traction. NFTX crypto is trading at nearly US$140 as of now.
Also read: Why are NFTs valuable?
Viewpoint
NFT cryptos are one of the most popular among retail investors. The above five have gaming and NFT features. These cryptos have lately gained value. Metaverse and the anticipated entry of big players like Microsoft in gaming is being closely tracked by analysts. As the wider crypto market emerges from the early-January bearish trend, these five cryptos may also gain, but nothing can be certain in cryptos.