Highlights

Contact aims to lead decarbonisation of NZ.
Contact has proposed forming a new entity called ThermalCo to retire all thermal generation assets of NZ as a new renewable generation is built.
The Company will help in accelerating the shift away from the current dependence on electricity generated from fossil fuels.
The largest privately owned energy firm in New Zealand, Contact Energy Limited (NZX:CEN;ASX:CEN), released a report on 18 November that summarises advantages of creating a market-based solution across the industry to handle the withdrawal of thermal electricity generation.
The electricity market of NZ is amongst one of those 9 countries that have an AAA rating in the World Energy Council Energy Trilemma index that shows a balance of environmental sustainability, energy security and energy equity across the world.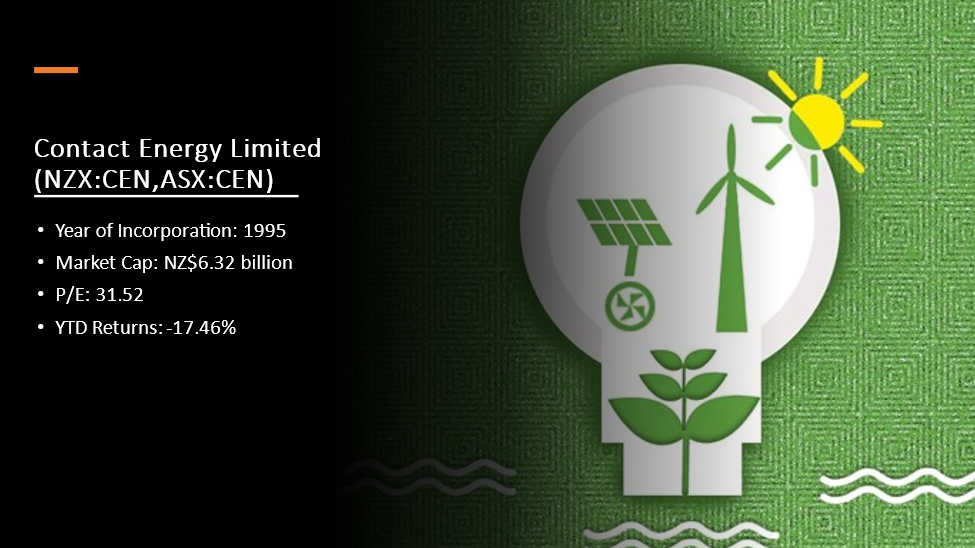 Image source: © 2021 Kalkine Media, Data source- Refinitiv
What is the report?
The report is named 'Crafting a path for New Zealand's 100% renewable electricity market'.
During times of peak demand, New Zealand relies on thermal electricity generation from gas, coal, and diesel. This is also the case when renewable energy sources such as water, wind, and sun are inadequate to meet the demand.
RELATED READ: Which are 5 NZX renewable energy stocks to consider in November?
The report explores how the country can shift away from its current dependence on electricity generated by fossil fuels without upsetting the electricity supply to Kiwis. It defines an efficient way to decarbonise thermal production at the least cost.
What has Contact proposed?
Contact has proposed the establishment of a new entity called ThermalCo. It will be an entity that will own, run and retire NZ's major thermal assets. The entity will also possess the mandate of selling risk management products to industry participants.
Interesting Read: Contact (NZX:CEN) What is its indicative pricing for green Capital Bond offer?
Will this approach and transition to 100% renewable electricity benefit NZ?
The transition to a 100% renewable power market might open up significant opportunities for New Zealand, benefiting the environment and communities. It will also provide New Zealand firms a competitive advantage.
Reduced thermal generation combined with an equal increase in renewable production, according to the Climate Change Commission, will cut emissions by nearly 1.2 million tonnes of CO2 equivalent per year between 2022 and 2030.
INTERESTING READ: COP26: A Battle Between Politicians and Thousands of Climate Change Protesters
However, impromptu and unplanned shutdowns of thermal generating assets might cause problems. There might be market uncertainty, delaying renewable energy investment at a time when the process has to move quickly.
Bottom Line
Electricity generation accounts for 5% of the carbon emissions of NZ, possessing substantial ability to support emissions reduction across the country.
Contact has an objective to lead the decarbonisation of NZ.