Highlights

RGD stock galloped by about 250 per cent in 52 weeks.

AN stock delivered a return of about 244 per cent in 12 months.

ShaMaran Petroleum's return on equity was roughly 128.56 per cent.
Penny investors generally focus on cheap stocks with significant return potential in the near term (or in future) rather than big companies with heavy price tags that are expected to provide normal returns in the long run.
Though penny stocks are said to involve high risk, ensuring proper quality checks and healthy underlying business could unlock considerable gains.
So, here we are discussing 10 Canadian penny stocks priced under 50 cents that penny investors can look into.
Reunion Gold, a junior gold company, has signed a strategic alliance with renowned gold producer Barrick Gold (TSX: ABX) to jointly explore and advance mineral projects in the Guiana Shield.
On June 13, Reunion announced drill results from its Oko West site, which included a significant depth extension of gold mineralization. Further, the resource exploration firm added a diamond drill rig (taking the total rig count to five) to expedite its drilling operations.
Reunion Gold held a market capitalization of C$ 231.72 million. As for its stock performance, the gold scrip galloped by about 250 per cent in the last 52 weeks.
Also read: Top 5 multibagger TSXV penny stocks to buy in June 2022
2. Arena Minerals Inc (TSXV: AN)
The metal firm buys, explores and develops lithium and copper assets in South America. On May 24, Arena signed a collaborative agreement with the lithium company Lithium Americas (TSX: LAC) regarding the Pastos Grandes project.
The junior metal mining company holds an 80 per cent stake in the Atacama Copper property in Chile. It also owns 5.8 million Astra Exploration (TSXV: ASTR) shares. AN stock delivered a return of about 244 per cent in 12 months.
3. Forza Petroleum Ltd (TSX: FRZ)
Forza Petroleum is an energy company engaged in advancing hydrocarbon exploration and production assets to boost oil and gas reserves. The oil company posted a revenue of US$ 82.4 million in the first quarter of FY2022, notably higher than US$ 35.7 million in Q1 2021. Its profit rose to US$ 22.2 million in the latest quarter compared to C$ 21.2 in the first three months of 2021. FRZ stock gained by approximately 95 per cent in the last 52 weeks.
4. ShaMaran Petroleum Corp (TSXV: SNM)
ShaMaran reported US$ 38.83 million in revenue in Q1 FY2022, marking year-over-year (YoY) growth from US$ 20.6 million in Q1 2021. The oil firm also saw its cash flow from operation surge notably to US$ 23.76 million in the latest quarter compared to US$ 5.28 million posted in the first quarter of 2021.
ShaMaran Petroleum's return on equity (ROE) was roughly 128.56 per cent, representing a high return on money invested calculated by dividing net profit by shareholders' equity. SNM stock jumped by about 80 per cent in the time period of 12 months.
Also read: 5 Canadian penny stocks to buy under 50 cents - AN, PQE, RGD, WMG, KEI
5. Western Resources Corp (TSX: WRX)
Western Resources is a basic materials firm engaged in potash mining and operates through its 100 per cent owned subsidiary, Western Potash. The Canadian resource firm signed a subscription agreement with Vantage Chance Limited for a strategic equity investment in February, recently amended on May 20.
According to the amended terms, Western received its first tranche of equity funding worth C$ 33 million from Vantage on May 25. Western Resources saw its stock prices zoom by almost 76 per cent YoY.
6. CWC Energy Services Corp (TSXV: CWC)
Oilfield service company CWC offers contract drilling and production facilities to the energy industry. CWC stock soared by nearly 69 per cent in 52 weeks.
On the financial front, CWC expanded its capital expenditure by 119 per cent to C$ 2.79 million in Q1 2022 from Q1 2021. The energy service company also noted its net profit rise significantly by 669 per cent YoY in the latest quarter.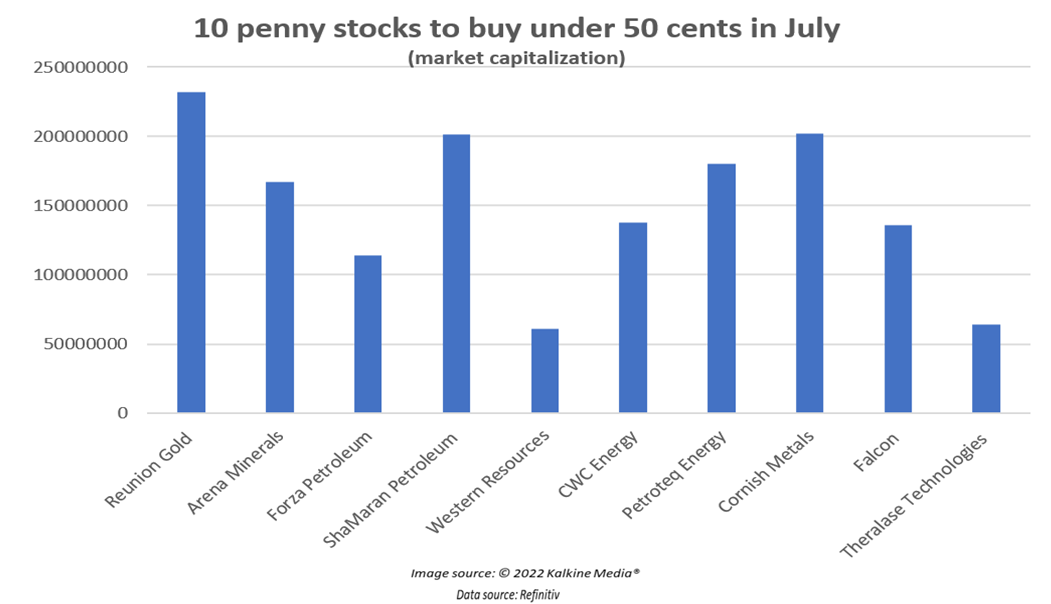 7. Petroteq Energy Inc (TSXV: PQE)
Petroteq Energy has a fully integrated oil and gas business, including oil extraction, processing and mining operations. The C$ 160-million market cap energy company earns revenue by selling hydrocarbon.
PQE scrip jumped by roughly 21 per cent year-to-date (YTD). PQE's price-to-cash flow (P/CF) ratio, which compares a stock's market value to cash flow, stood at 19.50.
8. Cornish Metals Inc (TSXV: CUSN)
Cornish Metals is focused on strategic metal properties, particularly tin mines, in the UK and North America. Cornish held C$ 6.92 million in cash and cash equivalents (CCE) as of January 31, 2022, compared to C$ 353,601 a year ago.
In the past 12 months, CUSN stock spiked by over 46 per cent. However, its YTD return was roughly 35 per cent.
9. Falcon Oil & Gas Ltd (TSXV: FO)
Falcon Oil explores and develops unconventional oil and gas assets in South Africa, Australia and Hungary.
The oil and gas firm said it had a robust financial position with US$ 8.3 million in cash as of March 31, 2022. The company reported zero debt at the end of Q1 2022. FO stock jumped by almost 24 per cent YoY.
10. Theralase Technologies Inc (TSXV: TLT)
Theralase Technologies is a pharmaceutical firm focused on research and development (R&D) of light 'activated' compounds and related drug formulations.
Theralase posted an increased revenue in Q1 FY2022, reflecting a YoY jump of 70 per cent. Revenue from Canada increased by 72 per cent, and from the United States zoomed by 60 per cent in the latest quarter compared to Q1 2021. TLT stock swelled by roughly 24 per cent in a year.
Also read: 3 TSX stocks to buy for quality diversified portfolio: ATD, TOU, CNR
Please note, the above content constitutes a very preliminary observation based on the industry, and is of limited scope without any in-depth fundamental valuation or technical analysis. Any interest in stocks or sectors should be thoroughly evaluated taking into consideration the associated risks.