Highlights

Dollarama expects to open 60 to 70 net new stores in FY2023.
Hydro One reported revenues of C$ 2.04 billion in Q1 FY2022
In April, Descartes Systems also acquired Foxtrot.
The Canadian equity market has ample investing options like growth stocks for young investors out there aiming to invest for a long duration. Such investments may help them build wealth over the years without worrying much about volatility risk in the near term.
Following are three TSX growth stocks that can be considered if one is ready to put their moolah away for long term to earn notable returns. Let us discuss these TSX stocks in detail.
Dollarama is a known in-store and online retailer in Canada. The company also has an ownership stake of 50.1 per cent in Dollarcity, a retail network operator in Latin America. The company opened 38 new Dollarcity stores in Q4 FY2022, higher than 24 new stores opened in Q4 2021.
Dollarama also signed a long-term lease for the seventh warehouse of 500,000 square feet in Laval in FY2022. This facility is projected to be in operation by the end of FY2023 and aims to enhance the company's warehousing capabilities to achieve the target of 2,000 stores by 2031.
In FY2023, Dollarama expects to open 60 to 70 net new stores and incur a capital expenditure of C$ 160 to C$ 170 million.
Also read: ATD, L, MRU, NWC, EMP.A: 5 TSX retail stocks to buy in June
Hydro One Limited (TSX: H)
Hydro One has been a publicly listed utility company since November 2015. The electricity transmission and distribution company signed an agreement with First Nations in Q1 FY2022, according to which they can own a 50 per cent equity interest in the Waasigan Transmission Line project.
Hydro One is expanding its transmission network and license to develop four new transmission lines to fulfil increased electricity demand in southwest Ontario. The electricity utility company reported revenues of C$ 2.04 billion in Q1 FY2022, higher than C$ 1.81 billion in the same period a year earlier. The TSX-listed utility company also said that its net profit grew to C$ 310 million in the latest quarter compared to C$ 917 million in Q1 2021.
Also read: 5 Canadian vegan stocks for June as Kim Kardashian joins Beyond Meat
Descartes Systems Group Inc (TSX: DSG)
Descartes Systems Group, a software provider to the shipping industry, announced to work with WeatherOptics, a weather intelligence platform to offer greater visibility to freight brokers, enabling them to manage transportation risk efficiently.
G&S Logistics also deployed Descartes Aljex™ and MacroPointTM earlier in May to digitize its freight brokerage operations for future growth and provide better transportation services to its customers.
In April, Descartes Systems also acquired Foxtrot to improve and accelerate its route planning and execution solutions. As supply chain worries are still persistent, companies like Descartes Systems could see significant growth as it has rapidly expanded despite the tech sell-off.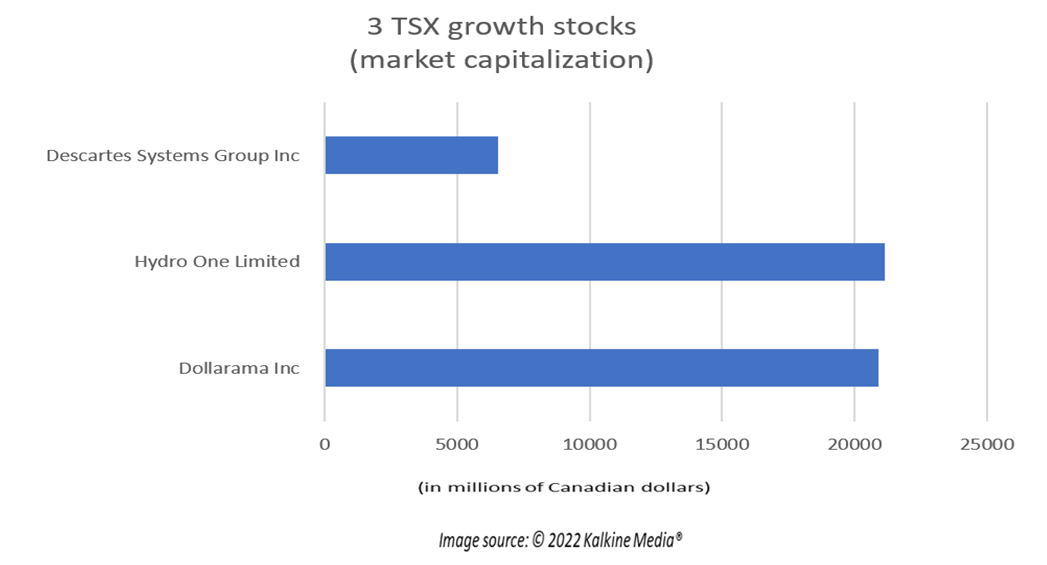 Bottomline
Canadian investors can consider exploring these TSX growth stocks for notable returns in the future. However, investors should note that the stock market movements are extremely difficult to predict, and hence, it is immensely important to align any investment decisions based on their risk and return goals.
Please note, the above content constitutes a very preliminary observation based on the industry, and is of limited scope without any in-depth fundamental valuation or technical analysis. Any interest in stocks or sectors should be thoroughly evaluated taking into consideration the associated risks.