Highlights

Due to stringent measures, the markets are witnessing major fluctuations.
Investors are sceptical due to rising inflation and recession fears.
If you are looking for cheap dividend stocks to generate passive income, you might consider the stocks in this article.
Retail investors need two things during market volatility: dividend-paying and cheap stocks. Inflation is rising, and interest rates have been hiked to address this issue.
Due to stringent measures, the markets are witnessing major fluctuations, and retail investors appear sceptical while making new investments.
If you don't have much money to spend on stocks and are looking for cheap dividend stocks to generate passive income, then this list of curated stocks could be worth considering.
Let's look at the five dividend-paying stocks under $20:
Algonquin Power & Utilities Corp. (TSX:AQN)
It is a diversified utility company providing safe and sustainable energy and water solutions to more than one million customers in Canada and the United States.
At market close on May 25, the AQN stock's price was C$ 18.66 per share. On May 12, Algonquin Power announced a six per cent common share dividend increase.
Also Read: Lightweights in 2022: 5 junior Canadian stocks to buy in May
In the second quarter of 2022, Algonquin will pay a dividend of US$ 0.1808 (C$ 0.2345) per unit to the common shareholders.
Pizza Pizza Royalty Corp. (TSX:PZA)
Pizza Pizza Royalty Corp. operates and franchises quick-service restaurants through its subsidiaries. The corporation has more than 600 locations across Canada.
On May 17, Pizza Pizza announced its monthly cash dividend of C$ 0.065 per share. In Q1 2022, the corporation's royalty pool sales and same-store sales jumped 13.6 per cent.
Also, the corporation's fully diluted earnings per share increased 12.8% year-over-year (YoY) to C$ 0.185. Meanwhile, the royalty income increased to C$ 7,920,000 from C$ 7,034,000 in Q1 2021.
TransAlta Renewables Inc. (TSX:RNW)
TransAlta Renewables is a publicly-traded electric utility that owns and operates energy-producing and transmission assets.
In Q1 2022, the adjusted EBITDA of TransAlta increased by 13% YoY to C$ 139 million. Also, the free cash jumped 9% YoY to C$ 108 million.
As per Refinitiv data, the relative strength index (RSI) value of the RNW stock is 42.5, and it is not in the overselling zone. In the last three months, the RNW stock grew a little by six per cent.
The RNW stock's dividend yield is around 5.4%, and it distributed a monthly dividend of C$ 0.078 per unit.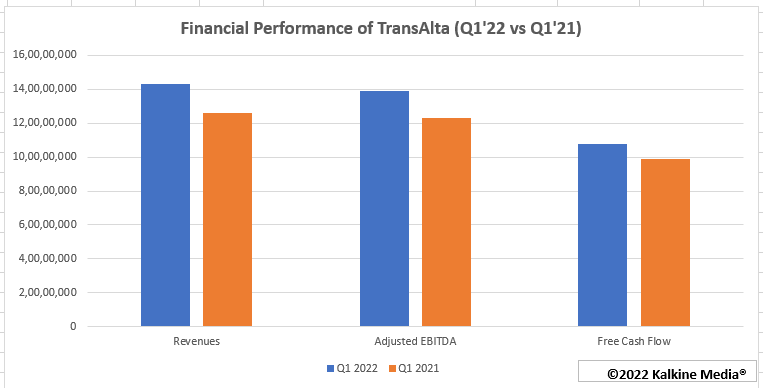 Peyto Exploration & Development Corp. (TSX:PEY)
Peyto is in the energy business and works in the deep basin of Alberta to develop and produce natural gas. On May 13, the energy company confirmed the monthly dividend for June and said it would pay C$ 0.05 per share.
Peyto announced it achieved record funds flow in the first quarter of 2022. The funds from operations were a record C$ 203 million compared to a loss of C$ 53 million.
The energy company's production per share was up 13% to 101,549 barrels of oil equivalent per day (boe/d).
Freehold Royalties Ltd. (TSX:FRU)
Oil and gas royalties are acquired and managed by Freehold Royalties Ltd. The oil and gas royalty has business operations in Canada and the United States. However, most of the revenues come from Canada.
The FRU stock climbed 3.2 per cent during the trading session on May 25 and closed at C$ 15.25 per share. Freehold Royalties has a dividend yield of 6.3 per cent and announced a dividend of C$ 0.08 per share.
In Q1 2022, the funds from operations increased 122% YoY to C$ 71.9 million. Meanwhile, the RSI value of Freehold Royalties is 55, which could mean that investors are holding the stock.
Also Read: Activision soars as Berkshire ups stake: Does Buffett own TSX stocks?
Please note, the above content constitutes a very preliminary observation or view based on digital trends and is of limited scope without any in-depth fundamental valuation or technical analysis. Any interest in stocks or sectors should be thoroughly evaluated taking into consideration the associated risks.