The Canadian market closed on a positive note post the long weekend, with the broader TSX composite Index gaining 78.05 points or 0.38% to close at 20,365.85 on Tuesday. The rise was supported by solid quarterly earnings posted by many Canadian companies and the rebound in energy sector despite falling crude prices.
TSX Technology sector inched up 0.79%, after Shopify stocks gained nearly 2%. Energy and Base Metals sectors gained 0.85% and 0.40%, respectively.
One-Year Price Chart; Analysis by Kalkine Group (Source: Refinitiv)
Gainers and Losers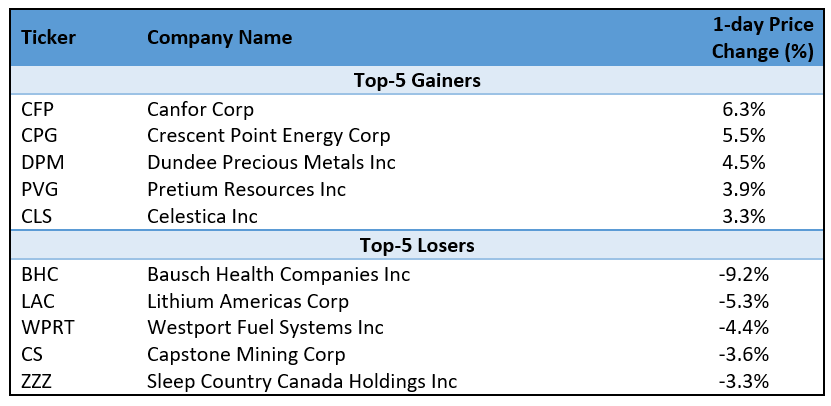 Actively Traded Stocks
Enbridge Inc. was the most actively traded stock on the TSX, with 7.98 million shares exchanging hands. Bank of Montreal and Suncor Energy Inc. were the other two most traded stocks with trading volume of 7.23 million and 6.41 million, respectively.
Wall Street Update
All three major indexes of the Wall Street traded in green supported by solid earnings report, with Dow Jones testing a new record and settling 0.80% higher at 35,116.40. The S&P 500 index traded 0.82% higher at 4,423.15 and the Nasdaq Composite Index closed 0.55% higher at 14,761.3, respectively.
Commodity Update
Safe-haven "Gold" contracts for December traded 0.44% lower at US$ 1,814.10/oz.
International oil benchmark Brent Oil extended losses for the second straight day, down 0.66% to US$ 72.41 per barrel. American Oil benchmark WTI Crude oil contract traded 0.93% at US$ 70.56 a barrel.
Forex Update
The Canadian Dollar lost ground against the U.S. Dollar for the third straight session, while USD/CAD closed at 1.2536, gained 0.22%.
On August 03, 2021, the U.S. Dollar index remained marginally weak against the basket of major currencies and ended at 92.03, down 0.02%.
Money Market
The U.S. 10-year bond yield was down 0.43% and closed at 1.174 on Tuesday.
The Canada 10-year bond yield tanked 7.15% and closed at 1.117.