Highlights

SCRT token belongs to privacy-focused Secret Network, an Ethereum blockchain rival
Secret crypto traded over US$9 at one time in January 2022, but then lost substantially
It was recently listed on Kraken, which likely was behind a limited bull run in early-April
Cryptos are a risky affair, and the volatile run so far this year of biggies like BTC and ETH further fuels this sentiment.
Even in the face of this hyper volatility, crypto assets are popular. While most people have heard about the large-cap crypto assets that include BTC, ETH, BNB, and SOL, the ones with a comparatively lower market cap are not as well-known. Notably, CoinMarketCap tracked prices of a whopping 18,750 assets as of writing.
Today, let's talk about Secret (SCRT) crypto, which lately gained traction, possibly due to its listing on Kraken, a trading platform.
How does the Secret Network claim to be different?
The Secret Network differentiates itself from other blockchain networks by claiming it enables privacy-focused smart contracts, which others like Ethereum do not.
It is projecting itself as a Web3 player that can act as a facilitator for "privacy-preserving" DeFi apps. The project also mentions "Secret NFTs" as one of its services. The primary emphasis of the project appears to be on "secret nodes".
Secret Network, it is claimed, can transfer assets from a different blockchain like BSC to Secret's own network using bridges.
Also read: What is Canada's Federal Budget and how it can impact you?
What is SCRT token?
SCRT token finds use within the project's ecosystem, similar to ETH's use within Ethereum. It can be used in staking and voting on governance, besides paying the network usage fee.
Also read: How is GYEN crypto different from Bitcoin and Ethereum?
SCRT token's price was nearly US$5 at the start of this year, and it rose to over US$9 around mid-January. It fell sharply thereafter, and during much of March, SCRT token traded under US$5. A brief spike was observed earlier this month.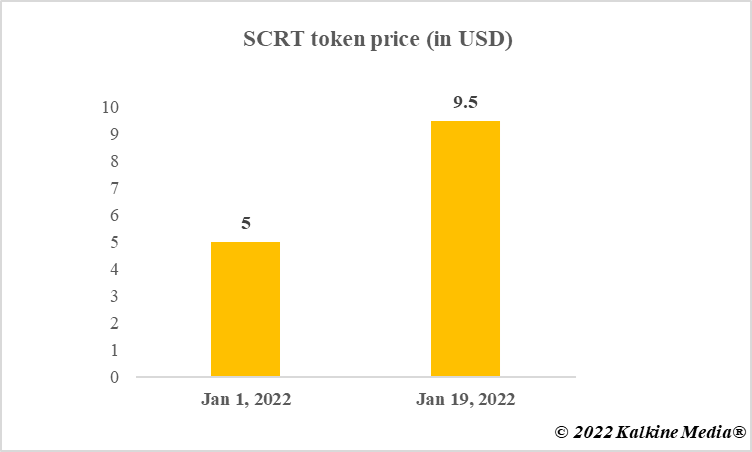 Data provided by CoinMarketCap.com
Bottom line
Cryptos including biggies like Ethereum's ETH are unpredictable when it comes to price. SCRT token has a very long road ahead before it makes its place in top crypto assets by market cap. With a market cap of over US$900 million, Secret crypto ranks in top 100, and its price has fluctuated widely this year.
Also read: What is StrongBlock project? What are STRONG and STRNGR tokens?
Risk Disclosure: Trading in cryptocurrencies involves high risks including the risk of losing some, or all, of your investment amount, and may not be suitable for all investors. Prices of cryptocurrencies are extremely volatile and may be affected by external factors such as financial, regulatory, or political events. The laws that apply to crypto products (and how a particular crypto product is regulated) may change. Before deciding to trade in financial instrument or cryptocurrencies you should be fully informed of the risks and costs associated with trading in the financial markets, carefully consider your investment objectives, level of experience, and risk appetite, and seek professional advice where needed. Kalkine Media cannot and does not represent or guarantee that any of the information/data available here is accurate, reliable, current, complete or appropriate for your needs. Kalkine Media will not accept liability for any loss or damage as a result of your trading or your reliance on the information shared on this website.