Summary

Recent capital raisings to strengthen First Au financially to execute exploration activities at Gimlet
EIS co-funded drilling hole, one of a kind in the Teal-Gimlet mineralisation corridor with depth of 450-500 meters
First Au to assess and evaluate early mining potential via toll treatment
First Au Limited (ASX:FAU), an advanced Gold and Base metals explorer, advancing on acquiring 80% stake in the Victorian Goldfields Pty Ltd ("VicGold") in the Lachlan Fold Belt. The explorer is keen on acquiring 85% stake (post dilution 80%) in the Snowstorm project (EL 5505) and the prospecting license (PL 007319) and consolidating to form a larger Victorian Gold project.
SPP to fuel Upcoming Exploration Program at Gimlet
The au courant audiences must know that First Au recently secured funding commitments worth $1,207,000. Most recently, in an effort to raise a sum of $280,000 through the Share Purchase Plan after the successful $747,000 Share Placement Program, First Au had received applications worth $3,033,500 following the overwhelming response of the shareholders and investors.
In addition to the acquisition expenses, the proceeds from the capital raising program would be utilized for the exploration program at the flagship Gimlet project and for the general working capital requirements.
Gimlet in the prolific Gold mining environment
The Gimlet gold project is located almost 15 kilometers from Kalgoorlie in Western Australia and 500 meters along the strike of the Horizon Mining's (ASX:HRZ) Teal gold mine.
IP Study: First Au in May 2020 initiated a 3D Induced Polarisation study at the Gimlet project which had earlier been extensively conducted within the Yilgarn region and even at the neighboring Teal mine. The IP survey is expected to demonstrate Sulphide anomalies beneath the known minerlisation at Gimlet to further facilitate in better planning of the government co-funded diamond drilling program.
EIS Grant: First Au was awarded with a $100,000 grant for deep diamond drilling hole at Gimlet under the Exploration initiative Scheme (EIS). The grant is required to be utilized in 2020 and the drilling would be conducted to check the variation in minerlisation with depth.
The drilling program is scheduled to be among the first of its kind to drill to depths of 450 to 500 meters and is considered significant for the entire Teal-Gimlet minerlisation corridor demonstrating strong potential to emerge as the next big gold site in the Eastern goldfields.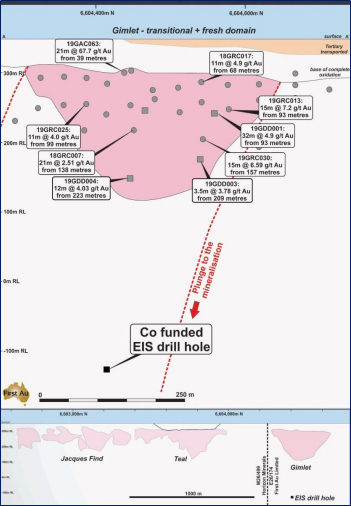 Planned Deep diamond hole at Gimlet Source: First Au
Early Mining Potential at Gimlet
First Au is evaluating the potential of an early mining operation at Gimlet. The oxide and transitional ores could be sent for toll treatment to any of the many options available in the neighborhood including Norton Goldfields' Paddington and Silver Lake Resources' (ASX:SLR) Lakewood operations.
Horizon Mining had processed similar oxide ores from Gimlet producing 22,000 ounces of Gold at the Paddington and Lakewood processing facilities between 2016 and 2018 earning a free cash flow of $8.5 million. A total of 75,000 tonnes of ore was mined with a gold grade of 3.2 grams a tonne at the cash cost of $1,100 per ounce. A similar toll treatment arrangement could accelerate the development of Gimlet at low capital investments.
A small infill drilling campaign is planned which will further add additional inferred JORC Resources of oxide and transitional ores for toll treatment.
First Au closed at $0.020 on 25 July 2020, with a market capitalization of $8.03 million.
All financial information pertains to Australian dollar unless stated otherwise.