Summary

ASX 200 listed real estate manager and operator Scentre Group provided the rental collection details for August 2020. The improvement in collection compared to the past few months led to a favourable price movement of over 4% at the end of the session.
The Group collected gross rent worth A$183 million for August 2020, which is 86% of monthly gross rental billings. The collections are inching closer to the post-pandemic level achieved in the first two months of CY2020.
At the beginning of the month, a quarterly S&P/ASX Index rebalance update indicated that Scentre would not be a constituent of S&P/ASX 20 Index effective 21 September 2020.
Despite the COVID-19 challenges and losses during 1H FY2020, the Company maintains a strong balance sheet and is well placed to handle the upcoming challenges.
Scentre Group (ASX:SCG) owns as well as operates a well-known portfolio of living centres in Australia and New Zealand. On 8 September 2020, SCG share price surged by 4.128% and ended the session at A$2.270. The stock ended in the green zone post the announcement related to the August 2020 rent collection, which was an improvement over the previous few months.
The ongoing improvement in rent collections likely had a positive impact on the market participants, reflected in the SCG share price growth.
SCG shares, in the past six months, have delivered a return of -28.05%. However, in the past one month, the shares have generated a fair return of 13.54%. Scentre Group has a market capitalisation of A$11.32 billion and 5.19 billion outstanding shares.
DO READ: Property Portfolios and Real Estate Stocks - SCG, CNI, COF, VCX
Collection of A$183 Million of Rent in August 2020:
On 08 September 2020, Scentre Group announced that it collected A$183 million of gross rent in August 2020. The collection represents 86% of monthly gross rental billings and was better than the previous couple of months. The Company, in its half-yearly result presentation, indicated the path of its cash collections for August 2020. Through the announcement, Scentre confirmed the actual amount collected.
Below is the image provided by the Group highlighting rent collection up to 31 August 2020.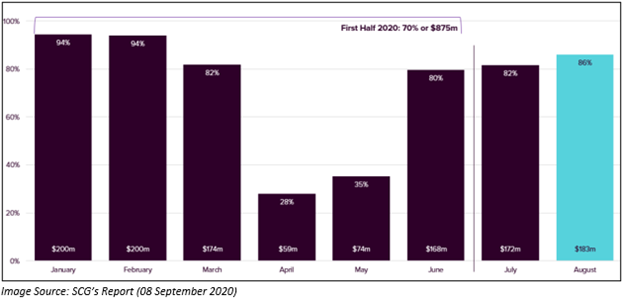 Interesting Read: What next in Property Space: House prices tumbled 0.4 per cent in August
Scentre Group's Recent Updates:
Quarterly Rebalance:
In the quarterly S&P/ASX Index rebalance announcement released on 04 September 2020 by S&P Dow Jones Indices, Scentre Group has been removed from the S&P/ASX 20 Index. The changes are effective from 21 September 2020 when the market opens.
Half Yearly Results For 6 Months Ended 30 June 2020
On 25 August 2020, Scentre Group announced its half-yearly results for the period ended 30 June 2020 and reported operating earnings of A$361 million and Funds From Operations of A$362 million.
The Statutory result for H1 FY2020 was a loss of A$3,613 million. The Statutory result includes an unrealised non-cash reduction in property valuations of A$4,079 million.
During the period, the Group realised gross cash inflow of A$1,059 million along with net operating cash surplus of A$261 million.
The Group's 30% rental income comes from SME retail partners. Under the SME Code, SMEs can lessen the amount of cash rent payable proportionate with the drop in sales they may have experienced amid COVID-19 pandemic and post-pandemic era.
Scentre Group collected 70% of gross rental billings. For June 2020 and July 2020, the gross rental billings collections were more than 80%.
In-store sales, the retail partners were impacted by the COVID-19 pandemic and related restrictions on the people movement. The in-store sales throughout the six months declined by 8.1% lower compared to the previous corresponding period (pcp). Specialty in-store sales fell by 12.1% on pcp.
The Company continued to progress the projects that were already in progress at Westfield Doncaster (Victoria), Westfield Belconnen (ACT) and Westfield Hornsby (NSW). SCG updated that its A$50 million project located at Westfield Carindale will complete in September 2020.
The Group continues to implement initiatives to aid its strategy to function as a responsible and sustainable business. Further, the Company also announced its target to achieve Net Zero Carbon Emissions by 2030.
GOOD READ: S&P/ASX 200 A- REIT Market Setup Draws Scentre and Vicinity Centre Into Consolidation
A Glance At 1H FY2020 Balance Sheet and Cash Flow Statement:
Net assets at the end of 30 June 2020 was A$7,166.6 million, down from A$9,379.4 in 1H FY2019.
A significant drop in the cash was seen in 1H FY2020, declined from A$225.5 million in 1H FY2019 to A$54 million in 1H FY2020.
SCG which reported a cash inflow of A$1,163.8 million in 1H FY2019, experienced a cash outflow of A$92.4 million.
Net cash inflow from financing activities was A$240.4 million. The primary source of cash inflow was from the net proceeds from interest-bearing liabilities and lease liabilities.
By the end of 1H FY2020, the net cash with the Company was A$245.3 million.
ALSO READ: 3 stocks on roller-coaster ride: SCG, QAN and WTC
Outlook:
The Group confirmed that in the current scenario, it is well-positioned in managing the challenging period with a strong balance sheet and adequate liquidity to cover all debt maturities to January 2023. The Group also possesses a portfolio of superior, strategically located assets.
However, considering the present uncertainty surrounding COVID-19 pandemic regarding its duration and consequential economic and business impacts, the Company did not provide its earnings or distribution guidance.