Summary

The industrial REIT is acquiring four properties, which are expected to be accretive to its FFO per security guidance.
APN Industria REIT (ASX: ADI) has launched equity raising to fund the acquisitions.
It has noted that FY21 leasing activity remained strong with 24,900 square metres leased to date.
APN Industria REIT (ASX:ADI) has agreed to acquire four properties for $92.1 million. Three properties at Adelaide Airport would be bought for $29.6 million. A property in Stapylton, Queensland, would be purchased for $62.5 million.
All four properties are high bay, flexible warehouses that generate an initial blended yield of 7.2% along with average annual rent reviews of 2.9%.
The assets have a weighted average lease expiry of 3.1 years. ADI believes that the WALE profile provides opportunities to add value over the medium term.
The industrial REIT has acknowledged favourable momentum in leasing. In FY21, it has leased 24,900 square metres with independent valuation uplifts of $19.6 million. It has undertaken independent reviews for 100% of the portfolio in 2020.
Capital Raising
APN Industria REIT is raising $35 million via a fully underwritten institutional placement of $2.86 per security.
The REIT is also launching a non-underwritten share purchase plan to raise up to $5 million, which would be used to repay debt. The issue price under the share purchase plan would be $2.86 less distribution for the quarter ending December 2020.
It expects that the distribution for the period ending December 2020 would be 4.3 cents per security. Shares under the share purchase plan would be issued free of brokerage and transaction costs.
The acquisition would be funded from the placement and debt facilities. APN Industria REIT anticipates the transactions would be accretive by around 5-6% to FFO per security on a full-year annualised basis.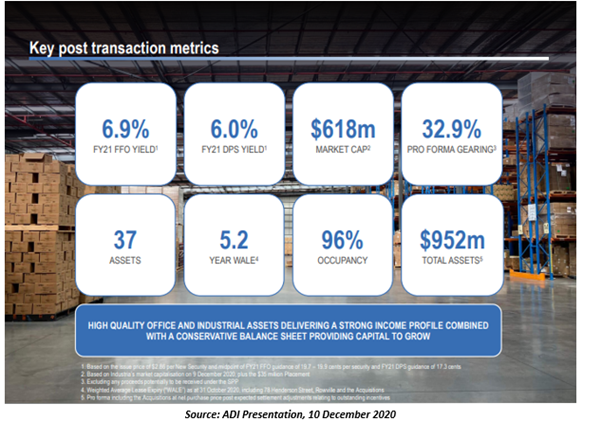 FY21 Guidance
The REIT has upgraded its previous FY21 FFO guidance to 19.7 - 19.9 cents per security, which means growth of 2-3% over FY20.
It has also reiterated FY21 distribution per security guidance of 17.3 cents per security.
After the placement and the acquisition, the proforma gearing of the trust is expected to be around 32.9%, which is within the 30-40% target gearing range.