Summary

1.0km x 0.40km large Au-Cu anomaly identified along the strike of Apsley deposit remains open to the south, west and north
Analysis indicates the presence of potential subsurface Au-Cu porphyry mineralisation
Petrographic analysis of Tucklan confirms the presence of epithermal mineralisation style alterations with hydrothermal alteration minerals
Sultan Resources Limited (ASX: SLZ), the gold and base metals explorer, announced the soil and rock chip sampling results for the Ringaroo prospect. Ringaroo prospect is located on the north terminal of the Star Plateau (EL 8735 tenement) in the trending section of the Lachlan fold Belt (LFB).
The soil assay results are a part of Sultan's extensive plan to identify priority drilling targets in the LFB to hold potential bulk Au-Cu porphyry and epithermal gold mineralisation within the prospective areas of Big Hill, Ringaroo and Tucklan.
Related: With Strong Results from Big Hill and Tucklan, Sultan Turns to Ringaroo Prospects
The Ringaroo deposit is located along the strike of Impact Minerals' s (ASX:IPT) Apsley prospect, almost 25 kilometres south of the Alkane Resources (ASX:ALK) Boda discovery which intersected 689 metres of mineralisation with 0.46 g/t gold and 0.19% copper.
Excellent Soil Sampling Results at Ringaroo, Large Anomaly Discovered
The soil sampling program at the Ringaroo deposit, focussed on the prominent N-S trending magnetic feature interpreted to represent a Macquarie Arc intrusive complex and similar to the Boda porphyry Au-Cu discovery.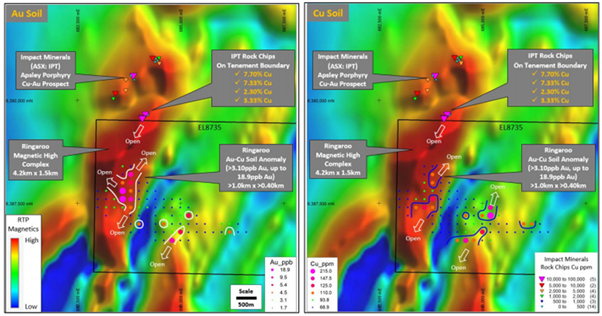 Ringaroo gold & copper soil anomaly maps on RTP Aeromagnetic Image Source: Sultan Resources
A large magnetic high with at least 4.2km x 1.5km in size was discovered, which also hosts Impact's Apsley target. Impact has further discovered shoshonitic host rocks where the surface rock samples held copper grades ranging to 8.1% and silver to 13.1 g/t. Presence of a large anomaly such as this one with high grade gold and copper assay results enhances the potential to hold a large sized, high-grade Au-Cu mineralisation extending to the surface.
The soil sampling program stretched covering a ~3km2 area of Ringaroo prospect, across a 200m x 200m grid, has defined numerous anomalies. Multiple anomalies included a large N-S trending (1.0x 0.40km) geochemical anomaly with sample gold grades in excess of 3.1 ppb and copper grades greater than 94 ppm.
Further, another prospective area with a narrow NE-trending anomaly exhibited a gold grade in excess of 4.5ppb with copper grades greater than 94 ppm.
The two anomalies were identified to be open in all directions and will be further worked on during an upcoming larger soil sampling program.
Read Here: Is Sultan on the pursuit of next Significant discovery in LFB?
Way Forward
Ringaroo Prospect - Despite the consistency in geological and geochemical features with the subsurface Au-Cu porphyry mineralisation systems, the Ringaroo prospect remains undrilled.
An extensive geological mapping, rock and soil sampling and assaying, petrology program and high-resolution Induced Polarisation (IP) survey have been planned at the prospect.
Extensive exploration programs have been scheduled with the objective of identifying priority drilling targets for the deeper Au-Cu porphyry mineralisation.
Sultan is working in association with Fender Geophysics to conclude the IP survey across identified targets at Big Hill, Tucklan and Ringaroo deposits.
Big Hill Prospect – A follow-up exploration program is under progress, which includes geological sampling and mapping to the east of the targeted soil anomaly to assess the remaining magnetic complex.
A high-resolution ground Induced Polarisation (IP) survey has been scheduled to identify Sulphide anomalies (pyrite halos). Sultan is working in close association with Fender Geophysics to conclude the designing of the IP program. IP survey will commence on the receipt of required landowners' access. Further inversion modelling and interpretation of targets will assist in the evaluation and identification of priority drill targets.
Tucklan Prospect – The exploration activities at the recently discovered Tucklan epithermal prospect progressed with the result of petrographic analysis of 4 samples from Mason Geoscience. The analysis revealed the presence of Trachyandesitic volcanic-origin fragmental alterations containing Sulphur bearing hydrothermal fluids.
The alterations include sericite, quartz, K-feldspar (including adularia), pyrite, leucoxene and chalcopyrite minerals. The minerals in the alterations typically associate with epithermal gold deposit formation confirmed initial interpretations of the mineralised rock samples.
Further exploration activities at Tucklan would include an extended soil and rock chip sampling program, an IP survey and additional regional exploration for target definition. These exploration activities would be followed by the drilling program.
Backed by strong management & technical team and financials ($2 million cash), Sultan is well placed both to progress to advanced stages of exploration at the LFB project.
Sultan closed at $0.180 a share on 9 July 2020, with a market capitalisation of $10.55 million.
All financial information pertains to Australian currency unless stated otherwise.