Highlights

Utility has arguably become a buzzword in the crypto market, especially after Bill Gates's scathing critique
Helium's primary service is The People's Network, which provides "decentralised" wireless connectivity
The HNT token is mined when the users connect their devices with the network
The crypto market is apparently finding it difficult to regain its trillion-dollar market cap status. Some commentators believe that the ongoing dip is attributable to concerns around utility.
A few weeks back, Bill Gates criticised cryptocurrencies by saying these assets are based on the greater fool theory. For now, this critique, combined with other factors like rate hikes by the Fed, seems to be proving a big dampener.
In this light, let us explore Helium – one of the top 50 cryptoassets that claims to have utility in the wireless network space.
The Helium network's native token, HNT, has also gained in terms of trading volume, as of writing.
What is Helium -- The People's Network?
Helium is the primary blockchain of the Helium crypto, with The People's Network as one of its offerings. The project claims it will enable a "decentralised" wireless infrastructure.
It is also being claimed that the network is growing as the world's fastest wireless coverage. Users must install a device at their place, help build a broader wireless coverage, and in this process, the native HNT token can also be mined. Helium says that it has a unique 'proof-of-coverage' concept, where participants are rewarded for the coverage that they enable for The People's Network.
Besides the mining of new tokens, the project claims that the network can help build new wireless devices. The network's applications include hyperlocal weather data, thanks to Helium's hotspot and 5G support.
Also read: Cryptoqueen Ruja Ignatova on Most Wanted list: What it means for cryptos
HNT token
Even though the Helium crypto project is quite unique in terms of its utility, the native HNT token is yet to perform well this year.
The crypto began this year at a price of nearly US$40, but it has constantly lost value. As of writing, the HNT token is trading at under US$10. It trades on such exchanges as Binance and MEXC. The market cap of over US$1.1 billion makes the HNT token one of the top 50 assets.
The trading volume and price of the Helium crypto are in the green and one of the catalysts could be the network's announcement of discount on its 5G bundles.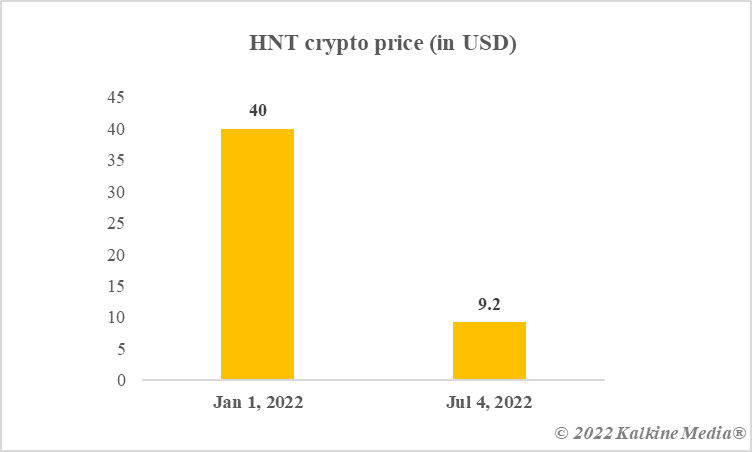 Data provided by CoinMarketCap.com
Also read: Top 3 meme coins by market cap
Bottom line
Helium's key offering is The People's Network, which is said to be providing 5G bundles for wireless devices. By installing a device, the HNT token can also be mined. The project is based on proof-of-coverage, which Helium claims is better than other consensus methods. The HNT token has lost value this year, but the announcement of an upcoming discount on its 5G bundles seems to have lifted the price a little.
Risk Disclosure: Trading in cryptocurrencies involves high risks including the risk of losing some, or all, of your investment amount, and may not be suitable for all investors. Prices of cryptocurrencies are extremely volatile and may be affected by external factors such as financial, regulatory, or political events. The laws that apply to crypto products (and how a particular crypto product is regulated) may change. Before deciding to trade in financial instrument or cryptocurrencies you should be fully informed of the risks and costs associated with trading in the financial markets, carefully consider your investment objectives, level of experience, and risk appetite, and seek professional advice where needed. Kalkine Media cannot and does not represent or guarantee that any of the information/data available here is accurate, reliable, current, complete or appropriate for your needs. Kalkine Media will not accept liability for any loss or damage as a result of your trading or your reliance on the information shared on this website.