The COVID-19 pandemic resulted in market volatility pushing stock prices to record lows and substantial negative absolute returns throughout most equity markets during the first quarter of 2020. Hence, it led investors to re-evaluate their investment portfolio, checking on the resilience of their stocks to such period.
Let's have a look at a few insurers, REITs and oil players that market is betting on.
Health Insurers
Insurance policies are one of the necessities of life as during the time of medical emergencies they come to the rescue of individuals, taking care of their medical expenditures. Insurers are flooded with claims and struggle to reimburse them amid global health emergencies.
Below are the two insurers that can be considered to be a decent bet amid the current crisis.
AMP Limited (ASX: AMP)
AMP is a financial services company in Australia and New Zealand that provides life insurance, pension, superannuation and other banking services.
The Group is at the brink of returning $1.2 billion to its shareholders as it goes through the sale of its Life insurance business. However, doubts have been hovering if AMP will be able to live up to its promise to sell it by 30 June.
As per Credit Suisse, "The sale would be a vital factor in determining whether the bank would need to raise equity or return capital. If the sale is ruined, AMP can seek $200-500 million in fresh capital from investors."
The firm expects AMP's stock to run higher even if it doesn't undertake a new share offer as Credit Suisse believes that the market is overlooking some of its value drivers.
Provided that ASX companies surge when there is any capital raise in a COVID-19 market, it may not be a poor result for the institution to take up this path.
The stock last traded at $1.365 on 7 May, down by 1.799% from its previous close.
QBE Insurance Group Limited (ASX: QBE)
QBE Insurance is the second-largest global insurer providing insurance services in Australia, Europe, North America and the Asia-Pacific region.
On 7 May 2020, QBE released Chairman, Michael Wilkins address during the AGM (Annual General Meeting) wherein he mentioned that coronavirus outbreak has compelled individuals across the world to adjust with the shift in how and where they work. He added that throughout the twenty-seven nations where it operates, it had been aiding the fitness and welfare of its people.
QBE notified the market on withdrawal of its earlier notified operating ratio and net investment return target for this year, given the current crisis period. The Company had also implemented a capital plan built to strengthen its capital position and enhance its earnings strength.
ALSO READ: Guide to Build Emergency Proof Portfolio
Fitch Ratings has affirmed a rating of A- as its long-term issuer default rating and A+ for IFS ratings of core subsidiaries.
The affirmation showed QBE's favourable business profile, robust financial performance and earnings. The rating also comes after QBE raised capital in response to COVID-19 related impact on earnings and capital.
On 6 May, QBE notified that it had valued the issue of USD 500 million of Capital Notes to be issued as per its updated USD 4,000 million Note Issuance programme to wholesale investors. The Capital Notes will be qualified as additional tier 1 Capital of the Company under APRA's capital adequacy framework.
The stock last traded at $7.51 on 7 May, down by 2.214% from its last close.
Real Estate Investment Trusts (REITs)
REITs are one of the most sought-after stocks and are the most accessible means for investors to gain exposure to commercial real estate. They are there to help investors in buying property as it is not feasible for investors to own commercial properties themselves given management obligations and the minimum amount needed per investment. Here are 2 ASX shares that might prove to be a good bet-
Goodman Group (ASX: GMG)
With operations in different countries and continents like Australia, New Zealand, Asia, Europe and few other countries, Goodman Group is involved with property related activities. It has operations in 4 divisions: fund management, property investment, services and development.
GMG reaffirmed its earnings and distribution guidance at 57.3cps and 30cps respectively for FY20. The Group has witnessed an increased demand for property space in the food, consumer and logistics sector with limited closure of its warehouse facilities in the past few months. The AUM growth of $51.3 billion is driven by persistent progress of development projects, revaluation and foreign currency gains.
Source: GMG Q3FY20 Report, ASX
ALSO READ: COVID-19: Takers in the Real Estate Sector with the 'New Normal'
GMG stays focussed on progressing its development workbook amid the COVID-19 crisis. Though some future projects might be under a delay due to higher time in building and leasing out, earnings are showing strength with a stance for growth.
The stock last traded at $14.11 on 7 May, up 3.75% from its last close.
SCG Group (ASX: SCG)
SCG Group is a shopping centre company that undertakes layout, building, development, fund/property management and other marketing pursuits for the centres owned by it.
As per its AGM address to the stakeholders in April, SCG's operations had been in line with its expectations during early 2020. The Group's liquidity update on 1 April 2020 demonstrated its financial strength with its ability to arrange additional facilities that increased its liquidity position to $3.1 billion from $1.9 million. The additional facilities have a two-year term which will ensure funding flexibility in future for the Group.
The stock last traded at $2.12, down by 0.469% on 7 May from its previous close.
Oil Players
The coronavirus pandemic has brought global transport to a standstill. Hence, oil demand is down by almost 30% and is anticipated to remain low in the coming months. Global oil market suppliers have been very slow in cutting supply, which has resulted in record levels of oil and hence, scarcity in storage capacity.
Let's have a look at 2 energy stocks that can be considered-
Woodside Petroleum Ltd (ASX: WPL)
WPL is a leading LNG operator in Australia involved in exploring, evaluating and developing hydrocarbon.
It achieved an underlying net profit after tax (PAT) of $1.063 billion and operating cash flow of $343 million, showing the strength of its base business in 2019. The firm had over $4 billion cash on hand and liquidity of over $7 billion at the end of March 2020.
WPL's total production is anticipated to be in the range of 97-103 MMboe. It revised its investment guidance for 2020 to $1700-$1900 million.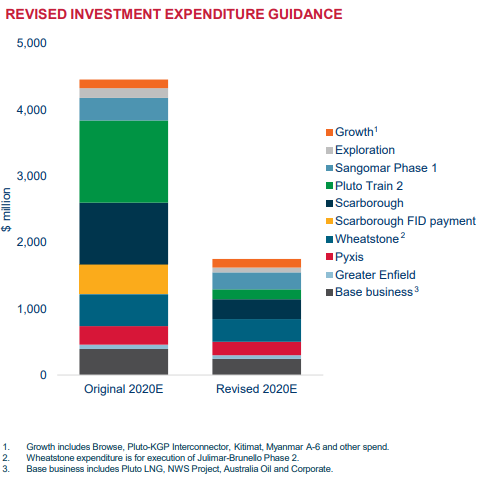 Source: WPL Q1FY20 Report, ASX
WPL has a robust investment strategy and has stress-tested its balance sheets against several scenarios which can support a great deal in sailing through the uncertain times due to COVID-19. It has followed a disciplined approach in cash and debt management, which allowed it to respond quickly to preserve cash flows.
WPL last traded at $21.65 on 7 May, down by 1.367% from its last close.
Oil Search Limited (ASX: OSH)
OSH, an oil and gas exploration company built in Papua New Guinea, reported total production of 7.37 MMboe for the quarter ending March 2020, up 5% due to persistent, robust performance from PNG LNG. OSH registered total sales of 6.87 MMboe for the March quarter, down by 13% from the last quarter.
The company has taken steps to strengthen its position to weather the effect of COVID-19 disruption and falling global oil prices.WPL has cut its investment expenditure guidance by US$300 million for 2020 by deferring discretionary activities. It expects production between 27.5-29.5 million boe on the assumption of no business interruption due to COVID-19.
OSH stock last traded at $2.87 on 7 May, down 2.712% from its last close.
The year ahead is still volatile due to uncertainty of the duration and extent of the impact of the pandemic. However, equity benchmarks have surged from March lows due to easing of lockdown restrictions.