On 22 November 2019, S&P/ASX 200 ended the session in green, as the index witnessed a rise of 36.9 points or 0.55% on an intraday basis to end the session at 6709.8. The S&P/ASX 200 Health Care (Sector) index ended the session at 40, 150.7 with an increase of 296.7 points or 0.74% from the previous close.
Australia's health care industry symbolises burgeoning stocks with excellent growth prospects. In this article, we would be discussing six ASX listed health care stocks while looking at their recent clinical and financial progress.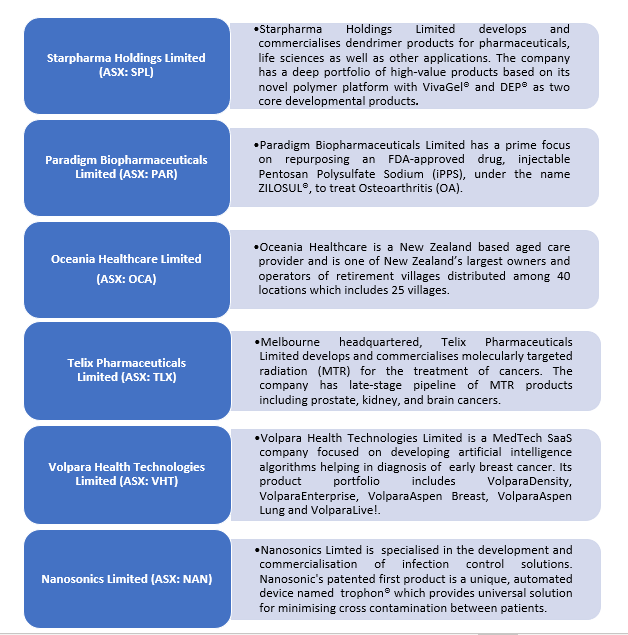 Starpharma Holdings Limited (ASX: SPL)
2019 AGM Presentation Highlights
Significant milestones reached across both VivaGel® and DEP® portfolio briefed below:
VivaGel® Portfolio
Betafem® BV Gel/Betadine BVTM Gel launched in UK/Europe.
Fleurstat BVgel launched in Australia.
BetadineTM BV Gel received its first Asian region regulatory approvals.
VivaGel® BV received license in the US for up to US$101 million milestones, in addition to royalties.
VivaGel® condom launched in Japan by Okamoto.
VivaGel® condom received regulatory approval in Europe.
DEP® Portfolio
A development and option agreement signed for advancing the development of one of AstraZeneca's major oncology products, which is a version of DEP®.
For AZD0466, the FDA approved IND - first-in-human clinical trial.
AstraZeneca's DEP® Bcl2/xL conjugates, including AZD0466 secured the US patent.
Phase 1/2 DEP® irinotecan trial has been initiated.
DEP® irinotecan combinations outperformed in both human pancreatic and colon cancer models.
In Phase1/2 trails, promising positive interim results displayed by patients administered with DEP® docetaxel and DEP® cabazitaxel.
DEP® docetaxel & DEP® cabazitaxel alone, and in combination with standard pancreatic cancer treatments have outperformed in a human pancreatic cancer model.
Starpharma advanced by expanding its DEP® portfolio with the launch of new internal DEP® candidate - DEP® gemcitabine; outperformed Gemzar® in human pancreatic cancer model.
Positive results with novel DEP® HER-2 ADC using antibody fragment in human ovarian cancer model.
As at 30 September 2019, Starpharma's cash balance stood at $36.8 million. The company is also expecting a $4.9 million R&D tax incentive during the December quarter.
Paradigm Biopharmaceuticals Limited (ASX: PAR)
2019 AGM Presentation Highlights Plus September Quarter Updates
Paradigm received the FDA approval for its Expanded Access Program (EAP).
For the treatment of 10 Ex NFL players, Institution Review Board approval has been received, drug to be shipped to the USA. First US patient, under the EAP, expected to be treated in December 2019.
Phase 2b clinical trial with additional biomarker data revealed that iPPS prevents further cartilage loss.
Paradigm has a robust portfolio of IP protection and patents on ZILOSUL®. Additional patents were filed during the September quarter. Expecting patents covering all main markets from 2030 to 2039.
Paradigm is seeking Provisional Approval with the TGA for iPPS to treat OA in Australia. Subject to approval, there is a potential for generating revenue as early as Q3 CY 2020.
Paradigm is also anticipating filing an IND with the FDA in early 2020 for a phase 3 clinical trial in OA.
Paradigm is also pursuing a joint FDA and EMA submission in Q1 2020 of ZILOSUL® to treat rare disease Mucopolysaccharidosis (MPS).
Another exciting development for the company is the appointment of an Investor Relations specialist in the US.
As at 30 September 2019, Paradigm held $75.39 million in cash. An R&D Tax Incentive rebate amounting to $2.97 million to be utilised for R&D expenditure undertaken during the 2019 financial year is also expected.
Oceania Healthcare Limited (ASX: OCA)
Reported Net Profit After Tax (NPAT) of NZ$45.4 million for FY2019, which is 41% lower than FY2018.
Reported underlying Net Profit After Tax from continuing operational activities amounted to NZ$49.7 million, a decline by 1.8%.
Operating revenues reported at NZ$161.7 million for FY2019 as compared to NZ$159.6 million for FY2018.
Underlying EBITDA amounted to NZ$24.9 million for FY2019 while for FY2018 EBITDA was reported to be NZ$28.9 million.
New operating cash flow reported at NZ$89.3 million, 8.6% higher than FY2018.
The company saw a 22% rise in total assets at the end of FY2019 than FY2018.
Telix Pharmaceuticals Limited (ASX: TLX)
Highlights from CEO Presentation
Prostate Cancer Program: The diagnostic imaging agent for prostate cancer is illumet™ (TLX591 CDx), which is sold as an investigational product in the US, EU, Australia. There is a vast market opportunity of US$500 million for prostate imaging (multiple indications) in the US. The product is expected to launch in mid-2020 into the US commercial market. The product has a superior sensitivity/ specificity as compared with standard care. Early adoption of illumet™ (TLX591 CDx) is growing at a rapid pace and for advanced prostate cancer TLX591 is under development.
Kidney Cancer Program: The first diagnostic imaging agent for kidney cancer is TLX250 CDx to enable non-invasive assessment of patients with suspected kidney cancer. There is a wide clinical opportunity, as no competing solution is currently available. The product is currently in Phase III ZIRCON trial, with patient registration underway only to be completed Q2 2020. For treatment of refractory kidney cancer, TLX250 is under development.
Brain Cancer Program: TLX101 for brain cancer showed encouraging early results, as TLX101 can cross the blood-brain barrier while many drugs cannot. The drug is in Phase I/II IPAX-1 trial and recruiting patients actively. Market opportunity for rGBM radiopharmaceutical is estimated at US$300- 400 million.
Commercialisation: Telix has established multiple commercial partnerships with prominent global health care companies and distribution networks for clinical trials and early roll-out of commercial products.
Volpara Health Technologies Limited (ASX: VHT)
Highlights from Investor Presentation- 2020 Half Yearly Results
Acquired Seattle-based MRS Systems, Inc. in June 2019 for NZ$23 million.
Undertaken successful capital raising of A$55 million (NZ$58 million).
Generated total revenue amounting to NZ$6.8 million, up 197% on previous corresponding period (pcp).
Subscription revenue was valued NZ$5.2 million, increased 148% on pcp.
Capital revenue increased 680% on pcp, amounted to NZ$1.7 million.
Annual recurring revenues grew to NZ$15.7 million when compared with NZ$4.8 million at the end of the pcp.
Since Volpara's team has expanded, operating loss increased 56% on pcp to NZ$8.4 million.
An increase in cash and cash equivalents was observed from NZ$14.4 million at the end of FY2019 to NZ$40.2M at the end of HY2020, largely because of the successful capital raise of NZ$58 million in Q1.
Substantial investments made in research and development as well as in building business capability and capacity.
Nanosonics Limited (ASX: NAN)
Highlights from 2019 AGM Presentation
Nanosonic observed growth in revenue, aiding its strong financial position for ongoing investment.
Total revenue for FY2019 increased 39% to $84.3 million, capital revenue up 28% and consumables/ services revenue grew 47%.
Reported profit before tax stood at $16.8 million, up 201% on pcp.
As at 30 June 2019, cash and cash equivalents reached $72.2 million, up $2.8 million, underpinning undergoing growth as well as expansion.
Reported free cash flow amounting to $2.6 million in comparison to $6.2 million in prior period.
During FY2019, the company remained focused on continued investment in its growth strategy, which included an increase in headcount by 27%, regional operations expansion, supporting product expansion objectives and expanding its corporate support functions.
To support its strategic growth agenda, substantial investments are anticipated for FY2020.
It is expected that for FY20, operating expenses would be approximately $67 million, reflecting FY19 Q4 run rate combined with faster investments in its growth strategy across new product development, business development, expansion of regional and corporate infrastructure, readiness to launch new product launch, and sales and marketing.
Investment in R&D activities forecast to increase by 32% to $15 million in FY2020.
Actively expanding its global presence in Europe, Asia Pacific and Japan.
Nanosonics is aiming for international launch of its first significant new product throughout FY2021. The new product would introduce a novel technology platform (non-trophon related) that addresses a major unmet need and would have a large addressable market.
Let us have a look at each of these stocks' performance as on 22 November 2019, at one glance.
---
Disclaimer
This website is a service of Kalkine Media Pty. Ltd. A.C.N. 629 651 672. The website has been prepared for informational purposes only and is not intended to be used as a complete source of information on any particular company. Kalkine Media does not in any way endorse or recommend individuals, products or services that may be discussed on this site. Our publications are NOT a solicitation or recommendation to buy, sell or hold. We are neither licensed nor qualified to provide investment advice.
With the pandemic continuing to affect the globe, healthcare companies are evaluating their lead compounds for COVID-19 treatment. Future revenue for these stocks depends on the probability of launching an approved treatment in the market.
CLICK HERE FOR YOUR FREE REPORT!
All pictures are copyright to their respective owner(s).Kalkinemedia.com does not claim ownership of any of the pictures displayed on this website unless stated otherwise. Some of the images used on this website are taken from the web and are believed to be in public domain. We have used reasonable efforts to accredit the source (public domain/CC0 status) to where it was found and indicated it below the image.