Superior Lake Resources Limited (ASX: SUP)
Metals and mining company, Superior Lake Resources Limited recently provided an update on feasibility study and financing process with regard to its Superior Lake Zinc Project in Ontario, Canada.
The company stated that the Bankable Feasibility Study (BFS) remains on target for completion towards the end of July 2019, while both the operating and capital costs components of the BFS are near completion. As a result, the company ramped up its project negotiations under the advisory services of Orimco Resource Investment Advisers.
Orimco stated that the project is receiving strong interest from both local and international financiers. The company, therefore, intends to send an Information Memorandum to interested parties that have executed confidentiality agreements. It also confirmed the Upfront capital costs estimate, as well as mining and processing cost estimates in-line with 2018 Restart Study. The study forecasted that Superior Lake Zinc Project is expected to produce approximately 46,000tpa Zn with forecasted AISC of US$0.51/lb.

Mineral Resource estimate for Superior Lake Zinc Project (Source: Company Announcement)
As per the company's information, non-binding indicative terms sheets are expected to be received shortly thereafter the release of the BFS, with pre-approved indicative term sheets to be received later that quarter (3Q 19).
Superior lake also inked a binding agreement with some minority shareholders of Ophiolite Holdings Pty Ltd. The agreement is to acquire up to an additional 15% interest from Ophiolite in the company's Superior Lake Zinc Project to extend its ownership in the project to up to 85%.
As required by the ASX listing rules, the company has confirmed to appoint an independent expert to arrive at the conclusion that whether the acquisition is reasonable and is in the best interest of SUP's shareholders. The company stated that all minority shareholders who are not participating in the sale have a 60-day pre-emptive right to acquire a proportion of the offered Ophiolite shares, and will continue to be free carried until the completion of a Bankable Feasibility Study ("BFS"), which remains on track for completion by mid-2019.
SUP last traded at A$0.026, down by 10.345% (as on 21 June 2019). Over the past 12 months, the stock declined by 12.12%, including a negative price change of 3.33% in the past three months. Its market capitalisation stands at $25.01 million with 865.45 million shares outstanding.
Have a look over SUP's AGM Presentation.
Consolidated Zinc Limited (ASX: CZL)
Consolidated Zinc Limited declared monthly production for May 2019 relating to its production at Mexico-based Plomosas zinc-lead-silver mine.
Ore Production at CZL's Plomosas zinc-lead-silver Mine (Source: Company Announcement)
Ore mining
The company stated that the commencement of mining from the Level 7 Semi Oxidised Ore (SOX) stopes has resulted in increased production at higher grades. The mine produced 7,088 tonnes of ore for May at 14.5 % Zinc and 6.0% Lead. The report further read that Tres Amigos ore mined was dispatched to the Grupo Mexico Santa Eulalia concentrator while the SOX ore mined was sent to the operator of Aldama concentrator facility, Triturado y Minerales La Piedrera S.A. de CV.
Ore Processing
As per the company's information, SOX material was delivered to Aldama with 966 tonnes milled whereas Tres Amigo's ore was delivered to GMSE with 2,527 tonnes milled. The average Zinc concentrate recovery stood at 73.6%, reflecting the ramp-up of production at Aldama.
The SOX grades processed were 19.8% Zinc, 11.4% Lead and 61.8 g/t Silver, according to the company's report. It was further confirmed that SOX concentrate produced is of high quality and free of elements deleterious to smelting and refining.
A run of mine ore stockpile of 3,958 tonnes has reportedly been established at Aldama for processing to ensure continuous mill feed as the capacity of the Aldama facility is increased from its current capacity of 100 tonnes per day. Aldama expects to commission the secondary crushing and milling expansion to 200 tonnes per day during June, reaching full plant capacity of 300 tonnes per day during July following the installation and commissioning of additional floatation banks.
CZL's stock closed flat at A$0.013 on 21 June 2019. Over the past 12 months, the stock has gone up by 85.71% despite a plunge of 27.78% in the past three months. It's market capitalisation stands at A$15.3 million with around 1.18 billion of shares outstanding.
Zinc of Ireland NL (ASX: ZMI)
Perth-based zinc exploration company, Zinc of Ireland NL is focused on the exploration and development of Irish-type zinc projects. The company recently announced the commencement of drilling at its flagship Kildare Zinc Project and aims to drill approximately 7,500m of diamond drilling in 2019.
The report read that ZMI will undertake comprehensive and staged exploration diamond drilling programme, focused on the Allenwood Graben within Kildare. Moreover, in the initial phase, it has planned to target prospective areas located beyond the currently defined mineral resources.
Kildare Project is surrounded with famous high-grade zinc mines in the area and is located approximately 40km southwest of Dublin. It is located within the Rathdowney Trend, the area known for its nearby famous profitable zinc mines – Lisheen and Galmoy- which are now closed.
World's Most Prospective Zinc Region (Source: Company Presentation)
The drill holes are reportedly approved by the relevant government department and the local community is well aware of the ZMI's drilling plans as per the company's information. With respect to drilling operations plan, the company has planned to start with one diamond drill rig and to drill Allenwood Graben in day shift only, with a target depth of ~400m below the surface. ZMI intends to add further drill rigs once it utilises the initial rig.
ZMI's stock last traded at A$0.085 on 19 June 2019. The stock has fallen 78.75% and 29.17% in the past five years and one year. However, its year-to-date performance stands positive at +6.25% despite a decline of 6.59% in the past one month. Its market capitalisation stands at $10.33 million with 121.53 million shares outstanding.
Metalicity Limited (ASX: MCT)
Metalicity Limited is into the development of minerals resource prospects in Western Australia. Focused on copper-focused projects, the company has recently secured exploration licence applications in the Paterson Province of the northwest. Its strategy is to identify, explore and acquire assets after realising the value from its existing project portfolio. Metalicity has gained access to the prolific Kookynie and Yundamindra Gold districts in the Eastern Goldfields, WA, through a Farm-In Agreement with Nex Metals Exploration Ltd (ASX: NME).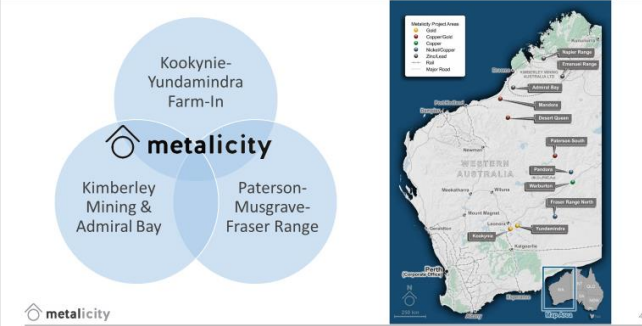 MCT significant investment opportunity (Source: Company Presentation)
Recently, Metalicity announced the Exploration Target for the Kookynie Project in the Eastern Goldfields, Western Australia as per the compliance of standard JORC 2012 Code. The company stated that the Kookynie Gold Project has a total Exploration Target of between 230,000 ounces and 510,000 ounces, thereby demonstrating the potential for a high-quality gold project. As per the company's information, Kookynie has not been subject to any intense exploration work over the past twenty-five years.
The Kookynie Project is host to six, significant prospects; Champion, McTavish, Leipold, Diamantina, Cosmopolitan and Cumberland. Each has reportedly been assessed in the preparation of the Exploration Target based on an in-depth review of the existing data of historical production and exploration efforts.
On the capital front, Metalicity raised $129,500 via a share placement of 18,571,428 shares at an issue price of $0.007 per share. The company aims to utilise the funds in the reverse circulation (RC) and Diamond drilling (DD) programme at Kookynie to confirm and extend zones of known mineralisation. It is projected that the programme will take several months to complete once it gets started after the selection of a drilling contractor.
As per the company's latest information, geological mapping has been completed at both Kookynie and Yundamindra, providing a detailed framework for ongoing exploration and drilling. It was reportedly focused on the controls on mineralisation and identification of the extents of mineralised systems at the projects.
MCT's stock last traded near to its 52-week low at A$0.007 on 21 June 2019. Over the past 12 months, the stock has declined by 69.57% including a negative price change of 36.36% over the past three months. Its market capitalisation stands at A$4.22 million with around 602.46 million shares outstanding.
Also Read: Metalicity Inspects Historical Drill Holes At Fraser Range North Project
---
Disclaimer
This website is a service of Kalkine Media Pty. Ltd. A.C.N. 629 651 672. The website has been prepared for informational purposes only and is not intended to be used as a complete source of information on any particular company. Kalkine Media does not in any way endorse or recommend individuals, products or services that may be discussed on this site. Our publications are NOT a solicitation or recommendation to buy, sell or hold. We are neither licensed nor qualified to provide investment advice.