The Australian benchmark index S&P/ASX200, last traded on 2 October 2019, at 6639.9 points, down by 1.5 percent from the prior close. Also, S&P/ASX200 Health Care (Sector) last traded on 2 October 2019 at 35,821.4 points, dipping down by 1.6 percent from the prior close.
Let's discuss the two health care stocks as follows:
Actinogen Medical Ltd
Positive trial data for Xanamem from the XanaHES dose escalation study:
Actinogen Medical Ltd (ASX: ACW), a biotechnology company that is in clinical stage, and works on the treatment of Alzheimer's disease and mild cognitive impairment associated with neurological and metabolic diseases. The company is developing a new type of drug meant for the treatment of age-related neurodegenerative diseases. The company's leading drug Xanamem is meant to lower the production of cortisol in the brain through the 11B-HSD1 enzyme to positively increase cognition.
As per the company's release on 1 October 2019, ACW obtained positive outcomes from the XanaHES trial. The trial's results reflect that there is a significant improvement in cognition, where the participants were dosed with Xanamem 20mg daily for almost three months, compared to placebo in the XanaHES dose escalation study. For the first time, the drug has demonstrated such an obvious, statistically substantial cognitive progress in human beings. This is considered as the breakthrough outcome that would cement the company's hypothesis and science about its discovery and development of the drug- Xanamem.
The results from the XanaHES dose escalation study also demonstrated that Xanamem, when given to the participants over the study period at a dose of 20mg daily, significantly (p<0.001) reduced serum cortisol levels in the trial period. Moreover, Xanamem 20mg on a daily basis showed that it is safe when the participants were given more than twelve weeks of medication, as there were no reports of severe unfavourable events observed. The company, now have to finalise and complete all ongoing studies, has to consolidate its drug development strategy on the back of the totality of results and data & then go for further clinical development.
Moreover, through the development of the drug for Alzheimer's disease, the company is targeting the large markets that includes US, EU5 & JP. All currently approved drugs, in this area represents symptomatic treatments which do not affect disease progression and offers limited benefit. The range of treatment prices of this disease is quite aggressive as US branded products (gross price) ranges from US$8/day to US$18/day, despite of generic competition.
Additionally, for FY 19 closed 30 June this year, ACW reported the revenue & other income of $5,067,301 ($204,546 in revenue from ordinary activities and $4,862,755 in other income) compared to $3,343,180 in FY 18. In other income the research and development rebate for the FY 19 of $4,603,261 is included. The company in FY 19 has delivered the net loss after tax of $9,887,682 compared to $6,230,609 in FY 18, which means the loss per share of 90 cents & 88 cents for FY19 & FY 18 respectively. At the end of FY 19, the company's cash and cash equivalents stood at $7,636,601 compared to $9,896,760 at the end of FY 18.
Results Summary (Source: Company's Report)
On 2 October 2019, ACW stock last traded at $0.038, dipping by 25.49 percent compared to the last close. It has a market cap of $57.08 million, with around 1.12 billion shares outstanding. The stock has given a remarkable return of 410 percent of return in the last three months timeframe.
Resapp Health Ltd
ResAppDx-EU received the approval from Australian Therapeutics Goods Administration:
Resapp Health Ltd (ASX: RAP) is a healthcare entity that is into the development of digital solutions related with smartphone applications for diagnosing and managing the respiratory disease.
On October 2nd, 2019 the company notified the market that ResAppDx-EU test obtained a nod from TGA or Therapeutics Goods Administration (Australian) as a Class IIa medical device and got listed on the ARTG or Australian Register of Therapeutic Goods. The test is worldwide, first smartphone-based diagnostic meant for diagnosing lower respiratory tract disease, croup, pneumonia, and such diseases and bronchiolitis in both infants and children.
This approval will enable the company to sell the product ResAppDx-EU in Australia and represents an important regulatory milestone. ResAppDx-EU had recently got the approval in EU for usage by both adult and paediatric and is currently pending De Novo classification for paediatric use in the United States. Further, a follow-on TGA submission for adult usage would be made soon.
As announced on 30 September 2019, the company has received positive top-line results from the at-home obstructive sleep apnoea study. As per this study, RAP's algorithms, that was analysing a person's breathing and snoring sounds were recorded by using a smartphone placed on a bedside table, were able to accurately identify obstructive sleep apnoea (OSA) versus to a simultaneous at-home comprehensive sleep study.
ResApp's algorithms were correctly able to find out the patients that has OSA across the three AHI (apnoea hypopnoea index) benchmarks, with a sensitivity of 85%, 83% and 83% for AHI thresholds of 5/h, 15/h and 30/h respectively. At these thresholds the algorithms represent the specificity of 73%, 80% and 90%.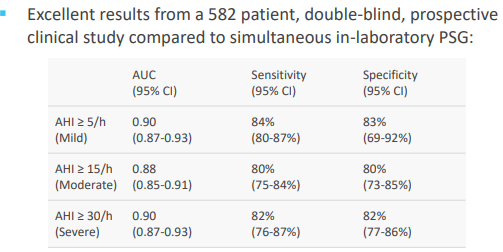 At home Screening of OSA, Source: Company's Report
On 2 October 2019, RAP stock last traded at $0.275, up by 11.336 percent compared to the last close. It has a market cap of $195.13 million, with around 790.01 million shares outstanding. The stock has given a decent return of 171.98 percent of return in the last six months timeframe.
---
Disclaimer
This website is a service of Kalkine Media Pty. Ltd. A.C.N. 629 651 672. The website has been prepared for informational purposes only and is not intended to be used as a complete source of information on any particular company. Kalkine Media does not in any way endorse or recommend individuals, products or services that may be discussed on this site. Our publications are NOT a solicitation or recommendation to buy, sell or hold. We are neither licensed nor qualified to provide investment advice.