Australia-based leading pure-play metallurgical coal (coking coal) project developer, Aspire Mining Limited (ASX: AKM) is currently advancing its flagship asset – the Ovoot Coking Coal Project (100%-owned) located in the Orkhon-Selenge Coal Basin of northern Mongolia, where the Company continues to contribute towards social and economic upliftment of local communities.
The Ovoot Early Development Plan (OEDP), first-stage of the Ovoot Project, which hosts a JORC 2012 Probable Reserve of 255Mt, is being advanced first to begin early production of washed coking coal. Currently, the Company is working on a Definitive Feasibility Study (DFS) for reaching a decision-to-mine on the OEDP 4Mtpa medium term truck or rail mining solution, and negotiating with the local Tsetserleg soum Government authorities and community, affected by the road/rail alignment, to obtain the necessary approvals to move forward.
Erdenet – Ovoot Railway Link to Connect Multiple Countries
Aspire Mining's preferred strategy has been to progress the low-capital road-based connectivity to commence production at the earliest and then pursue development of the larger scale and longer-term Erdenet -Ovoot Railway alignment.
For AKM's project related activities in 2019, Read: Charting Key Developments from Aspire Mining's Calendar Year 2019
Northern Railways LLC (90%-AKM owned), a Mongolian registered rail infrastructure company, has been mandated to develop the Erdenet -Ovoot Railway, supported by a consortium of Aspire Mining, China Gezhouba Group, and subsidiaries of Fortune 500 listed China Railway Construction Corporation Limited (China Railway 20 Bureau Group Corporation and China Railway First Survey & Design Institute Group Co Ltd). It would be a multi-user rail line covering 547 km from Ovoot to Erdenet town, and also connect northern Mongolia to lucrative foreign markets of China, Russia and eventually others.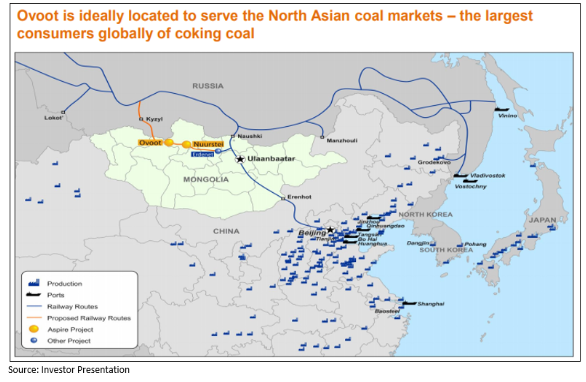 This rail link would also form a crucial part of the broader Northern Rail Corridor to pass through Mongolia, which is also being discussed under the Trilateral Program agreed upon by the Presidents of Mongolia, China and Russia for boosting trade ties via relaxations in regulations, capacity enhancement at the borders and strengthening of infrastructure construction by establishing industrial clusters to meet the rising demand for transport services, attract investment and develop the regional economies.
Furthermore, the Northern Rail Corridor is expected to be closely associated with China's plans to establish a New Silk Road for strengthening Euro-Asian trade and establish a Euro-Asian economic zone as outlined by Russia.
Read: Progress On Rail And Road Links For Ovoot Early Development Plan
Coking Coal and Market Opportunity
Ovoot Coking coal, as per Chinese classification system, is categorised as "Fat" Coking coal that has high fluidity with good plastic and huge caking properties beneficial in blending lower quality coking coals. The high-quality coking coal is mainly required by steel producers aiming to optimise blast furnace productivity. Mongolia enjoys a strategic location and the country is resource abundant, surrounded by the world's largest steel making countries such as Japan, Russia, China and Korea.
Now, premium coking coals (fat and primary) are in great demand in China, thus Aspire Mining is primarily seeking opportunities in the Chinese coking coal market that is expected to be the largest consumer for Ovoot coking coal, owing to the market size and proximity. Besides, China's coal reserves do not host premium coking coal while the country is expanding its use of blast furnaces to achieve higher productivity levels deploy cutting-edge technology and balance environmental concerns.
Read: Coking Coal and The Market Opportunity
Recently, Aspire Mining and Sinosteel Equipment & Engineering Co., Ltd. signed an MoU covering potential Engineering, Procurement and Construction (EPC) and trade-based funding opportunities for the Ovoot Early Development Project (OEDP).
Given funding, approvals and permits are received in time, Aspire Mining is envisioning the commencement of pre-stripping of waste at Ovoot by the third quarter of 2020.
For latest Updates, Read: Aspire Mining Eventful Q3FY20
The AKM stock closed the trading on 15 May 2020 at AU$ 0.080, with a market cap of ~ AU$ 40.61 million.