Highlights

Amazon announced a 20-for-1 stock split, its first stock split since the dot-com bubble.
Its investors will receive 20 shares for each share they currently hold.
Amazon announced a US$10 billion share buyback plan.
Amazon.com, Inc (NASDAQ: AMZN) dropped two big news for investors in the aftermarket hours on Wednesday. It declared a 20-for-1 stock split and a US$10 billion share buyback plan.
The Seattle, Washington-based e-commerce giant said that its investors will receive 20 shares for each share they currently hold. It is its first stock split since the dot-com bubble.
The company will also repurchase up to US$10 billion worth of its shares.
Amazon investors hailed the decision. The stock price surged as much as 10% after the news in the extended-hours trading. It was up 5.14% from its last close at 7:09 am ET on Thursday.
Also Read: Why is RFOX (RFOX) crypto rising?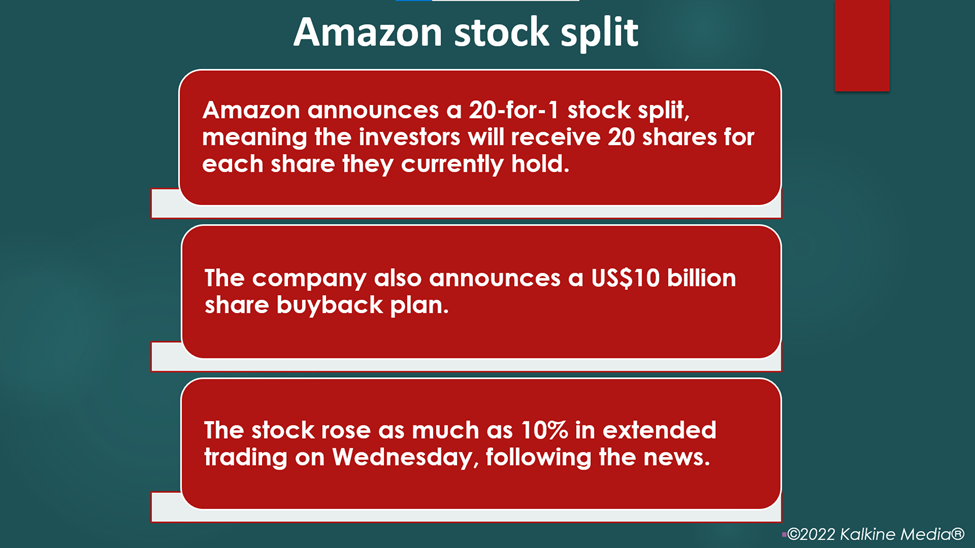 Impact of Stock split
Despite the win-win news, some analysts said the stock split might not benefit ordinary investors much. It is because online brokerages like Robinhood Markets Inc. (HOOD) provide options for fractional share purchase in companies, including Amazon.
Earlier, many investors could not afford the stock. On Wednesday, the Amazon (AMZN) stock closed at US$2785.58 apiece.
Also Read: XOM to SLB: Top oil stocks to explore as crude prices decline
A stock split does not affect its underlying business or make it more valuable but makes the shares more affordable. But each shareholder would still acquire the same percentage of the firm after the split.
Also Read: Is Libero Financial (LIBERO) crypto another Ponzi scam?
Share buyback effect:
Share buyback plans reduce the number of available shares in the market, increasing investors' ownership stakes in the company. Still, according to some experts, Amazon's share buyback plan may not affect much in this case for three reasons.
First, a US$5 billion share buyback plan is already in effect, of which US$2.12 billion worth of shares already have been repurchased. The new US$10 billion repurchase plan replaces the old.
Also Read: Why is Stellar (XLM) crypto rising?
Second, as there is no expiration date for the new plan, it may not repurchase the shares.
Third, although the US$10-billion plan seems a huge amount, it represents only around 1% of the company's US$1.42 trillion market capitalization. Analysts believe the amount is not much to significantly impact the stock price over time.
Video: Alphabet (GOOG) caps blockbuster year with strong sales, declares stock split
Also Read: What did Janet Yellen say on cryptocurrency & did it have any impact?
Bottom line:
The AMZN stock was trading at US$2928.73 at 7:09 am ET on March 10. Amazon's stock split announcement dominated the headlines, as seen in the cases of other companies in the past.
For instance, Google parent Alphabet Inc. (GOOGL) hit the headlines after announcing a 20-for-1 split plan in February this year. The stock rose initially, but the gains faded as part of the broader tech rout observed in the global market. The stock declined 18.27% YTD.
Amazon CEO Andy Jassy had a rocky start at his job in July 2021. Amazon.com was among the worst-performing big techs last year. However, investors should exercise due diligence before spending on stocks.