Highlights:

Resolute Forest Products Inc. (NYSE: RFP) is engaged in the forest products industry.
Domtar Corp is acquiring Resolute for US$20.50 a share and one contingent value right.
RFP stocks rose 63.05% on Wednesday.
Shares of Resolute Forest Products Inc. (NYSE: RFP) rose more than 63% after announcing its purchase by Domtar Corporation for US$20.50 a share and one contingent value right (CVR).
RFP was up 63.05% to US$20.365 at 10.17 am ET after the announcement.
Domtar Corp became a wholly-owned subsidiary of the Paper Excellence Group after it acquired it last year. Meanwhile, Domtar will acquire all common shares outstanding of Resolute.
After the transaction, Resolute will become a wholly-owned subsidiary of Domtar and continue its business under its current brand name.
The group plans to make Montreal a hub for the North American businesses of Resolute and Domtar. It will also retain Resolute's production location and jobs.
The cash portion in the merger agreement represents around a 64% premium on Resolute's closing share price on July 5, 2022.
Resolute's enterprise value is around US$2.7 billion, as per the cash consideration, including pension liabilities and excluding CVR on lumber duty deposit refunds for softwood.
Each shareholder of Resolute common stock will have a right to receive US$20.50 per share and a CVR to get a share of future refunds from softwood lumber duty deposit. As per the agreement, each share is entitled to receive one CVR on a fully diluted basis at closing.
The transaction is expected to close in the first half of 2023, subject to regulatory and shareholders' approvals and other customary closing conditions.
Barclays is serving as Paper Excellence's financial advisor; Latham & Watkins LLP, McMillan LLP, and McCarthy Tétrault LLP as its legal advisors.
Domtar is arranging finances from Barclays, CoBank, and Bank of Montreal for the transaction.
Resolute has CIBC Capital Markets as its exclusive financial advisor and Paul, Weiss, Rifkind, Wharton & Garrison LLP, and Stikeman Elliott LLP as the legal advisors.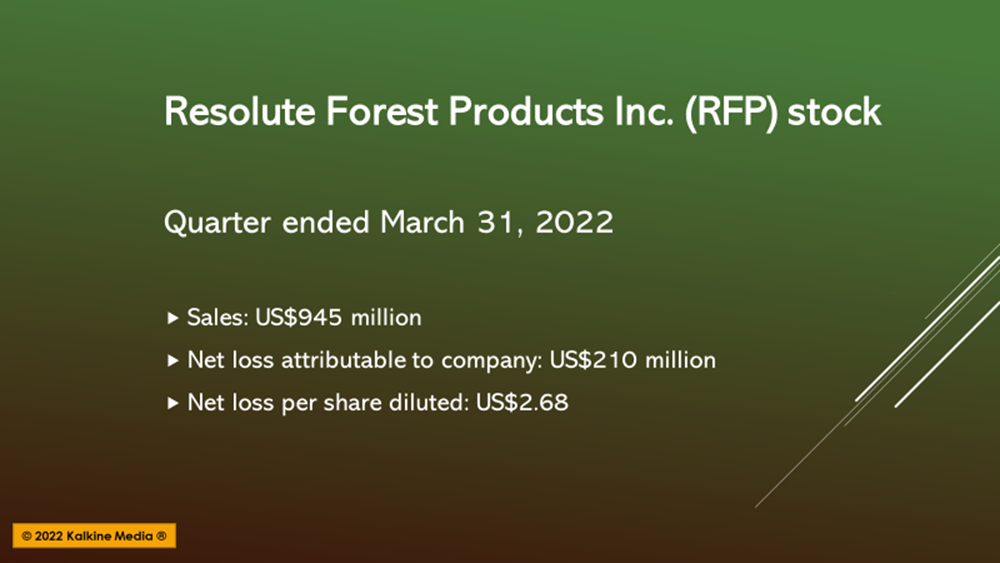 Financials:
Resolute's current market capitalization is US$1.6 billion, with a P/E ratio of 3.82. The stock price moved from US$17.11 to US$9.84 in the last 52 weeks.
For the three months ended March 31, 2022, its sales were US$945 million compared to US$873 million in the same quarter the previous year.
Its net income attributable to the company was US$210 million or US$2.68 per share diluted compared to US$87 million or US$1.06 per share in the March quarter of 2021.
Bottom line:
Montreal-based Resolute Forest Products Inc's portfolio includes pulp, wood items, tissue, newsprint, and specialty papers. It owns facilities in the US and Canada.
The Dow Jones US Basic Materials Total Stock Market index fell approximately 12.92% YTD, whereas the RFP stock rose 8.61% in one year. However, given the current volatility in the market, investors invest in stocks only after due diligence.