Highlights:

The NBEV stock tumbled over 40 per cent in the pre-market hours on August 31.
Its price witnessed a jump of over 74 per cent on Tuesday.
On a quarter-to-date (QTD) basis, its price was up about 62 per cent through August 30.
NewAge, Inc. (NASDAQ: NBEV) stock declined rapidly during the pre-market trading hours on Wednesday, August 31, after soaring more than 74 per cent in the prior session. The NBEV stock plummeted over 40 per cent in pre-market hours on August 31.
What could have triggered the massive sell-off today? Let's find out with Kalkine Media®.
Recent developments associated with NewAge
The Midvale, Utah-based company said on Tuesday that NewAge and the firm's subsidiaries had filed a voluntary petition for relief under Chapter 11 of the US Bankruptcy Code. The company and its subsidiaries' petitions were filed in the US Bankruptcy Court for the District of Delaware.
The filed subsidiaries include Ariix LLC, Morinda Holdings, Inc., and Morinda Inc. The D2C healthy product firm believes the Chapter 11 method would be the most efficient path in pursuing a strategic transaction while protecting and preserving value for all its stakeholders.
NewAge announced securing a commitment for a financing facility of US$ 16 million with its advisors' support. However, the financing facility would depend on a nod from the court.
The firm was also in the news after it announced this month that it had received a delinquency notice from Nasdaq Stock Market for delaying filing its quarterly financial results on Form 10-Q with the Securities And Exchange Commission (SEC).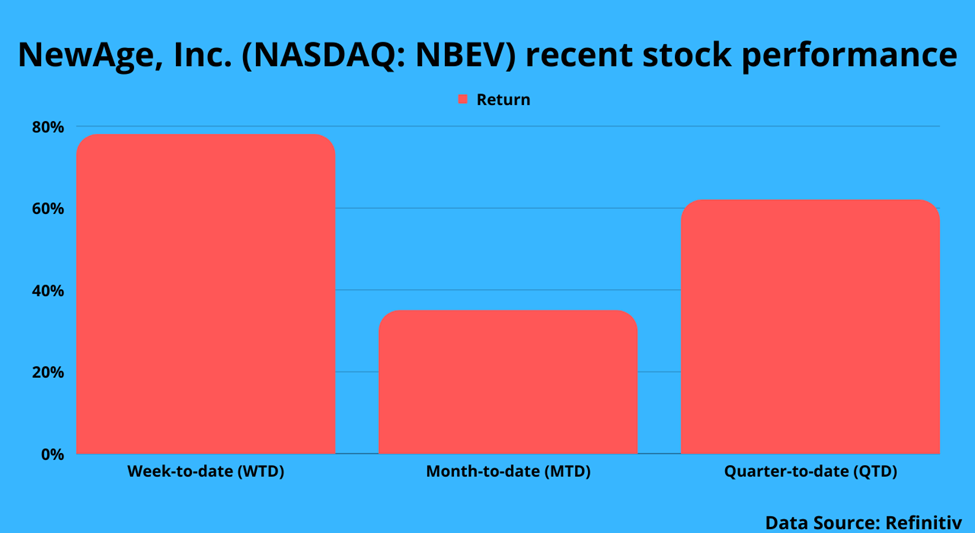 Source: ©Kalkine Media®; © Canva via Canva.com
Bottom line:
The NBEV stock was down by 40.67 per cent to US$ 0.214 at 8:39 AM ET on August 31, after closing at US$0.3632 on August 30.
At the time of writing, the trading volume of the NewAge Inc. stock was about 10.94 million, and its market cap stood at US$ 32.15 million.
The stock of the healthy and organic product firm noted its 52-week low of US$ 0.196 on August 26, 2022. In the last 12 months, its price fell over 78 per cent, while falling over 64 per cent year-to-date. However, its price went up over 62 per cent in the ongoing quarter.
Given the highly volatile condition in the broader equity market, investors should closely evaluate a stock before spending.