Highlights:

Denny's Corporation's (DENN) Q2 2022 operating revenue was US$ 115 million.
Sweetgreen, Inc. (SG) has a market cap of US$ 1.9 billion.
Arcos Dorados Holdings Inc. registered a net income of US$ 15.6 million in Q2 2022.
Retail sales in the US have dipped considerably over the past months as soaring inflation hits consumers. People have resorted to only staples while shunning non-essential items.
However, surprisingly, spending on restaurants and bars hasn't seen any decrease amid all these.
The restaurant industry's sales were badly affected during the pandemic, and it was trying to revive during the last year.
According to US Census Bureau data, restaurant sales saw a spurt of 11.6 per cent year-over-year (YoY) in July 2022. The sector has seen better growth in comparison to other segments like apparel, furniture, jewelry, etc.
Here, we discuss five restaurant stocks picked by Kalkine Media® and see their performances:
Denny's Corporation (NASDAQ: DENN)
A US table service diner restaurant chain, Denny's runs more than 1,700 restaurants globally. There are two streams of revenue for Denny's-fees and royalties from restaurants and the sale of food and beverages.
Denny's holds a market cap of US$ 596.14 million and its price-to-earnings (P/E) ratio is 6.15.
DENN stock has plummeted over 39 per cent this year so far. However, the stock saw a rise of close to three per cent in the last week.
In July 2022, Denny's announced the completion of its acquisition of Keke's Breakfast Café and eight other restaurants owned by it.
The company reported a growth of 8.3 per cent in its total operating revenue to US$ 115 million compared to the year-ago quarter. Denny's net income in the reported quarter was US$ 23 million and earnings per share (EPS) were US$ 1.57.
Denny's also repurchased US$37.4 million of its common stock in the second quarter of fiscal 2022.
Sweetgreen, Inc. (NYSE: SG)
Founded in 2006, Sweetgreen is a US restaurant chain that serves salads and healthy food prepared from organic ingredients sourced from local farms. The Los Angeles, California-based restaurant has a market valuation of US$ 1.9 billion.
Although the SG stock slipped over 45 per cent year-to-date, it has risen 9.9 per cent over the past month.
The company said that its second-quarter revenue for fiscal 2022 grew 45 per cent year-over-year, while its restaurant margins swelled 8.5 per cent.
The total revenue in Q2 2022 for Sweetgreen was US$ 124.9 million, while it was US$ 86.2 million in the year-ago period.
The company launched eight new restaurants in the second quarter of 2022 compared to the launch of nine restaurants in the corresponding quarter in 2021.
As a result of the US$ 21.3 million increase in stock-related compensation expenses, Sweetgreen suffered a Q2 2022 net loss of US$40 million versus US$ 26.9 million in the same quarter the year ago.
For its 2022 full-year outlook, Sweetgreen is anticipating its revenue in a range between US$ 480 million and US$ 500 million.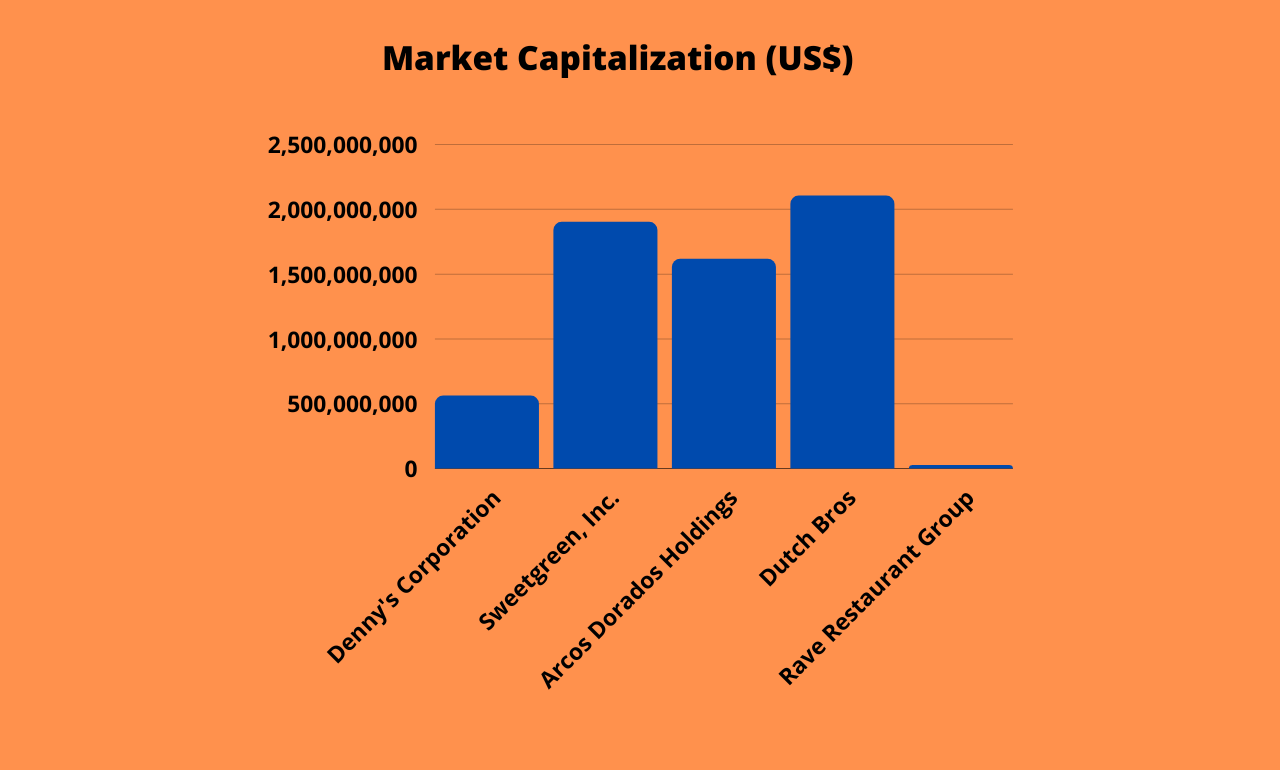 Source: ©Kalkine Media®; © Canva via Canva.com
Arcos Dorados Holdings Inc. (NYSE: ARCO)
The largest McDonald's franchisee runs fast-food chains in Latin American and Caribbean nations. It delivers the highest system-wide sales for McDonald's and runs the maximum number of restaurants.
Arcos paid a dividend of US$ 0.04 per share and its price-to-earnings ratio was 14.47 at the time of writing.
The ARCO stock closed at US$ 7.67 on August 26, 2022, with a share volume of 704,852.
On a year-to-date basis, shares of Arcos Dorados increased by 27.62 per cent and 5.64 per cent over the last month.
In Q2 2022, Arcos' net income touched US$ 15.6 million, and revenue was US$ 887.8 million compared to US$ 592.7 million in Q2 2021.
Dutch Bros Inc. (NYSE: BROS)
Dutch Bros. is popular for its signature hand-crafted beverages, including hot and cold espresso-based servings, proprietary energy drinks, lemonade, tea, etc.
Dutch Bros. has a market capitalization of US$ 2.1 billion and over the past month, the BROS stock increased by 4.58 per cent.
On August 25, 2022, Ann Miller was appointed to its Board of Directors. She is the Chief Legal Officer of NIKE, Inc at the moment.
Dutch Bros. opened 31 new shops in Q2 2022. Notably, the company's revenue grew 44 per cent YoY to US$ 186.4 Million.
For its full-year 2022 outlook, Dutch Bros. now expects its total revenues to be at least US$ 715 million.
Rave Restaurant Group, Inc. (NASDAQ: RAVE)
Rave Restaurant Group is a US company that runs and franchises pizzas, delivery/carry-out, and express restaurants. The restaurants are run under Rave Restaurant Group Pizza Inn and Pie Five Pizza Company.
The Rave Restaurant Group has a market cap of US$ 23.22 million. It has a P/E ratio of 10.75 with an EPS of US$ 0.12.
RAVE stock surged almost 23 per cent YTD. Its share price increased 0.78 per cent in the last week.
As part of its global expansion plans, Rave Restaurant Group, in July 2022, announced the opening 10 Pizza Inn restaurants in New Zealand.
On May 6, 2022, Rave Restaurant released its third quarter 2022 financial results. The company registered a net income of US$ 0.5 million for the third quarter of fiscal 2022 versus a net income of US$ 0.4 million for the year-ago quarter.
Rave Restaurant's total revenue grew by US$ 0.4 million to US$ 2.6 million in Q3 2022 compared to the same period a year ago.
Bottom line:
Although some sectors show steady growth, investing in the stock market during a tumult is fraught with risks. Only investors with a long-term strategy can hope to gain returns in the long run. Hence, they should pick their stocks carefully when the market is volatile and intend to hold them for the long run.