Benchmark US indices closed mixed on Wednesday, September 29, after consumer staple and utility stocks posted strong gains amid fears of a slowdown in economic recovery.
The S&P 500 was up 0.16% to 4,359.46. The Dow Jones rose 0.26% to 34,390.72. The NASDAQ Composite fell 0.24% to 14,512.44, and the small-cap Russell 2000 was down 0.20% to 2,225.31.
The stock indexes witnessed steep losses on Tuesday as concerns over inflation and bond yield spike led to one of the worst selloffs this year. Higher commodity prices, including oil, have boosted gains in bond yield. Overall, Wall Street saw choppy trading in September on concerns over sooner-than-expected tapering of the Fed's monetary support.
On Wednesday, Fed chief Jerome Powell indicated that inflation is likely to remain higher this year. However, he also warned of economic uncertainty in the medium term.
Market participants turned their focus on defensive sectors as fears of a slowdown in the economic recovery weighed on their minds. All 11 sectors of the S&P 500 index stayed in the positive territory, with consumer staple and utility stocks scoring the biggest gains. The healthcare sector provided the biggest boost in Monday's session.
Shares of Dollar Tree, Inc. (DLTR) surged 15.68% after the company said that it would add around US$1 billion to its share-repurchase plan. The company also added that it would raise the item prices from US$1-an-item, which gave the name to the company, due to supply chain constraints and the uncertainty in the labor market.
Cintas Corporation (CTAS) stocks rose 1.50% in intraday trading after the company reported quarterly earnings before the opening bell on Wednesday. The revenue soared 8.2% YoY to US$1.89 billion in Q1, FY22, while its net income came in at US$331.17 million.
EV manufacturer Lucid Group, Inc. (LCID) stock jumped 11.41% after it revealed delivery plans for its electric luxury sedans. The company plans to start delivery of its Lucid Air sedans by October end.
In the consumer staple sector, The Procter & Gamble Company (PG) stock rose 1.40%, the Coca-Cola Company rose 0.80%, and Pepsi Co, Inc. (PEP) rose 1.34%. Costco Wholesale Corp (COST) and Philip Morris International Inc. (PM) advanced 1.49% and 1.23%, respectively.
Are Global Markets on recovery mode?
In utility stocks, NextEra Energy, Inc. (NEE) gained 2.02%, Duke Energy Corporation (DUK) rose 1.93%, and The Southern Company (SO) rose 1.68%. Dominion Energy, Inc (D) and Exelon Corporation ticked up 2.15% and 1.47%, respectively.
In the healthcare sector, Johnson & Johnson increased by 1.04%, Pfizer, Inc. (PFE) surged 1.20%, and Thermo Fisher Scientific Inc. (TMO) added 1.05%. In addition, Danaher Corporation (DHR) and Eli Lilly and Company (LLY) jumped 1.63% and 3.94%, respectively.
Also Read: DBGI, UNFI stocks gain strong traction after quarterly results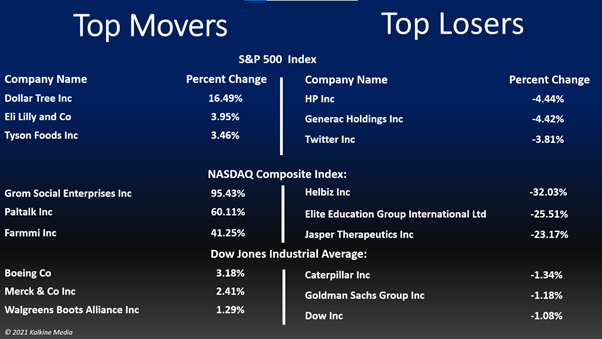 Also Read: Warby Parker IPO: price, lot size, other details; Allvue postpones launch
Also Read: Cintas (CTAS), Jabil (JBL) stocks in focus after higher quarterly revenue
Futures & Commodities
Gold futures were down 0.65% to US$1,726.15 per ounce. Silver decreased by 4.24% to US$21.515 per ounce, while copper fell 1.64% to US$4.1770.
Brent oil futures decreased by 0.52% to US$77.94 per barrel and WTI crude was down 0.78% to US$74.70.
Bond Market
The 30-year Treasury bond yields was down 0.33% to 2.063, while the 10-year bond yields fell 1.15% to 1.518.
US Dollar Futures Index increased by 0.65% to US$94.392.