Benchmark US indices closed lower on Friday, December 3, capping a topsy-turvy trading week marred by concerns over higher inflation and the Omicron threat overseas.
The S&P 500 slipped 0.84% to 4,538.43. The Dow Jones fell 0.17% to 34,580.08. The NASDAQ Composite fell 1.92% to 15,085.47%, and the small-cap Russell 2000 declined 2.12% to 2,159.60.
The US unemployment rate fell to 4.2% in November, the lowest in 21 months, the Labor Department said. The economy added around 210,000 jobs in October, it said.
Consumer staple and utility stocks were the top gainers on S&P 500 index. Consumer discretionary, technology, and financials were the biggest losers. Three of the 11 segments stayed in the green.
Top Global Stories to Know before the ASX Opening Bell
The technology sector saw a sharp decline on Friday. NVIDIA Corporation (NVDA) fell more than 6%, Apple Inc. (AAPL) stock was down over 2%, while Netflix, Inc. (NFLX) fell around 3%.
Shares of DiDi Global Inc. (DIDI) fell sharply after the news of its delisting from the New York Stock Exchange (NYSE) under the Chinese government pressure hit the market. The stock fell more than 22% in intraday trading. DiDi now plans to proceed with a Hong Kong listing.
DocuSign, Inc. (DOCU) stock plunged over 43% on lower-than-expectation guidance in the fourth quarter. The company reported third-quarter revenue growth of 42% YoY to US$545.5 million.
The Zillow Group, Inc. (Z) stock rose over 9% after share buyback authorization.
In the consumer staple sector, Walmart Inc. (WMT) rose 1.27%, Procter & Gamble Company (PG) grew 1.33%, and Costco Wholesale Corporation (COST) was up 0.45%. Walgreens Boots Alliance Inc. (WBA) increased 4.05%, and PepsiCo Inc. (PEP) grew 2.12%.
In the utility sector, Duke Energy Corporation (DUK) stock surged 1.94%, Dominion Energy Inc. (D) rose 1.07%, and American Electric Power Company (AEP) rose 1.07%. Atmos Energy Corporation (ATO) and WEC Energy Group (WEC) climbed 2.75% and 2.24%, respectively.
In the consumer discretionary sector, Tesla Inc. (TSLA) stock declined 7.01%, Amazon.com Inc. (AMZN) fell 2.51%, and Nike Inc. (NKE) declined 0.71%. Etsy Inc. (ETSY) and Norwegian Cruise Line Holdings Ltd. (NCLH) fell 8.31% and 51.19%, respectively.
Also Read: BuzzFeed (BZFD) stock set to debut in Nasdaq on Dec 6 after SPAC deal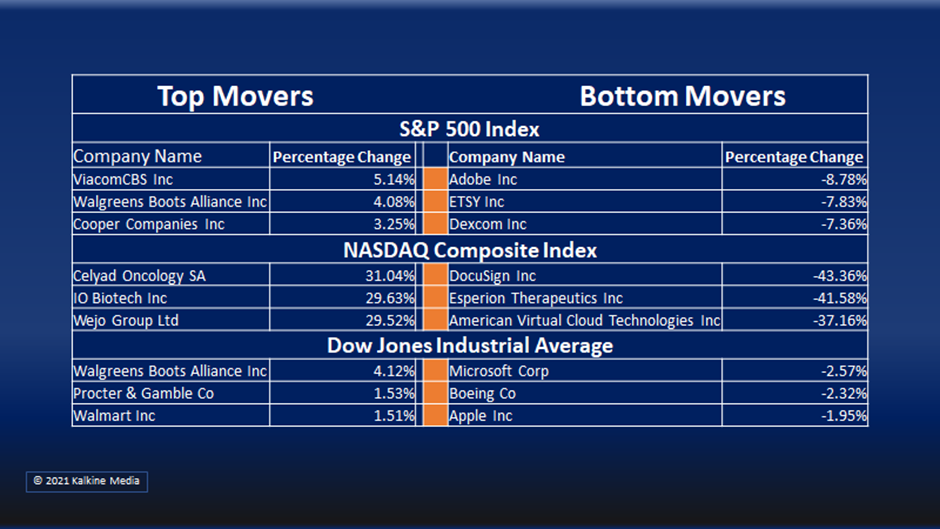 Also Read: Why Marvell Technology (MRVL) stocks jumped Friday?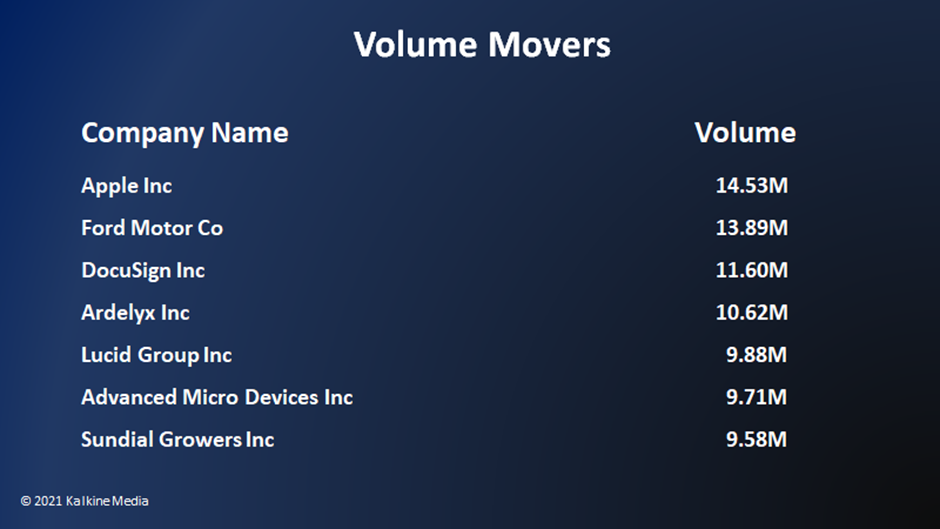 Also Read: Longeveron Inc (LGVN) stock's record rally continues - Know why?
Futures & Commodities
Gold futures climbed 1.20% to US$1,783.85 per ounce. Silver futures increased by 1.02% to US$22.543 per ounce, while copper declined 0.35% to US$4.2840.
Brent oil futures increased by 0.53% to US$70.04 per barrel and WTI crude futures were down 0.08% to US$66.45.
Bond Market
The 30-year Treasury bond yields decreased 4.25% to 1.693, while the 10-year bond yields were down 5.58% to 1.368.
US Dollar Futures Index remained at US$96.157.