Wall Street indices witnessed strong gains on Wednesday, July 27, after US Federal Reserve announced a 75-basis hike in interest rates and comments from policymakers lifted market sentiments.
The S&P 500 rose 2.62% to 4,023.61. The Dow Jones was up 1.37% to 32,197.59. The NASDAQ Composite added 4.06% to 12,032.42, and the small-cap Russell 2000 rose 2.39% to 1,848.34.
The rate hike decision came in tandem with the investors' anticipation. In addition, Fed Chair Jerome Powell reassured the market participants that even though the economy is cooling, it is not in a recession at this moment.
He added that the Federal Reserve could only provide cues on which path their policy is heading in a "meeting-by-meeting" manner due to a lack of a clear picture of the economic future.
Additionally, positive earnings from big companies like Microsoft and Alphabet also raised the traders' confidence.
All the 11 sectors of the S&P 500 index stayed in the green. Information technology and consumer discretionary sectors provided the highest boost.
The technology giant, Microsoft Corporation (NASDAQ: MSFT) gained 6.69% on Wednesday, a day after the company forecasted a double-digit revenue growth this year due to strong demand for its cloud computing services. However, in the latest quarter, the company suffered its slowest earnings growth in the past two years.
Shares of Google parent Alphabet Inc. (NASDAQ: GOOGL) jumped 7.66%, after the company reported strong sales in Google search ads, allaying concerns over a slowing advertisement market.
The pharmaceutical firm, Bristol-Myers Squibb Company (BMY) added 1.60% after the company reported a strong quarterly profit on Wednesday. The company said that the sales of its cancer drug, Revlimid, were better than it expected amid strong competition.
In the technology sector, Apple Inc. (AAPL) increased by 3.42%, NVIDIA Corporation (NVDA) soared by 7.60%, and ASML Holding N.V. (ASML) climbed by 4.20%. Broadcom Inc. (AVGO) and Oracle Corporation (ORCL) added 3.27% and 2.49%, respectively.
In consumer discretionary stocks, Amazon.com, Inc. (AMZN) gained 5.37%, Tesla, Inc. (TSLA) rose 6.17%, Toyota Motor Corporation (TM) surged 1.26%. Nike, Inc. (NKE) and Starbucks Corporation (SBUX) advanced 2.53% and 3.30%, respectively.
In the energy sector, Exxon Mobil Corporation (XOM) grew 2.16%, Chevron Corporation (CVX) added 1.32%, and Shell plc (SHEL) jumped 2.72%. TotalEnergies SE (TTE) and ConocoPhillips (COP) ticked up 2.36% and 2.39%, respectively.
In the crypto space, Bitcoin (BTC) and Ethereum (ETH) soared 8.79% and 16.50%, respectively, in the last 24 hours. The global crypto market cap climbed 8.88% to US$1.04 trillion at 4:30 pm ET on July 27.
Futures & Commodities
Gold futures were up 0.88% to US$1,732.75 per ounce. Silver increased by 2.79% to US$19.052 per ounce, while copper rose 2.63% to US$3.4735.
Brent oil futures increased by 2.92% to US$102.36 per barrel and WTI crude was up 3.28% to US$98.10.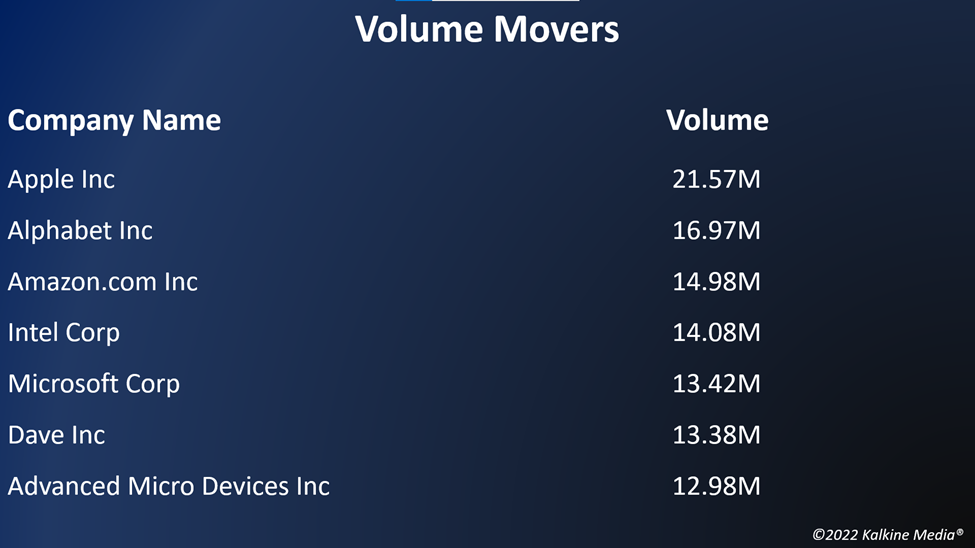 Bond Market
The 30-year Treasury bond yields were up 1.88% to 3.065, while the 10-year bond yields fell 0.14% to 2.783.
US Dollar Futures Index decreased by 0.69% to US$106.305.