Benchmark US indices closed flat on Wednesday, October 13, after government data showed inflation rose in September, increasing the possibility of stimulus tapering sooner than expected.
The S&P 500 was up 0.30% to 4,363.80. The Dow Jones stayed flat at 34,377.81. The NASDAQ Composite Index rose 0.73% to 14,571.64, and the small-cap Russell 2000 rose 0.34% to 2,241.97.
The US consumer price index rose by 0.4% in September after rising by 0.3% in August. On an annual basis, CPI jumped 5.4% through September, while Core CPI rose 0.2% in September. Food prices rose 0.9% MoM in September, the Labor Department data showed on Wednesday.
Meanwhile, Atlanta Fed President Raphael Bostic has expressed concern over rising inflation. His comments come after the Fed released its minutes from its September meeting that supported withdrawing stimulus by mid-November or mid-December.
Top Global Stories before the ASX opening bell
Basic materials, technology, and utility stocks led gains on the S&P 500 index on Wednesday. Nine of the 11 index segments stayed in the green. Financial and energy stocks were the bottom movers.
JPMorgan Chase & Co. (JPM) stock declined 2.60% after reporting better-than-expected quarterly profits. Its revenue rose 1% YoY to US$29.64 billion in Q3, FY21, while its net income was up 24% YoY to US$11.68 billion, or US$3.74 per diluted share.
Stocks of BlackRock, Inc. (BLK) rose 3.87% after reporting quarterly results before the opening bell. Its revenue ticked up 16% YoY to US$5.05 billion in Q3, FY21, and its net income came in at US$1.68 billion, or US$10.89 per diluted share, beating analysts' expectation of US$9.35 per diluted share.
Delta Air Lines, Inc. (DAL) stocks tumbled 5.82% after reporting quarterly results marred by rising fuel costs. Its operating revenue fell by 27% YoY to US$9.15 billion in the quarter ended September 30, while its net income declined by 19% YoY to US$1.21 billion, or US$1.89 per diluted share.
In the basic materials sector, Linde PLC (LIN) rose 1.81%, Air Products and Chemicals, Inc. (APD) rose 2.32%, and Freeport-McMoran, Inc. (FCX) gained 4.22%. Newmont Corporation (NEM) and PPG Industries, Inc. (PPG) ticked up 3.31% and 0.90%, respectively.
In utility stocks, NextEra Energy, Inc. (NEE) gained 1.14%, Exelon Corporation (EXC) gained 1.17%, and DBA Sempra (SRE) rose 1.42%. Xcel Energy Inc. (XEL) and Edison International (EIX) advanced 1.62% and 1.31%, respectively.
In financial stock, Bank of America Corporation (BAC) fell 1.06%, Wells Fargo & Company (WFC) declined 1.16%, and Charles Schwab Corporation (SCHW) fell 1.46%. American Express Company (AXP) and Capital One Financial Corporation (COF) fell 3.44% and 3.25%, respectively.
Also Read: Earnings update: Infosys revenue up 20%, Wipro net income jumps 18%
Also Read: Q3 Earnings Snapshot: Pinnacle's (PNFP) net income jumps to US$136.5 Mn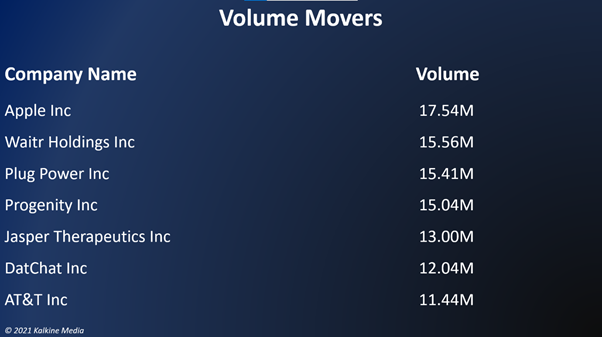 Also Read: Plug Power (PLUG) stock pops on rating boost, FuelCell (FCEL) up 2%
Futures & Commodities
Gold futures were up 1.97% to US$1,793.90 per ounce. Silver increased by 2.64% to US$23.108 per ounce, while copper rose 3.80% to US$4.4900.
Brent oil futures increased by 0.01% to US$83.35 per barrel and WTI crude was down 0.06% to US$80.59.
Bond Market
The 30-year Treasury bond yields was down 3.56% to 2.030, while the 10-year bond yields declined 2.63% to 1.538.
US Dollar Futures Index decreased by 0.54% to US$94.013.