Benchmark US indices closed higher on Tuesday, August 3, boosted by gains in healthcare and technology stocks and optimism about strong quarterly earnings of blue-chip companies.
The S&P 500 was up 0.82% to 4,423.15. The Dow Jones gained 0.80% to 35,116.40. The NASDAQ Composite Index rose 0.55% to 14,761.29, and the small-cap Russell 2000 was up 0.37% to 2,223.58.
Investors appeared to have ignored concerns about rising coronavirus infections in several US states as they parlayed in stock bets. According to Refinitiv data, overall earnings of the S&P 500 index are expected to rise by around 90% in the second quarter compared to 65.4% estimated in July.
Healthcare, energy and industrial stocks were the biggest gainers in Tuesday's session. Communication stocks were the bottom movers. Ten among the eleven major sectors of the index stayed in the positive territory.
Global Market Roundup || US markets edge higher on earnings optimism
According to data released by the New York Federal Reserve on Tuesday, consumer demand for new debt and credit card use rose in the second quarter compared to the figures in the pre-pandemic period. Total household debt surged by US$313 billion in the June quarter to US$14.96 trillion, the data showed. The mortgage debt rose by US$282 billion to US$10.44 billion in the period.
Another dataset released by the US Census Bureau on Tuesday showed that the pace of economic recovery is steadily decreasing, although the recovery is on track. New orders for manufactured goods surged by 1.5% to US$7.4 billion in June, topping analysts' estimates.
In corporate news, French pharma major Sanofi SA (SNY) agreed to acquire its US mRNA development partner Translate Bio for US$3.2 billion. It would allow the company to improve its mRNA technologies and join the league of the world's top-selling Covid-19 vaccines. Shares of Translate Bio, Inc. (TBIO) surged more than 29% in intraday trading after the development.
Fashion brand Ralph Lauren Corporation (RL) raised its annual revenue projection for fiscal 2022 by 25%-30% on a 53-week reported basis, following its substantial gain in quarterly sales. In addition, the company's net revenue increased by 182% YoY to US$1.38 billion in the quarter ended June 26. After its earnings report, shares of Ralph Lauren RL ticked up 7.37% in intraday trading.
The Clorox Company (CLX) shares plunged more than 8% after reporting its fourth-quarter earnings on Tuesday. Its revenue declined by 9.1% to US$1.80 billion from US$1.98 billion last year, while its bottom line came in at US$97 million, or US$0.78 apiece.
Also Read: Why is PepsiCo (NASDAQ: PEP) selling Tropicana, other juice brands?
In healthcare stocks, Johnson & Johnson (JNJ) increased by 1.17%, UnitedHealth Group Incorporated (UNH) rose 1.47%, and Pfizer Inc. (PFE) gained 2.93%. Eli Lilly and Company (LLY) and Abbott Laboratories (ABT) surged 3.39% and 1.17%. In addition, Moderna Inc. (MRNA) advanced 10.13% after the company said that it received FDA approval for its vaccine for respiratory disease.
In the technology sector, Apple Inc. (AAPL) increased by 1.38%, Microsoft Corporation (MSFT) rose 0.74%, and ASML Holdings NV (ASML) gained 1.14%. Oracle Corporation (ORCL) advanced 2.22%, while Shopify Inc. (SHOP) ticked down 1.28%.
In the communication sector, The Walt Disney Company (DIS) declined 1.56%, Netflix, Inc. (NFLX) shed 0.89%, and Snap Inc. (SNAP) decreased 1.06%. NetEase Inc. (NTES) and Activision Blizzard Inc. (ATVI) plunged 11.44% and 3.77%, respectively.
In the crypto world, Coinbase Global Inc. (COIN) decreased by 2.25%, while Bitcoin (BTC) and Ethereum (ETH) slipped by 3.48% and 6.22%, respectively.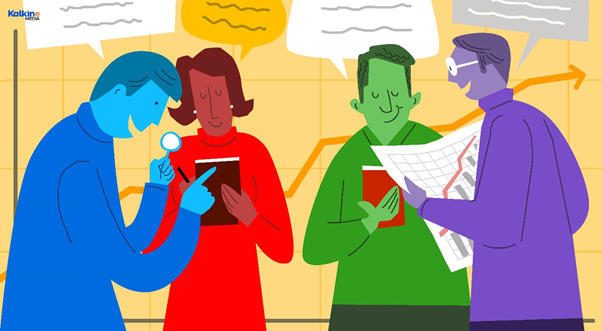 Copyright ©Kalkine Media 2021
Also Read: Why are GE (NYSE: GE), Eaton Corp (NYSE: ETN) stocks in focus today?
Top Gainers
Top performers on S&P 500 included Moderna Inc (11.51%), Gartner Inc (10.83%), Pioneer Natural Resources Co (7.84%), Under Armour Inc (7.53%). On NASDAQ, top performers were China XD Plastics Company Ltd (152.65%), Arcturus Therapeutics Holdings Inc (68.06%), Flora Growth Corp (62.53%), Wilhelmina International Inc (40.46%). On Dow Jones, International Business Machines Corp (1.87%), Amgen Inc (1.79%), 3M Co (1.78%), Boeing Co (1.66%) were the leaders.
Top Losers
Top laggards on S&P 500 included PG Photonics Corp (-18.30%), Leidos Holdings Inc (-10.94%), Clorox Co (-9.46%), Take-Two Interactive Software Inc (-7.71%). On NASDAQ, E-Home Household Service Holdings Ltd (-61.10%), Neuronetics Inc (-41.98%), Ecmoho Ltd (-38.26%), Newtek Business Services Corp (-27.35%). On Dow Jones, Walt Disney Co (-1.46%), Mcdonald's Corp (-1.31%), Visa Inc (-1.12%), American Express Co (-0.14%) were the laggards.
Volume Movers
Top volume movers were Kimco Realty Corp (22.97M), Advanced Micro Devices Inc (20.33M), Apple Inc (12.98M), Bank of America Corp (12.23M), Pfizer Inc (10.82M), Ford Motor Co (9.69M), ViacomCBS Inc (8.10M), Wells Fargo & Co (7.19M), Robinhood Markets Inc (16.95M), Wilhelmina International Inc (11.74M), Outlook Therapeutics Inc (9.95M).
Also Read: Which are the six fastest-growing US small-cap stocks?
Futures & Commodities
Gold futures were down 0.48% to US$1,813.40 per ounce. Silver increased by 0.06% to US$25.590 per ounce, while copper fell 1.18% to US$4.3807.
Brent oil futures decreased by 1.02% to US$72.15 per barrel and WTI crude was down 1.39% to US$70.27.
Bond Market
The 30-year Treasury bond yields was down 0.48% to 1.842, while the 10-year bond yields ticked down 0.15% to 1.174.
US Dollar Futures Index increased by 0.01% to US$92.073.