Highlights

Braze, Inc. (BRZE) offered 8 million shares in its IPO.


The offering price for the IPO was US$65.


The firm reported revenue of US$103.63 million for the six months that ended on July 31, 2021.
The Braze, Inc. (NASDAQ: BRZE) stock traded around 34% above its offering price in its market debut on Wednesday. The company hit a valuation of over US$8 billion in the IPO.
The New York-based technology company offered eight million shares of its common stocks to raise US$520 million. Three years ago, it raised US$80 million in a funding round, which put its valuation at US$850 million.
The Braze platform helps customers gain insights into the consumer market trends and plan marketing strategies accordingly. Its competitors include Adobe Inc. and Salesforce.com Inc.
The company has offices in Berlin, Tokyo, San Francisco, London, and Singapore. The company was co-founded by Bill Magnuson, Jon Hyman, and Mark Ghermezian in 2011. Magnuson and Hyman are the company's current CEO and chief technology officer, respectively.
The company has over 3 billion monthly active users and 900 employees.
The company said it helped more than 1,000 brands in 50 countries to date. It had 1,119 customers as of July-end, 2021, up from 890 in January-end, as per its SEC filing.
Also Read: Progenity (PROG) stock continues rally, up 21%: Here's why
The company completed its IPO amid a slew of stock market debuts from the technology industry, reflecting the companies' strong confidence in the market. In addition, the rapid digitalization of businesses, especially in the wake of covid, has helped bolster their market positions.

The lead underwriters for the IPO were Goldman Sachs & Co, J.P. Morgan, and Barclays.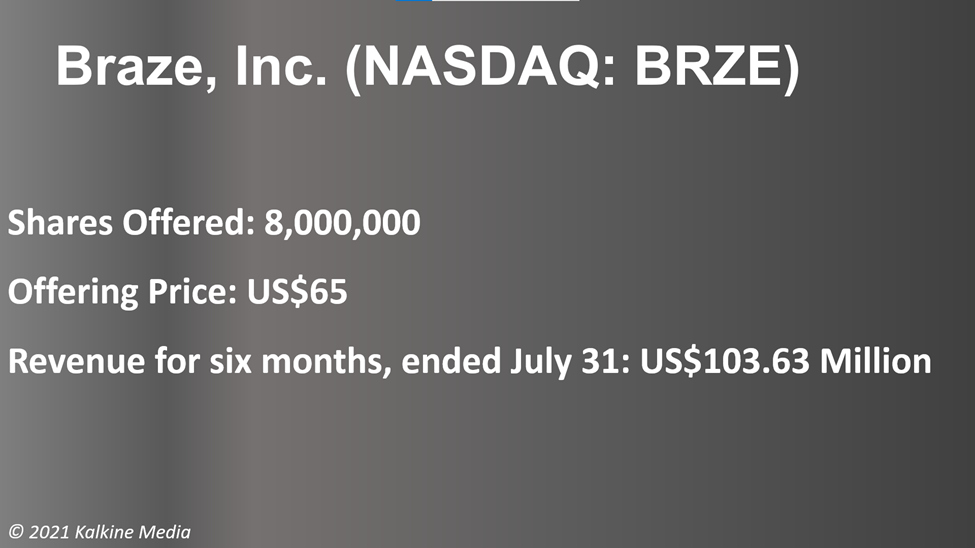 Also Read: UserTesting IPO: Offering price of USER stock revealed
Stock performance and financials:
The Braze stock started trading at US$87.20, up from its offering price of US$65 per share. It rose by 36.58% to US$88.78 from its opening price at 2:27 pm ET, bringing its market cap to US$8.03 billion. Its highest and lowest stock prices were US$92.75 and US$85.76, respectively, on Wednesday.
For the six months ended July 31, 2021, the company's revenue was US$103.63 million, compared to US$67.92 million in the year-ago period. It reported a net loss of US$25.76 million against a loss of US$12.39 million for the six months ended on July 31, 2020.
Also Read: Peloton stock (PTON) gets a lift after 23.9 mn share sale offer
Bottomline
Bill Magnuson said the company would continue to expand the business "to take advantage of the huge addressable market". Among its customers, some prominent names are German-based Delivery Hero, Credit Sesame, and payment service firm Venmo.