Highlights:

Near Protocol is a layer-one blockchain designed as a community-run cloud computing platform.
The NEAR token can be traded on exchanges like Binance, OKX, etc.
It returned gains of over 70% in the last 30 days.
The NEAR Protocol (NEAR) crypto price jumped over 23%, while its trading volume rose more than 37% close on the heels of its town hall in which it had announced several developments.
What is NEAR Protocol (NEAR) crypto?
Near Protocol is a layer-one blockchain designed as a community-run cloud computing platform. It is focused on eliminating blockchain limitations like low transaction speeds, low throughput, and lack of interoperability.
It claims to create a user-friendly decentralized applications (DApps) platform for developers. For instance, it uses human-readable account names instead of cryptographic wallet addresses used on Ethereum blockchain.
Also Read: When is Vietnam's EV maker VinFast launching its US IPO?
NEAR claims to use innovative solutions to address scaling issues. The NEAR protocol, which has its own consensus mechanism dubbed Doomslug, was co-founded by Erik Trautman, Alexander Skidanov, and Illia Polosukhin.
The NEAR token is available on exchanges like Binance, OKX, Bybit, etc.
Also Read: Why is MiamiCoin (MIA) gaining attention?
Why is it rising?
Friday's rally follows the company's March Town Hall, in which they have announced several key developments concerning its growth, brand partnerships, etc.
Also Read: Why Sphere Finance (SPHERE) crypto surged 32% today?
NEAR said that it had onboarded 40,000 students and 120 NEAR-certified teachers at the end of March, and grants rose to US$124 million across 509 recipients. Its ecosystem also grew to 429 projects and DAO (decentralized autonomous organization) from 300, while its transactions in March grew to 110 million from 95 million in the prior month.
Some experts believe that its robust venture capital fundings may have drawn investors' interest in the token. Earlier this week, the protocol raised around US$350 million in a funding round led by Tiger Global to help accelerate its decentralized ecosystem.
Also Read: Why Web3 Project (WEB3) crypto skyrocketed 128% in one week?
In addition, the NEAR protocol's decentralized exchange Trisolaris announced receiving some US$4.5 million in strategic investments from Electric Capital, Jump Crypto, Ethereal Ventures, and other companies last month.
Many investors could also be keeping a close watch on the crypto ahead of its participation in the Paris Blockchain Week Summit (PBWSummit) from April 13-14.
Also Read: Why HP Inc (HPQ) stock jumped over 17% on Thursday?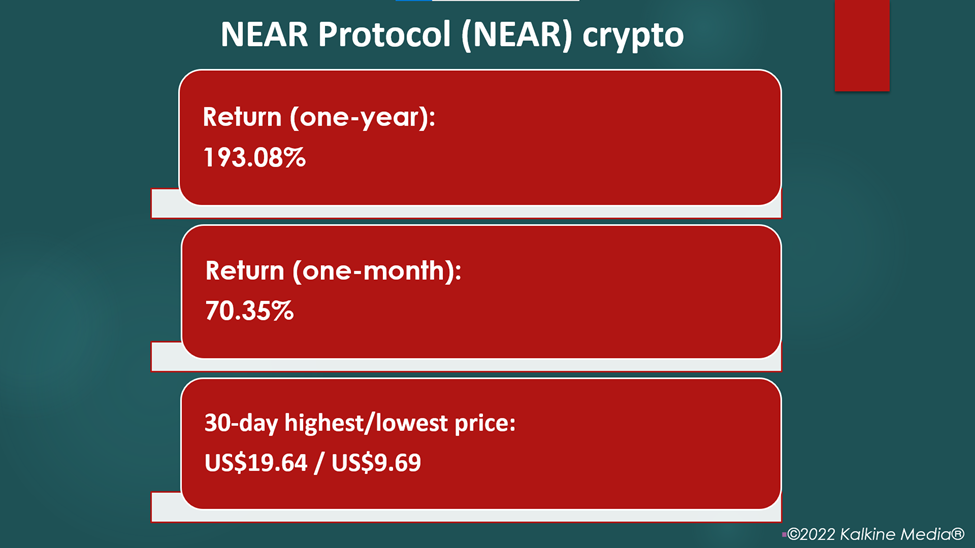 Source: *data provided by CoinMarketCap.com
Bottom line:
The NEAR token was priced at US$18.92 at 6:08 am ET on April 8, up 23.72%, while its one-day volume rose 37.80% to US$2.85 billion. It has a market cap of US$12.45 billion, and its fully-diluted market cap is US$18.65 billion.
Having a total and maximum supply of 1 billion, the token's current circulating supply is over 664.18 million. It returned gains of 70.35% in the last 30 days while increasing 193.08% in the last 12 months.
Also Read: What is Minifootball (MINIFOOTBALL) crypto and why is it rising?
Risk Disclosure: Trading in cryptocurrencies involves high risks including the risk of losing some, or all, of your investment amount, and may not be suitable for all investors. Prices of cryptocurrencies are extremely volatile and may be affected by external factors such as financial, regulatory, or political events. The laws that apply to crypto products (and how a particular crypto product is regulated) may change. Before deciding to trade in financial instruments or cryptocurrencies you should be fully informed of the risks and costs associated with trading in the financial markets, carefully consider your investment objectives, level of experience, and risk appetite, and seek professional advice where needed. Kalkine Media cannot and does not represent or guarantee that any of the information/data available here is accurate, reliable, current, complete, or appropriate for your needs. Kalkine Media will not accept liability for any loss or damage as a result of your trading or your reliance on the information shared on this website.