Highlights

Polkastarter (POLS) is hosting a Mecha Morphing (MAPE) Initial DEX Offering (IDO) on its platform at 1:00 pm UTC on March 29.
Polkastarter is a blockchain platform that provides a launchpad for cross-chain token pools and auctions.
Polkastarter's native token POLS rose 73.21% to US$1.99 at 6:20 am ET on Tuesday.
Polkastarter (POLS) is hosting a Mecha Morphing (MAPE) Initial DEX Offering (IDO) on its platform at 1:00 pm UTC on March 29.
The Polkastarter blockchain provides a launchpad for cross-chain token pools and auctions.
Mecha Morphing is a browser-based, decentralized, play-to-earn ARPG game.
Polkastarter said Mecha Morphing (MAPE) is offering a total of 100 million tokens for US$0.4 per MAPE token. The maximum allocation is fixed at US$250.
MAPE aims to raise US$400,000 from the Initial DEX Offering (IDO).
After the announcement on Tuesday, Polkastarter (POLS) token soared 73.21% to US$1.99 at 6:20 am ET.
What Is Polkastarter (POLS)?
Polkastarter is created to provide an easy-to-use platform for cross-chain pools and auctions. It is used mainly by early-stage blockchain projects to raise capital and distribute tokens.
The projects can create their cross-chain swap pool on Polkastarter to raise funds. Users simultaneously get to invest through swaps that are auto executed by smart contracts.
Polkastarter went live in December 2020. The platform has gained huge popularity among companies for its services for IDO offerings. Polkastarter operates on the Ethereum blockchain.
Also Read: Why is Gauntlet (GAU) crypto drawing attention?
It was co-founded by Daniel Stockhaus and Tiago Martins, who serve as the CEO and CTO of the company, respectively.
The platform offers a fixed swap smart contract where the orders are executed at a fixed price, unlike the automated market makers or the AMM model.
Also Read: Why is HyperVerse (HVT) crypto gaining attention?
Besides, it also offers different types of auctions, such as sealed-bid, Dutch auctions, and fixed and dynamic ratio swaps, making it usable for other purposes, including private trades, discounted sales, etc.
Polkastarter aims to boost its anti-scam capabilities with a full KYC integration and permissionless listing, given the scams and hacking threats observed in the market.
Also Read: Did crypto price crash force NFL legend Tom Brady out of retirement?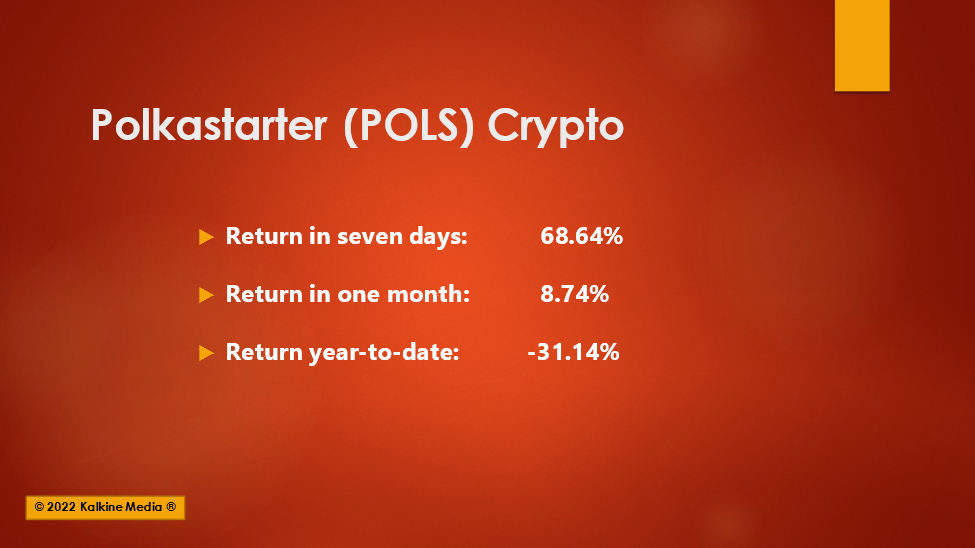 Data Source: coinmarketcap.com
What is a POLS token?
POLS is the native utility token of Polkastarter. It is used for governance, transaction fees, liquidity mining, and POLS-holder-only pools.
The token has a market capitalization of US$175.89 million currently. Its volume zoomed 3183.98% to US$207.38 million in the last 24 hours to Tuesday morning.
Its circulating supply currently is 88,221,432, and the total supply is 100 million. The token can be traded on Binance, Mandala Exchange, BingX, OKX, and Hotcoin Global.
Also Read: What is Helium (HNT) crypto? All you must know
Bottomline
The crypto market is volatile. Hence, investors should exercise caution before investing in digital assets.
Also Read: Is 'cashback-crazed' Rewards Bunny (RBUNNY) crypto here to stay?
Risk Disclosure: Trading in cryptocurrencies involves high risks including the risk of losing some, or all, of your investment amount, and may not be suitable for all investors. Prices of cryptocurrencies are extremely volatile and may be affected by external factors such as financial, regulatory, or political events. The laws that apply to crypto products (and how a particular crypto product is regulated) may change. Before deciding to trade in financial instrument or cryptocurrencies you should be fully informed of the risks and costs associated with trading in the financial markets, carefully consider your investment objectives, level of experience, and risk appetite, and seek professional advice where needed. Kalkine Media cannot and does not represent or guarantee that any of the information/data available here is accurate, reliable, current, complete or appropriate for your needs. Kalkine Media will not accept liability for any loss or damage as a result of your trading or your reliance on the information shared on this website.