Highlights:






STEPN (GMT) crypto returned over 2083% gains YTD.


The GMT token reached its all-time high on April 20, 2022.


Step App (FITFI) announced various listing updates.




                              
The crypto space has emerged various trends in the market while proving its presence in a dynamic space with endless opportunities and developments making rounds. These developments have helped the sector, especially decentralized finance (DeFi), flourish in recent years.
With the rapid popularity of DeFi, innovations like non-fungible tokens (NFTs), GameFi, play-to-earn (P2E), Metaverse, stablecoins, etc., have caught public attention, even as investments continued to pour into the industry.
Meanwhile, a new trend has caught the eyes of the investors, and that's move-to-earn. Yes, that is what some new projects are offering and drawing investors' attention.
Also Read: What is Kasta (KASTA) crypto and why is it rising?
Move-to-earn includes a wide array of products and services, mainly to pay or reward users for being active. The platforms offer rewards for being fit while providing opportunities to unlock a new income stream by participating in daily exercise activities. Users are also rewarded for taking part in specific fitness-related challenges.
Move-to-earn may have evolved from the play-to-earn model, where users are rewarded in cryptos for playing games. Here we explore two move-to-earn cryptos that are drawing attention.
Also Read: What is Numeraire (NMR) crypto? All you need to know
STEPN (GMT) crypto
STEPN (GMT) claims to be a self-styled project with GameFi elements built on the Solana blockchain. It combines a play-to-earn scheme with a fitness application, suiting itself as a move-to-earn project. Users buy NFT sneakers that are used to earn in-game currency while doing physical activities like walking, jogging, etc.
The GMT token was priced at US$3.33 at 12:48 pm ET on April 26, up 2.19%, while its volume for the trailing 24 hours fell 10.98% to US$1.35 billion. It has a market cap of US$1.99 billion, and its fully-diluted market cap is US$19.97 billion.
The token's maximum supply is 6 billion, and its circulating supply is 600 million. It returned gains of 2083.43% YTD while increasing 329.83% in the last 30 days.
The token reached its all-time high of US$3.83 on April 20, 2022.
Also Read: Why Veru Inc. (VERU) stock surged more than 20% today?
Step App (FITFI)
Step App (FITFI) crypto gained traction in the market on April 26, after CoinMarketCap.com started tracking its performance. FITFI is a project that provides physical experience or fitness experience within the metaverse through utilizing NFTs and geo-location technology. It uses augmented reality (AR) to enhance the user experience in the Step's FITFI metaverse.
The project, powered by blockchain technology and AR, claims to turn fitness goals into income, social joy, and friendly competition. The token is listed on OKX and Bybit exchange today at 10:00 am UTC and 10:02 am UTC, respectively. It will not list on a decentralized exchange at the start. In addition, the token announced that it is currently available on Crypto.com.
The FITFI token was priced at US$0.2509 at 12:58 pm ET on April 26, up 95.89%, while its one-day volume skyrocketed 974.89% to US$142.57 million.
Also Read: What is Dotmoovs (MOOV) crypto that zoomed over 1000% in 30 days?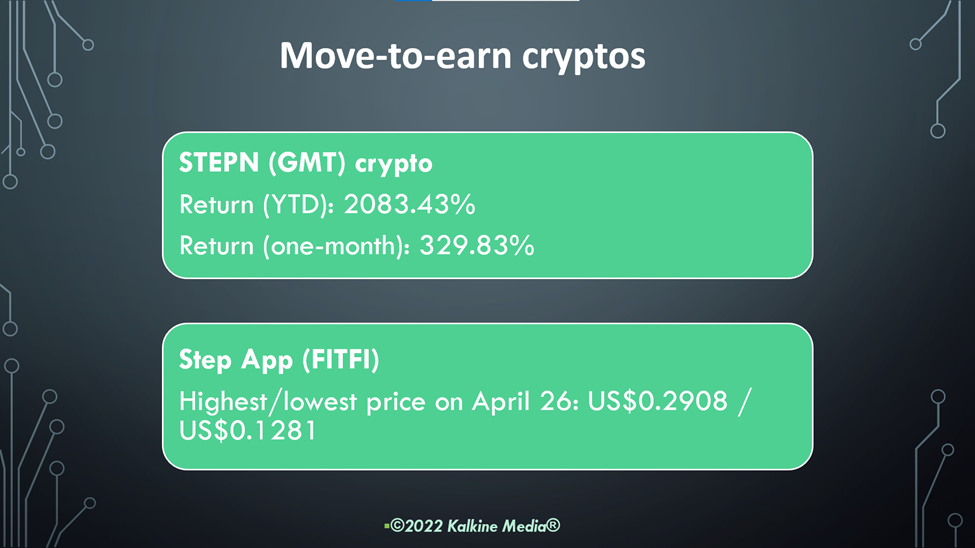 Data Source: CoinMarketCap.com
Bottom line:
Despite higher returns and the unique operations of the projects, the investors should also focus on the higher volatility and other risk factors associated with digital currencies. So, the investors should closely evaluate the projects before considering an investment in the crypto space.
Also Read: Is Polygon (MATIC) crypto gaining attention on Stripe news?
Risk Disclosure: Trading in cryptocurrencies involves high risks including the risk of losing some, or all, of your investment amount, and may not be suitable for all investors. Prices of cryptocurrencies are extremely volatile and may be affected by external factors such as financial, regulatory, or political events. The laws that apply to crypto products (and how a particular crypto product is regulated) may change. Before deciding to trade in financial instruments or cryptocurrencies you should be fully informed of the risks and costs associated with trading in the financial markets, carefully consider your investment objectives, level of experience, and risk appetite, and seek professional advice where needed. Kalkine Media cannot and does not represent or guarantee that any of the information/data available here is accurate, reliable, current, complete, or appropriate for your needs. Kalkine Media will not accept liability for any loss or damage as a result of your trading or your reliance on the information shared on this website.