Highlights

Avro Energy and Green became the latest energy suppliers to collapse on Wednesday due to the ongoing gas supply crisis.
Avro is the largest supplier to go bust till date, with a customer base of 580,000.
About 1.5 million households have been impacted by the crisis so far.
Two more UK based small energy suppliers went bust on Wednesday, Avro Energy and Green Energy. The series of collapses is estimated to have impacted a total of 1.5 million customers so far.
Avro Energy is the largest supplier to have collapsed to date, having a total of 580,000 customers. Avro Energy and Green had a combined total of 800,000 customers.
The collapse of more energy providers on the cards
Another small to mid-sized energy provider Igloo is also teetering on the brink of collapse, according to reports.
The two energy providers' collapse has further deepened the ongoing gas supply crisis, which has already caused seven smaller energy suppliers to go bust in the last six weeks.
The news of Avro Energy and Green's collapse comes after Ofgem, the UK industry regulator, had said on Monday that more energy companies are likely to stop trading over the winter season.
Natural gas prices have risen by over 3 times recently. The unexpected spike in natural gas prices has been attributed to lower supply from Russia, lower reserves due to winter months, and some other factors.
How have customers been impacted by soaring prices?
The collapse of gas providers has affected 1.5 million customers, who are now forced to find new suppliers and spend more on their gas and electric bills in a year.
Households are expected to face a rising cost of living due to a hike of £139 starting from October, a universal £20 credit cut and inflation concerns.
According to a recent analysis done by UK charity organisation Joseph Rowntree Foundation, British low-income households are expected to be poorer by £1,750 by April 2022.
Government support
The government has said that maintaining the energy price cap is one of the key ways it can help customers during this crisis. However, some other ways that the government can support keeping energy costs down is by considering other winter fuel payments, raising warm home discounts, and other options.
Let us look at 2 FTSE listed gas stocks and how they have performed amidst the crisis:
Centrica PLC (LON: CNA)
FTSE 250 index listed Centrica is the parent company of British gas. It is a multinational energy and services company. The company took over 350,000 domestic and 500 business customers from the now ceased energy supplier People's Energy.
Ofgem directed British Gas to take over People's Energy customers as part of its Supplier of Last Resort system. People's energy was one of the energy firms which collapsed last week on 14 September.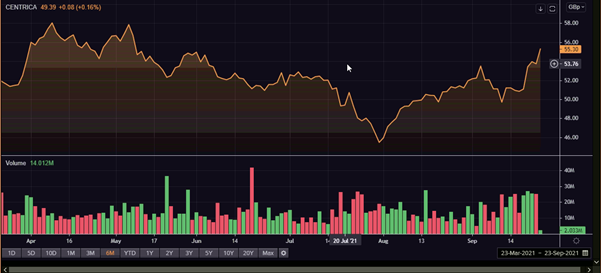 (Image source: Refinitiv)
Centrica's shares were trading at GBX 55.10, up by 2.53 per cent today at 08:55 AM BST, while the FTSE 250 index was at 23,928.66, up by 0.61 per cent.
The company's market cap is at £3,160.25 million, and it has a one-year return of 40 per cent as of 23 September 2021.
Yu Group PLC (LON: YU.)
FTSE AIM All-Share firm Yu Group is an independent energy supplier in the UK. Yu is expected to report its interim results next week on 29 September.
The group expects its FY 2021 revenue to rise significantly more from its previously reported revenue of £101.5 million in FY 2020.
The positive outlook is due to strong monthly bookings in its last trading update, and a 40 per cent higher aggregate forward contracted revenue in June 2021 compared to June 2020.
(Image source: Refinitiv)
Yu's shares were trading flat at GBX 235.00 today at 09:05 AM BST, while the FTSE AIM All-Share index was at 1,274.35, up by 0.49 per cent.
The company's market cap is at £38.34 million, and it has a one-year return of 191.30 per cent as of 23 September 2021.
Bottom Line
The collapse of Avro Energy and Green Energy and news of the possible collapse of Igloo indicates that contagion is expanding from smaller firms to mid-sized energy providers now as well.
Thus, the government should continue to maintain the energy price cap to support its customers and should also consider offering financial support to the smaller energy providers who are unable to hedge against rising gas prices to create some buffer against the price shocks.