Summary

UK-based and AIM-quoted ECR Minerals, the gold exploration and development company focused on Australia, has interests in a range of projects including the Bailieston Gold Project and the Creswick Gold Project, both of which are in the Australian state of Victoria, as well as the SLM Gold Project in Argentina and the Danglay Gold Project in the Philippines
The Bailieston Gold Project aims the epizonal or epithermal gold mineralization of Melbourne Zone of Victoria, hosting proven modern gold mines containing the Kirkland Lake Gold owned world-class Fosterville gold mine
The Bailieston Gold Project covers numerous high priority prospects including the Blue Moon discovery and the nearby Red and Yellow Moon prospects, the HR3 area, and the Black Cat prospect
ECR Minerals is a mineral explorer and developer focused on gold projects in Australia, and especially the state of Victoria. The company's principal activities involve the identification, acquisition, exploration and development of mineral projects. The projects in which the company holds interests include the Bailieston Gold Project, Creswick Gold Project, SLM Gold Project and Danglay Gold Project.
The Bailieston Gold Project is located approximately 150 kilometres north of the Victorian state capital Melbourne and targets epizonal or epithermal gold mineralization of the Melbourne Zone. ECR has 100% ownership of the project.
The Creswick Gold Project targets gold mineralization hosted within the Dimocks Main Shale, which is highly prospective for gold. ECR has 100% ownership of the project.
The SLM Gold Project is situated around 450 kilometres northeast of Santiago, Chile, and approximately 800 kilometres northwest of Buenos Aires. The three main gold prospects in the project area are Maestro Aguero, El Abra, and JV14. ECR holds a royalty on the project.
The Danglay Gold Project in the Philippines is an advanced exploration project and is situated in a prolific copper and gold mining district in the north of the country. ECR has earned a 25% interest in the project.
The Bailieston Gold Project is at the focal point of the current gold exploration surge in Victoria as it is placed close to Kirkland Lake Gold owned highly successful Fosterville mine.
ECR Minerals has identified a number of high priority gold prospects within the Bailieston Gold Project, some of which have the potential for immediate drilling.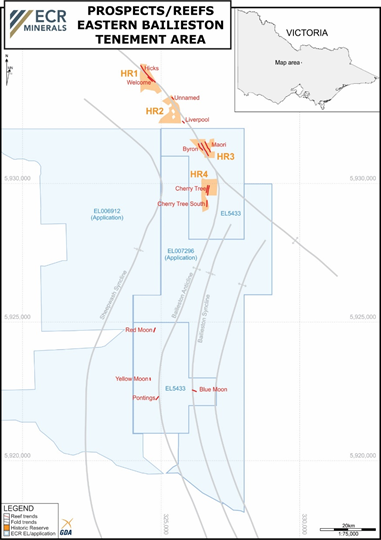 (Source: Company Announcement 14 September 2020)
HR3
Encompasses the Byron, Maori, Scoulars, Dan Genders, Hard Up and Scanlon's reefs, and forms the largest area of historical workings (700 metres by 300 metres) within the Bailieston project area. MGA's exploration objective at HR3 is to explore the prospect of integrating the different reefs at depth to reach at an important modern-day resource.
There is a gap in the historical workings from the HR3 area for roughly 800 metres to Cherry Tree to the south and for around 400 metres to the dwelling boundary to the north, and there is potential in these zones for unexplored mineralisation, especially at depth.
Three dimensional (3D) modelling of historical data for the Bailieston Historic Reserve #3 (HR3) and the results of drilling in the area by MGA in 2017 was completed in late 2019 and has assisted in the identification of the architecture of the major folds, structures and cross structures at the prospect. HR3 includes at least 4 closely spaced lines of reef, comprising the Byron, Maori, Dan Genders and Scoulars Reefs, combined with numerous cross-structures, providing various drill-ready targets.
Cherry Tree and Cherry Tree South
Cherry Tree (Historic Reserve #4) and Cherry Tree South are beside the Bailieston trend and south of the Fosterville-style mineralisation mined in a small open cut in the 1990s at Historic Reserve #1 (HR1).
Rock chip samples were taken by Mercator Gold Australia Pty Ltd along with the Bailieston trend from Cherry Tree and Cherry Tree South as part of its 2018 sampling programme. A total of 58 rock chip samples were taken at Cherry Tree and Cherry Tree South, with 17 samples returning grades of greater than 1 g/tonne gold and the highest assay result being 8.8 g/tonne gold.

(Source: Company Website)
Black Cat
The Black Cat prospect is located immediately south of ground which has been applied for by a subsidiary of Newmont Mining, one of the world's largest gold mining companies, and is among the high importance targets recognised by a geophysical interpretation and targeting study done for ECR in late 2017.
In Q1 2019, MGA completed a reconnaissance rotary air blast (RAB) drilling programme targeting various quartz reefs at Black Cat, with a total of 18 shallow holes for 485 metres being drilled. The prospect had never been drilled before. RAB drilling is a low-cost method perfectly fit for the first pass, exploration testing required at the Black Cat gold prospect.
Significant intersections from the drilling consist of 7 metres at 1.76 g/tonne gold from 35 metres in BCD11, 3 metres at 4.26 g/t gold from 16 metres in BCD18, and 1 metre at 6.3 g/t gold from 18 metres in BCD03.
(Source: Company Website)
Blue Moon
Blue Moon is an exciting new gold discovery made by ECR, with intercepts from 2019 reverse circulation (RC) drilling including 15 metres at 3.81 g/t gold from 51 metres downhole, with 2 metres at 17.87 g/t gold. The best 2019 drilling results came from the western fence line, with the host sandstone thinning towards the east.
ECR intends to assess whether the mineralisation continues to develop towards the west, considering gaining surface access. There is also possibility to carry out additional drilling within the zones previously assessed, with the objective of creating an initial JORC Mineral Resource.
Blue Moon was identified as a high priority prospect in early 2018 when Dr Rodney Boucher, an experienced Victorian gold geologist, commenced a review of all available data on ECR's Victorian exploration licences (at that time numbering 4 licences), perfected by geological mapping and geochemical studies in designated areas. The prospect was then tested by drilling, leading the company to declare Blue Moon an exciting new gold discovery based on the positive results.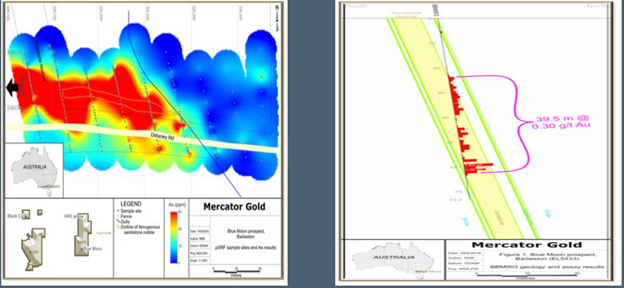 (Source: Company Website)
Red and Yellow Moon
In addition to Blue Moon, two further prospects with similar characteristics at surface, namely anomalous arsenic and broad areas of quartz float, have been identified within an approximately 3km radius.
(Source: Company Website)
Road Ahead
ECR is gearing up to launch next stage exploration campaigns across its properties in Victoria now that the Victorian winter has come to an end and COVID-19 restrictions within Australia are easing.
Significantly, the company's Australian subsidiary has acquired a new Cortech CSD1300G diamond drilling rig, complete with spares and all downhole equipment, which is expected to be capable of drilling as deep as 1,300 metres. ECR has access to experienced drilling personnel to operate the rig, and it is expected that future exploration drilling on its gold projects in Victoria can be completed at lower cost and with greater flexibility using its own rig.
ECR management see the outlook for the company as positive and are looking forward to reporting drilling results from the Bailieston Gold Project as the new rig is put to work.
Stock Performance
ECR Minerals Plc (LON: ECR) stock was trading at GBX 2.10 on 28 October 2020, with a YTD return of around 200 per cent. The 52-week low/high price of the stock was recorded at GBX 0.45/2.73. It had a market capitalisation (Mcap) of £14.56 million.
(Source: Refinitiv, Thomson Reuters)