Highlights

Warrington Borough Council-backed energy supplier Together Energy became the latest and 27th supplier to go bust amid soaring gas prices.
Together Energy and its subsidiary Bristol Energy's collapse is expected to affect about 176,000 domestic customers.
Ofgem plans to appoint a supplier to help take on Together's customers and 2 other suppliers, which are expected to collapse soon.
Together Energy, which is partly owned by the Warrington Borough Council became the latest UK-based energy provider to shut down due to soaring natural gas prices. This is the 27th energy provider to have ceased trading since August 2021.
Industry regulator Ofgem confirmed the group, and its subsidiary Bristol Energy had both gone bust. About 176,000 domestic customers are expected to get affected by the development.
Ofgem thus plans to appoint one of Together Energy's competitors as a new energy supplier for the affected customers and for taking on the customers of 2 other energy suppliers who are expected to collapse soon as well.
Together Energy's collapse comes just weeks after the group had reassured its customers that the company was stable, thereby denying media reports that it was close to falling.
The energy price cap amid record gas prices has put pressure on energy suppliers as they are squeezed by being unable to pass on the high gas costs to customers. Thus, causing several suppliers to collapse.
Let us look at 2 gas and electricity focused energy stocks on the LSE and identify their investment prospects:
ContourGlobal plc (LON: GLO)
ContourGlobal plc is a UK based power generation firm. It belongs to the FTSE 250 index.
The group is set to release its preliminary results on 18 March, and its Q4 2021 dividend payment date has been set for 14 April.
As illustrated in the image below, it recently increased its FY 2021 adjusted EBITDA guidance to around US$810 to US$ 840 million due to strong trading of its gas-fired plant in Spain. Its previous guidance was between US$ 780 and US$ 810 million.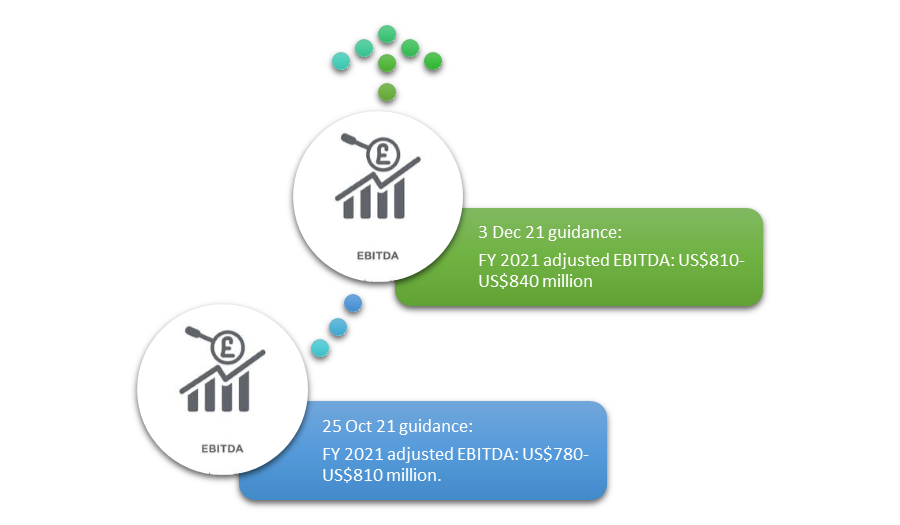 ©2022 Kalkine Media®
The group's shares closed at GBX 183.80, down by 1.40 points or 0.76 per cent on 18 January, while the FTSE 250 index ended at 22,652.71, lower by 218.93 points or 0.96 per cent.
It has a market cap of £1,205.99 million as of 18 January.
Good Energy PLC (LON: GOOD)
Good Energy is a UK-based renewable energy supplier and is a part of the FTSE AIM All-Share index.
The group received a requisition notice from energy company Ecotricity to vote on 2 resolutions at its annual general meeting, which is expected to be held on 11 February. Ecotricity's resolutions include 1. Removal of its director, William Whitehorn and 2. To not dispose of the group's generation assets without shareholder approval.
Good Energy has called on its shareholders to vote against Ecotricity's resolutions at the upcoming AGM.
In September 2021, Ecotricity had increased its takeover offer to 400 pence per share, which subsequently lapsed as it had not received sufficient support from Good Energy's shareholders.
The group's shares closed at GBX 225.00, down by 5.00 points or 2.17 per cent on 18 January, while the FTSE AIM All-Share index ended at 1,154.20, lower by 12.55 points or 1.08 per cent.
It has a market cap of £37.76 million and a one-year return of 34.73 per cent as of 18 January.