Summary

Despite the coronavirus pandemic, sales at Tesla have scaled up to reach a new record high
Tesla hoped to meet its vehicle target set for the year 2020 but said it could be tougher
Having enjoyed the first mover advantage, Tesla is now facing competition from other automakers which are increasingly focusing on the electric segment
Tesla Inc (LSE: 0R0X) brushed aside woes of the coronavirus pandemic to reach a new record in sales of its electric vehicles (EVs). The pioneering electric car manufacturing company posted its financial results for the third quarter (Q3) of 2020 after market close on 21 October 2020. California-based Palo Alto said that it has registered revenue of $8.7 billion in the three months to September. It noted that the increase in deliveries of vehicles was around 54 per cent.
The earnings for Q3 showed that Tesla has registered profits for the fifth quarter in a row, despite the challenges due to the coronavirus pandemic. This drove the company on track to turn its first-ever yearly profit in 2020. So far in 2020, the company has delivered 320,00 cars to the customers, of which approximately 50 per cent or 139,593 were sent in the three months ending 30 September. The deliveries for Q3 were recorded to be 54 per cent higher than the second quarter as well as 44 per cent up year-on-year (YOY).
The EV manufacturer stated that it hoped to fulfill its target of delivering over 500,000 vehicles in 2020 but said given the current circumstances it could be difficult. The rise in sales assisted Tesla to register a quarterly profit of $311 million. The profits were in excess of twice what the EV manufacturer made during the consecutive period in 2019.
Many analysts agreed and cautioned that Tesla faced escalating competition. It is to be noted that in the current times several other automobile companies have been severely affected by the coronavirus-led crisis. Investors have kept a close watch on the company's successful ride.
Also read: Tesla to ship cars from Shanghai plant, improve shipment time for Asia and EU
Also read: Elon Musk Tweets Tesla to Release 'Full Self-Driving' Beta On 20 October
Also read: Are Innovative Tesla batteries set to change the future?
Also read: How is EV battle going; Is Volkswagen catching up with Tesla (NASDAQ:TSLA)?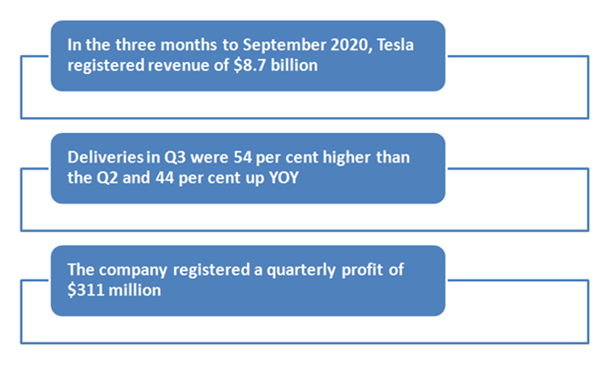 Since the beginning of 2020, Tesla's shares have been on rise and increased at four folds in value. The stock prices at NASDAQ composite index moved up in after-hours trade on 21 October. On 23 October, the company's stock on NASDAQ closed 3.15 per cent up at $425.79. Tesla said that it earned an adjusted $0.76 per share for the quarter against analyst's expectation of $0.55 earnings per share on $8.26 billion in revenue.
Tesla's CDI (CREST Depository Interest) listed on London Stock Exchange (LON: 0R0X) was trading at a value of $434.60 on 22 October, up from its previous day's value of $426.80. The stock displayed a positive YTD return of 1.98 per cent. It had multiplied by more than five times since March this year (18 March 2020: $76.22).
In its statement, Tesla said that it has witnessed a rising interest in its electric cars, storage and solar products and therefore would continue to focus on measures regarding cost-effectiveness while adding capacity as quickly as possible. The recent investments made on capacity expansion have started stabilising with Model 3 in Shanghai that is on track to achieve its designed production rate. Additionally, the Model Y in Fremont, California, would soon reach the capacity-level production.
Talking about the next phase, the company stated that it was implementing some grand architectural changes to its products and factories for improving manufacturing cost and efficiency. Tesla has been expanding its range of manufacturing to include added areas of insourcing. On Tesla Battery Day, the carmaker announced its plans to start manufacturing battery cells in-house to support its rapid expansion plan.
The automaker said that its new 4,680 cells is a significant step ahead to decrease cost and advance capital efficiency, while improving performance.
Tesla additionally mentioned that it earned $397 million by selling regulatory tax credits to other automotive companies. In recent years, these sales have risen considerably and accounted for a large percentage of the company's profit margins. On the Battery Day, the focus was on solar energy and storage and it was also Tesla's recent pitch to the investors as it saw large quarterly gains. Tesla had deployed 57 MW of solar-generation equipment, a 33 per cent rise from its 2019 level. The energy-storage packs recorded a 59 per cent YOY increase to 759 MWh.
Expert's views
At present, Tesla takes pride in having the maximum market value of any car manufacturer across the globe. And this is regardless of selling fewer vehicles than established competitor carmakers such as Toyota Motor Corporation. Some of the experts said that Tesla had benefited from a significant first mover advantage in the EV segment, it has started facing rising competition. Tesla is considered to be the world's most valuable car company in terms of market capitalization.
Many experts observed that it could be a massive task for Tesla to shield itself against the companies that are well-known for manufacturing cars on an industrial scale and various start-ups that are fast emerging. The real situation would start showing when major automotive companies in the industry would start investing in research & development to narrow the gaps for developing their electric segment.
Conclusion
In the recent past, Tesla has revealed various measures to support its growth plans. One key step included beginning the production of its own batteries to substantially ward off the rising competition from other players. Given the growth in demand estimates for EVs, several carmakers are accelerating their focus on electric offerings. Tesla has plans to begin production at its new manufacturing facility in Europe, outside of Berlin, in 2021.
High yielding dividend stocks may be a good bet amid lower Government Bond yield regime.
With yields on UK government bonds are at a record low, stocks with higher dividend yield (%) will be back in investor's attention.
Dividend stocks usually do not get into a free fall and outperform most of the time.
Dividend stocks are easy to get cash flow from your stock investments without liquidating anything. Further, you can use dividends to buy additional units of stock. And, if you reinvest dividends, you can significantly increase your long-term return from your investments because of the power of compounding.
Click here to find out Top quality high yielding dividend stocks for 2020.
CLICK HERE FOR YOUR FREE REPORT!