Highlights

Vaccine maker AstraZeneca's shares dropped almost 3 per cent after it posted operating losses in its Q3 results despite a rise in its total revenue.
Drug development company Nuformix's shares rose over 4 per cent after it filed its second patent for NXP004.
The UK pharma and biotechnology sector has laid out certain recommendations to increase the attractiveness of the sector, according to a new report by industry body the Association of the British Pharmaceutical Industry (ABPI).
Drug manufacturers stated that there is a significant opportunity to gain from the new system. UK medicines can now be reviewed under the Medicines and Healthcare Products Regulatory Agency (MHRA), instead of the European body, the European Medicines Agency (EMA), due to Brexit.
AstraZeneca (AZN) or Nuformix (NFX): Which pharma stock to buy?
Some actions that can be undertaken include issuing innovation passports, increased digitisation of approvals and others.
Let us take a look at the earnings of 2 FTSE listed pharma stocks and explore their investment prospect:
AstraZeneca PLC (LON: AZN)
FTSE 100 index listed firm AstraZeneca is a British-Swedish multinational biotech and pharmaceutical group. It was also one of the first few vaccine makers to start mass distribution of the covid-19 vaccine.
The company reported its YTD 2021 and Q3 2021 results today. It's YTD 2021 total revenue rose by 28 per cent on a constant exchange rate (CER) basis, to US$ 25,406 million, up from US$ 19,207 million in YTD 2020.
It's operating profit in YTD 2021 fell by 57 per cent on a CER basis, to US$ 1,348 million, from US$ 3,675 million in YTD 2020.
Meanwhile, its Q3 2021 total revenue rose by 48 per cent on a CER basis to US$ 9,866 million, from US$ 6,578 million in Q3 2020.
However, it reported a loss this quarter from a profit in the previous year. It reported a Q3 2021 operating loss of US$ 1,674 million, compared to an operating profit of US$ 1,171 million in Q3 2020.
It's Q3 2021 loss before tax stood at US$ 2,001 million, compared to a Q3 2020 profit before tax of US$ 853 million.
The drop came despite a rise in revenues as the group continued to lose money from its covid-19 vaccine development. The covid-19 vaccine reduced AZN's earnings per share (EPS) by US$ 0.01 per share in Q3.
The company expects its coronavirus sales in Q4 2021 to come in from its pandemic deals made originally, but it estimates some new orders to also come in.
The pharma company estimates its FY 2021 revenue (not including its covid-19 vaccine) to rise in the low 20 per cent range and expects its FY 2021 core EPS growth to be between US$ 5.05 and US$ 5.40.
The stock turned as the biggest faller on the FTSE 100 index, following the results.
(Image source: Refinitiv)
AstraZeneca's shares were trading at GBX 9,010.00, down by 4.62 per cent on 12 November at 10:38 AM BST. Meanwhile, the FTSE 100 index was at 7,363.71, down by 0.28 per cent.
The company's market cap was at £146,301.43 million, and its one-year return is at 4.99 per cent as of 12 November.
Nuformix PLC (LON: NFX)
Main market listed company Nuformix is a pharma development company. It is focused on targeting the unmet needs in the fibrosis and oncology space through drug repurposing.
The company filed its second patent application today related to NXP004, which covers a new family of co-crystalline forms of an undisclosed marketed drug which it has approval across the world for treating various types. This undisclosed drug had global sales of over £1 billion last year.
This second patent filing complements the company's earlier patent on NXP004 co-crystals and bolsters the group's IP portfolio.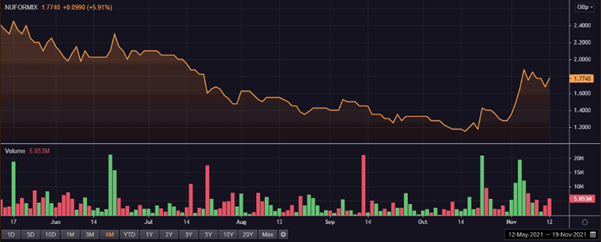 (Image source: Refinitiv)
Nuformix's shares were trading at GBX 1.75, up by 4.48 per cent on 12 November at 10:39 AM BST. Meanwhile, the medicine and biotech sectoral index was at 19,380.62, down by 1.67 per cent.
The company's market cap was at £9.91 million as of 12 November.