Summary

Berkshire Hathaway has put more than US$ 500 million in Barrick Gold Corp
Greatland Gold has delivered a price return of more than 1000 per cent in the past one year
Market experts believe that Gold can breach US$ 3,000 per ounce given the prevalent uncertainties
Barrick Gold Corp, a major Gold miner, has been in news of late as one of the biggest holding company, Berkshire Hathaway, owned by famed investor Warren Buffett, had made a significant amount of investment by buying more than 20 million shares in Barrick Gold in August 2020. Buffett expects the gold prices to stay high in the long-term, and that is why Berkshire has put in more than US$ 500 million in Barrick Gold Corp.
The economic fallout due to the coronavirus pandemic had sent the precious metal to a fresh 9 -year high, hovering around US$ 2,000 per ounce in recent times. Panic-stricken investors are either looking to save cash or park their excessive funds into Gold or related investments as the prevailing uncertainties in the economy are bound to continue for some more time.
Most of the global pharmaceutical giants are expected to roll out Covid-19 vaccine by the mid of 2021. Moreover, the economy is fearing a second wave of the pandemic after a sudden spike in the number of coronavirus affected. The British government has rolled out new coronavirus restrictions that can hinder the recovery of some businesses. The trading ecosystem is expected to propel the prices of Gold further up. The precious metals mining investments are expected to draw a lot of investors as the Gold prices remain high.
Also read: Quick Insights on Two Mining Stocks - Highland Gold Mining Limited & Kodal Minerals Plc
The market, in general, has arrived at a consensus that the rise in price of the physical Gold tends to help the prices of Gold stocks and related instruments. However, the price of the Gold related investments might not always resonate with the price of precious metal due to micro-economic factors.
Market experts believe that the industry might witness some consolidation. A lot of effort is required to improve efficiencies, boost depleting reserves along with exploring more opportunities to attract more investment in the sector.
Barrick Gold Corp (LON: 0R22) shares have delivered a price return of 57.15 per cent in the last one year. This implies that if you had invested £10,000 a year ago, your investment would have turned to £15,715.
Also read: 3 Gold Stocks Doing Well on LSE
In this article, we shall put our lens through some Gold businesses listed on the London Stock Exchange.
AIM listed precious metals and gold trading company, Wishbone Gold Plc (LON: WSBN) recorded a revenue of US$10.8 million in the fiscal year ended 31 December 2019. Almost 35 per cent of the Group's revenue originated from Hong Kong operations during 2019. In the first quarter of 2020, the Wishbone's revenue stood at US$3.64 million, according to its recent trading update. Wishbone Gold has refocussed on its strategy to explore sites in Australia.
Wishbone Gold shares traded at GBX 5.45 on 8 October 2020 at GMT 12:01 PM+1, which were marginally up by 0.93 per cent from previous day closing price. In the last one year, the stock has given a price return of 69.23 per cent.
The gold and base metal exploration company, Rockfire Resources Plc (LON: ROCK) has recently found higher-grade gold intervals, long intervals of gold mineralisation, the great quantity of sulphides. The Company expects to discover a high-grade gold source which could drive the growth in the long term. The Company had strong cash balances of £181,405 as on 30 June 2020.
Rockfire Resources shares traded at GBX 1.03 on 8 October 2020 at GMT 12:42 PM+1, which were down by 4.65 per cent from previous day closing price. In the last one year, the stock has returned of 281.48 per cent.
Gold exploration and development company, Greatland Gold Plc (LON: GGP) has achieved high-grade results from Newcrest drilling, majorly conducted last year. It has a decent financial position and continued its Paterson exploration programmes in 2020. The company had arranged £4.2 million through strategic financing to speed up search in the Paterson area. The fundraising has significantly strengthened the finances.
Greatland Gold shares traded at GBX 22.15 on 8 October 2020 at GMT 12:54 PM+1, which were down by 2.10 per cent from previous day closing price. In the last one year, the stock has returned 1150.20 per cent.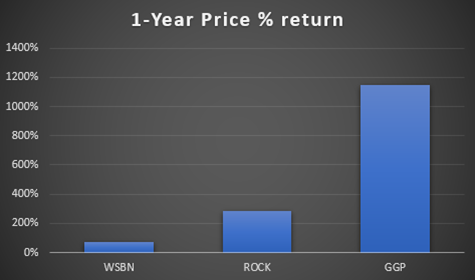 (Source: London Stock Exchange)
Investors are parking their surplus money in precious metals as the health of the global economy continues to deteriorate in the wake of the coronavirus pandemic. Industry experts believe that the precious metal could even breach the level of US$ 3,000 per ounce in the near term. In the past one year, Gold has yielded a price return of more than 25 per cent.
High yielding dividend stocks may be a good bet amid lower Government Bond yield regime.
With yields on UK government bonds are at a record low, stocks with higher dividend yield (%) will be back in investor's attention.
Dividend stocks usually do not get into a free fall and outperform most of the time.
Dividend stocks are easy to get cash flow from your stock investments without liquidating anything. Further, you can use dividends to buy additional units of stock. And, if you reinvest dividends, you can significantly increase your long-term return from your investments because of the power of compounding.
Click here to find out Top quality high yielding dividend stocks for 2020.
CLICK HERE FOR YOUR FREE REPORT!
---
Disclaimer
The website https://kalkinemedia.com/uk is a service of Kalkine Media Ltd, Company Number 12643132. The article has been prepared for informational purposes only and is not intended to be used as a complete source of information on any particular company. Kalkine Media does not in any way endorse or recommend individuals, products or services that may be discussed on this site. Our publications are NOT a solicitation or recommendation to buy, sell or hold the stock of the company (or companies) or engage in any investment activity under discussion. We are neither licensed nor qualified to provide investment advice through this platform.