Highlights

Low budget airline Ryanair said on Thursday, the company was unsure if it could meet its goal of 12.5 per cent of its flights being powered by sustainable aviation fuels by 2030
The EU is currently targeting only 5 per cent of its flights be powered by sustainable fuels by 2030
Ireland based low budget airline Ryanair Holdings PLC (LON: RYA) said on Thursday that it is unsure if it can meet its ambitious goal of having 12.5 per cent of its flights fuelled by sustainable aviation fuels by 2030.
Ryanair Holdings PLC's (LON: RYA) share price performance
Ryanair Holdings' shares were trading at EUR 16.13, up by 0.66 per cent on 21 October 21 at 13:55 hrs BST. Meanwhile, the aerospace sectoral index was at 4,471.23, down by 0.83 per cent.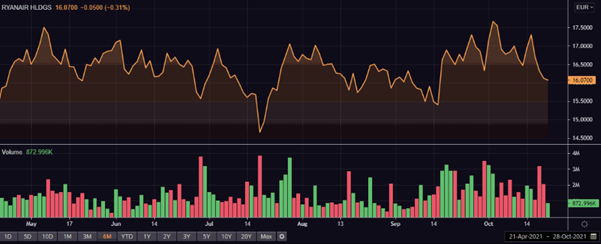 (Image source: Refinitiv)
The company's market cap stands at £15,521.77 million, and it has netted shareholders 30.08 per cent of return in the past one year as of 21 October 21.
What could aid Ryanair's sustainable aviation fuel target
The airline's CEO, Michael O'Leary, said the group could assure at least 10 per cent of the flights to achieve this target by the 2030 timeframe. Also, O'Leary called for the EU to follow Ryanair's lead and increase its target to 10 per cent as well.
The EU's current target aims to have only 5 per cent of its flights powered by sustainable fuels by 2030.
The company's CEO added that unless Ryanair made investments into research and also into technology, the company could definitely not be able to reach this target. He also stated that higher levels of sustainable fuels could also drive food prices higher.
Ryanair's traffic rises in September.
The company, which is the largest low-cost airline in Europe, reported improved traffic data last month, after its September traffic rose to 10.6 million, compared to 5.2 million in the year before.
The company also reported its load factor improved to 81 per cent, up from 71 per cent in September 2020.
Bottom Line
The airline industry has been among one of the most affected during the pandemic; however, the sector is expected to have crossed its worst phase, according to the industry trade body, International Air Transport Association (IATA).
However, the trade body has also called on governments to continue to ease rules and relax borders to aid the sector's recovery.
IATA estimates total losses in the global airline industry to reach US$ 11.6 billion in the next year. Thus, implying that the total losses borne by the sector in these 3 years would equate to over $200 billion due to the pandemic.