Summary

Landore Resources Ltd. announced share warrant exercise option and its discovery of noteworthy bonanza grade gold in Canada.
Savannah Resources PLC and Galantas Gold Corp will raise capital for production and commercial capacity upgrade.
Ariana Resources PLC fast paced its capital consolidation activities and proposed a dividend distribution plan post capital reduction.
The previous week ended on a bullish note for gold and copper stocks, the whole segment kept buzzing after some mining analysts hiked the gold forecast prices. Experts upped their gold price prediction beyond market consensus amid reassuring macro and geopolitical dynamics. The Alternative Investment Market (AIM) listed metals and mining stocks have remained in demand all through the pandemic and with the latest hike in forecast, the action is likely to continue in the space. Let us put our lens through some of the AIM-listed stocks which were buzzing:
Landore Resources Limited (LON: LND) announced that the discovery of Bonanza grade gold at BAM Gold Deposit of its Junior Lake property in Ontario. Gold was found with pyrrhotite in two deformation zones. The existence was very similar in geology and position at both the zones, though 200 meters apart.
This has led the company to believe chances of huge gold continuity between and beyond the zones. According to CEO Bill Humphries, it has further proved BAM's potential to turn out as a multi-million open pit resource. The drilling is currently paused due to seasonal changes. It shall resume in May and get completed by June this year. Landore has operational focus in Canada with major explorative right in eastern Canada.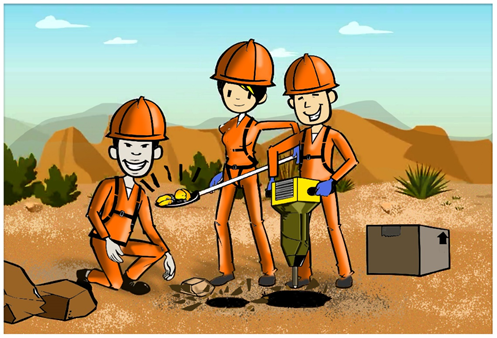 Copyright © 2021 Kalkine Media Pty Ltd.
On 20 April, in a separate announcement the company said that it received a notice to exercise warrants. These shall total to 185,185 Ordinary Shares, for which funds of GBP 37,037.00 have been received by the company. The company has applied for the admission of warrant share to trade on AIM. They shall rank pari-passu to the existing Ordinary Shares.
Landore Resources Limited shares were trading at GBX 36.25, down by 3.08 per cent at 13:18 PM GMT+1 on 21 April 2021. In the last one year, it has given a return of 171.27 per cent.
Savannah Resources PLC (LON: SAV) has proposed placement to raise GBP 10.3 million. This will be through 257,968,785 new ordinary shares, placed at a price of 4 pence per share. Book building is to be led by Clarksons Platou Securities AS, finnCap Ltd, and WH Ireland Limited for this fundraising. Book building has begun, and issuance will be based on AGM announcement, held on 25 June 2020.
Major chunk of this fund is to be used for working capital needs and help in enhancing Mina do Barroso the company's leading asset. Remaining portion will be used in Lithium expansion plans and further exploration in Liberia and Mozambique. The shares, when issued, will be fully paid and rank equally in all respects with its existing ordinary shares.
Savannah and Galp (GALP.LS, market cap €8.3 billion), the Portuguese energy company and solar energy leader in Iberia, are also set to enter an agreement for up to 100,000 tpa (which is 50 per cent of annual production) of lithium concentrate from Mina do Barroso.
Savannah Resources Plc shares were trading at GBX 4.05, down by 19.80 per cent at 13:16 PM GMT+1 on 21 April 2021. In the last one year, it has given a return of 137.51 per cent.
Ariana Resources PLC (LON: AAU) is an exploration and development corporation operating in Europe. It updated its proposed reduction of share capital using company's share premium account. Managing Director Dr. Kerim Sener said that as there is no control on court schedules the proceeding are getting delayed. The company is working with its legal advisors to advance court proceedings as planned. It is confident that court proceedings will be completed, and it would notify shareholders on any revised time schedules.
A dividend distribution plan is also to be announced following the proposed capital reduction. Ariana has an exceptional track-record of creating value for its shareholders through its active mining projects and investments in exploration companies. It is currently focusing on gold production in Turkey and copper-gold exploration projects in Cyprus.
Ariana Resources Plc shares were trading at GBX 4.75, down by 1.04 per cent at 13:15 PM GMT+1 on 21 April 2021. In the last one year it has given a return of 44.69 per cent.
Galantas Gold Corporation (LON: GAL): The Northern Ireland-focused gold producer proposed private placement for least of 17 to 22 million units at CAD 0.30 per unit. Each unit contains one common share and one warrant. The minimum gross takings are expected to be CAD 5.1 million, ranging to a maximum of CAD 6.6 million. Each warrant shall be convertible into one additional share at exercise price of CAD 0.40 for 24 months from end date of placement. This offering will have a 4-month hold period to trade.
The money raised will be largely used for bringing gold mine into full commercial production and to expand exploration of high-grade gold resources. The private parties backing placements are Ocean Partners UK Ltd (Ocean Partners), Melquart Ltd (Melquart), the company's largest shareholder. Major loans from Ocean Partners and G&F Phelps Ltd are to be extended up to 2023. Though the announcement is subject to board approvals, it shall bring Galantas Gold mines to full production.
Scrip of Galantas Gold Corporation were trading at GBX 20.00, up by 2.56 per cent at 13:13 PM GMT+1 on 21 April 2021. In the last one year, it has given a return of 183.19 per cent.