Tekcapital Plc, a company focused on creating market value from university technology, has a growing portfolio of university IP (UIP) investments. It helps research institutions and businesses to develop disruptive technologies through a pipeline of scientifically screened IP acquisition candidates customised as per their business.
For searching new university patents, the company also provide the Tekcapital app; a convenient Android/iOS search app lets the user find acquirable university technologies in any field with just one touch. The app is affordable and an efficient, hassle-free tool with a clean interface and having bookmarking and export features.
Tekcapital Plc is continuously looking for new technologies for commercialisation for its university partners and to enhance its portfolio companies. Its active investment portfolio includes Salarius Ltd., Belluscura Plc, Lucyd Ltd. and Guident Ltd.
Salarius Ltd - Providing the best low-sodium salt solution
Salarius, 91.7% owned by Tekcapital Plc, is the developer and manufacturer of a proprietary low-sodium salt called MicroSalt®. This is the only low sodium solution that delivers real salt flavour because its real salt. The company's new technology delivers micro salt that is almost a hundred times tinier than the regular salt. The benefit of this tiny salt is that they deliver a strong saltiness as the micro-grains melt in the mouth with almost half the quantity of regular salt.
These crystals not only deliver powerful saltiness, its usage results in a significantly lower sodium consumption that doesn't compromise on flavour. The company, with its MicroSalt®, is seeking to take advantage in the industry by offering the best low-sodium salt solution, based on the mechanical conversion of the salt particle itself.
As per estimates, Americans consume an average of 3,400 mg of sodium per day. This amount is almost 1.5 times of the 2,300 mg voluntary limit suggested by Federal standards. Due to a high consumption of sodium, one in three US adults (70M) have high blood pressure, and in the UK, one in four adults have high blood pressure.
According to the World Health Organization (WHO), Hypertension, or high blood pressure is the biggest cardiovascular risk factor and the greatest risk factor for death and disability in the world. WHO further claims that the people suffering from Hypertension have three-times higher risk of dying from heart disease and four-times more from a stroke.
As per the US Food and Drug Administration (FDA) estimates, around 28,000 to 50,000 premature deaths can be reduced per year by lowering sodium intake by 33 percent.
Salarius' MicroSalt® a perfect fit for today's health need
MicroSalt® provides exactly the same saltiness of regular salt with 50 per cent of the sodium, by lowering the size of normal salt particles, which can be achieved by Salarius patented technology. It basically raises the surface area being touched by the tongue.
Due to the size of the nano-particles, the MicroSalt® melts almost instantly, resulting in a higher sense of saltiness with a lesser quantity of salt. As it is salt, the Salarius MicroSalt® tastes just like regular salt. It has less sodium per unit volume than the comparable unit volume of traditional salt and hence is suitable for topical applications in snacks like nuts, chips, tortilla chips, popcorn, and many others.
At the beginning of the year, the company had entered a deal with Hanks Brokerage, a national food ingredient broker. The deal was meant to help the company in the sale of Microsalt® to snack food companies in the southwestern US.
Major benefits of MicroSalt®
MicroSalt® has the great taste of natural salt and works for any surface application.
MicroSalt® also helps foods to abide by the NAS (National Academies of Sciences) & voluntary draft of the USDA (United States Department of Agriculture) standards to lower sodium consumption.
Enhanced product adhesion due to the tiny size of the salt specks.
A fast and easy remedy for reducing salt in practice as it has around fifty per cent lower sodium by weight.
It is non-GMO, all-natural, Gluten-free and Kosher.
It has no added salt substitutes, no bitter aftertaste and reduces sodium intake without compromising flavour.
Enhanced density, shelf life and stability for better storage and lower transport costs than regular salt.
Important Milestone For Saltme!®
SaltMe!® potato chips are made with MicroSalt®, a proprietary salt that dissolves in the mouth considerably faster than normal salt. It delivers an enhanced sensation of saltiness with much less salt.
Salarius recently announced that SaltMe!® in concert with a leading natural foods distributor would be making SaltMe!® available in stores beginning in May 2020. Salarius believes that this is a major milestone for the new low-sodium, full flavour potato chip snack line. The program will enable thousands of customers quickly experience SaltMe!® potato chips, which are Non-GMO, all Natural, Kosher and Gluten-Free.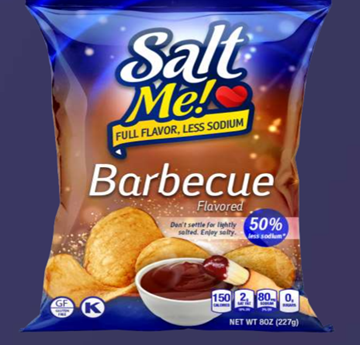 (Source: Tekcapital Investor-Presentation)
Conclusion
The highly competitive global savoury snacks market is expected to touch a USD 108 billion mark by 2021 and presents a significant opportunity for the company. Different countries have started realising the importance of healthier alternatives, like the Mexican government which has made it mandatory with a new FOPL (front package labelling) system for all packaged foods, to warn against the sodium threshold exceeding products. In Mexico, there are 22.3 million hypertensive adults with a population of just 126 million, and there is a growing need for low sodium consumption. It has been projected that the rapidly growing Mexican snack food market would reach around USD 4 billion in sales in 2020. SaltMe!®, with its MicroSalt® is all set to meet this challenge.
Salarius is one of the major portfolio companies of Tekcapital, and it has successfully deployed its technology into the snack food market and is all set to extend the momentum in 2020 with SaltMe!® snacks.
Stock Price Performance
As on July 07, 2020, Tekcapital PLC's stock price closed at GBX 11.00, a year to date increase of approximately 2X.
(Source: Thomson Reuters)