Highlights

Lorry driver shortages due to an ongoing supply chain disruption has caused several petrol operators in the UK to shut shops temporarily.
BP, the largest petrol operator in the UK, said it had closed some of its forecourts due to a shortage in unleaded and leaded fuel caused by the driver shortage.
Esso, the second-largest UK fuel operator, has also shut some sites due to this industry- wide shortage.
Some of the biggest UK petrol site operators have been facing an industry wide shortage of lorry drivers, which has prompted some of them to temporarily shut their forecourts.
Oil major BP (LON: BP.) said today that the company had shut some of its 1,200 petrol branded stations across the UK, for the second time this year, within a span of 2 months. The closure has been due to a shortage of unleaded and leaded fuel types at some of BP's retail forecourts.
The scarcity of fuel is due to a lorry driver shortage caused by a deepening supply chain challenge being faced in the country. Earlier also, the closure of some of BP's petrol sites 2 months back was due to supply chain disruptions, pingdemic induced staff shortage and Brexit related EU drivers returning to their homes.
Hoyer, one of UK's largest fuel logistics businesses, has been faced with driver related shortages, thereby affecting its clients which includes BP, US oil giant ExxonMobil's Esso petrol sites in the UK, British oil giant Royal Dutch Shell and others.
BP's head of retail, Hanna Hofer, said the group currently had about 67 per cent of its normal petrol stock needed for smooth and efficient levels of operations. She added that the figure was falling rapidly.
US based oil giant's Esso petrol stations have also been impacted by the driver shortage, with the company stating a small number have been affected. The Esso forecourts have tied up with British supermarket giant Tesco (LON: TSCO) in the UK.
In view of this, let us look at 3 FTSE 100 listed stocks with petrol stations and how they reacted to the development:
BP PLC (LON: BP.)
FTSE 100 index listed oil giant BP said it is working with its haulier supplier to minimise disruption and ensure deliveries were made in an effective and timely manner. The group added that refuelling at motorways will be prioritised.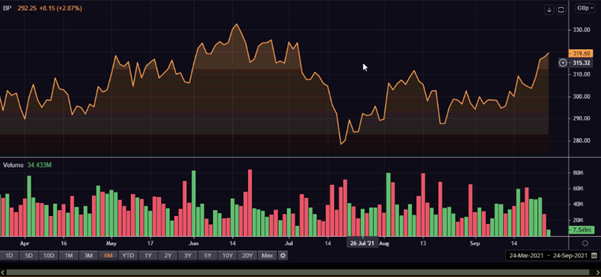 (Image Source: Refinitiv)
BP's shares were trading at GBX 319.15, up by 0.44 per cent today at 11:17 AM BST, while the FTSE 100 index was at 7,057.99, down by 0.29 per cent.
The company has a market cap of £63,669.35 million and has given a one-year return of 33.35 per cent as of 24 September 2021.
Tesco PLC (LON: TSCO)
Tesco is one of the largest supermarkets in the UK. The company said a small number of its 200 alliance sites with ExxonMobil's Esso forecourts in the UK were impacted but added that they have good availability of fuel.
Other supermarkets which owned petrol retail sites such as Sainsburys' (LON: SBRY), Morrisons (LON: MRW) and Asda said they had not yet faced any fuel supply related challenges.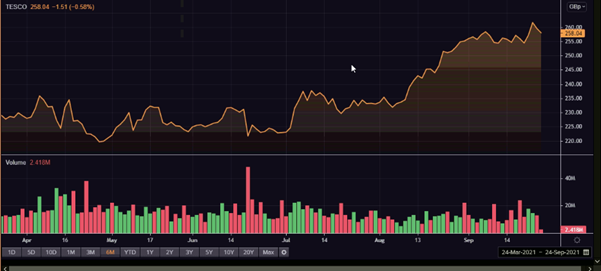 (Image Source: Refinitiv)
Tesco's shares were trading at GBX 257.90, down by 0.64 per cent today at 11:22 AM BST.
The company has a market cap of £20,067.65 million and has given a one-year return of 15.28 per cent as of 24 September 2021.
Royal Dutch Shell PLC (LON: RDSA)
Royal Dutch Shell is another UK based oil major. The group said it had also not been affected by the heavy goods vehicle (HGV) driver shortage crisis as yet.
Shell is the third largest petrol operator by brand in the UK, after BP and Esso.
(Image Source: Refinitiv)
Shell's shares were trading at GBX 1,531.80, up by 0.53 per cent today at 11:22 AM BST.
The company has a market cap of £62,494.69 million and has given a one-year return of 48.68 per cent as of 24 September 2021.
Bottom Line
According to UK's road haulage trade body, the Road Haulage Association, the UK will need 100,000 more drivers in order to ensure operations run smoothly.
The trade body also said that up to 30,000 HGV tests could not be conducted in 2020 due to covid-related test centre closures. This led to about 25,000 fewer HGV driving candidates clearing their tests in the past year compared to 2019.
The UK's Department of Transport, however, has updated its rules for test taking in order to speed up the qualification process.
Another reason for the shortage is due to drivers retiring, in addition to the existing supply chain and Brexit related factors. Hence the government must aim to streamline the qualifications process and also improve the working conditions for retaining younger drivers.