After delivering the double-digit rally in the past few weeks, the FTSE-100 index traded in red on 11th June 2020 (before the market close). As the apprehensions over the second wave of the pandemic moving the investors towards risk aversion.
The critical factors to watch out, which can impact the market:
The Federal Reserve decided to keep the lending rate close to zero to boost the US economy.
Fed guided the US economy will slump by 6.5 per cent in 2020; however, the economy is expected to bounce back to around 5 per cent in 2021.
Fed has predicted the US unemployment rate to remain near 9.3 per cent by the end of 2020. In April 2020, US unemployment was close to 14.7 per cent.
In light of the above-market sentiments, we will discuss two consumer staples stocks - Tate & Lyle PLC (LON: TATE) and Associated British Foods PLC (LON: ABF). As on 11th June 2020 (before the market close at GMT 12.20 PM), both TATE and ABF were down by around 1.13 per cent and 2.27 per cent from their previous day close. Let's walk through their financial and operational performance to understand stock price movement better.
Tate & Lyle PLC (LON: TATE) – Food products have helped the company navigate during unprecedented times
UK based Tate & Lyle PLC is into Food & Beverage Solutions and Primary products business (bulk sweeteners, industrial starches, acidulants and animal nutrition). The company offers a range of products such as beverage, dairy, bakery and food.
Financial Performance - FY2020


(Source: Company Website)
Business Update – 1Q FY2021 (as on 4th May 2020)
Food and Beverage business performed well in 1Q FY2021 as the basket size of consumers increased, which offset the fall in demand for a few products. There was a shift in demand pattern as in-house consumption increased as customers became cautious of out of home consumption. The consumers in the US and Europe went on a shelf storage spree.
The demand for primary products was impacted significantly due to lockdown. The closure of malls, cinema halls and restaurants dragged the demand for bulk sweetener volume. The industrial starch business was bleak as schools and offices were closed, which lowered the demand for paper and packaging where it was used as a raw material.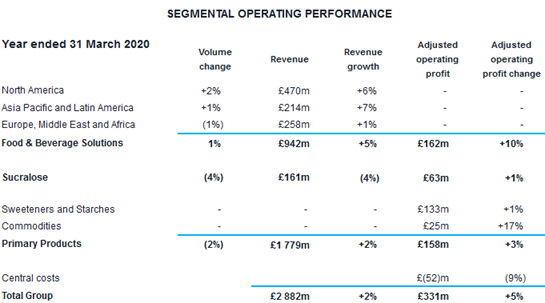 (Source: Company Website)
Regional Business Performance
In North America, the demand for dairy and bakery products was upbeat; however, the demand for food and beverage products remained flat. In the Asia Pacific and Latin America, the demand softened, whereas, in China, the demand weakened post-lock-down. The growth was on track in mature markets in Europe.
Balance Sheet Position
The company will be able to sail through this period of uncertainty, given the strength of its balance sheet. As on 31st March 2020, the company had a cash balance of £271 million and an undrawn credit facility of £642 million. The net debt of the company was £451 million. The company plans to make a capital expenditure in the range of £ (140-160) million in FY2021.
Recent Event Updates
In May 2020, the company secured a debt private placement of $200 million which will be issued on 6th August 2020 of $100 million each at 2.91 per cent and 3.01 per cent maturing in 2030 and 2032, respectively. It also obtained an extension of one year on its revolving credit facility to March 2025.
In April 2020, the company freeze hiring, and salary increases and restricted any unnecessary expenditure to preserve cash.
TATE's board has recommended a dividend of 20.8 pence to be paid in July 2020; the final dividend payout is yet to be approved by the shareholders.
Share Performance

Daily Chart as on 11th June 2020, before the market closed (Source: Refinitiv, Thomson Reuters)
Tate & Lyle PLC's share was trading at GBX 669.80 on 11th June 2020 (before the market close at GMT 11.40 AM). Tate & Lyle PLC's share hit 52 weeks High of GBX 811.40 and Low of GBX 493.83. The total outstanding market capitalization of (LON: TATE) was GBP 3.18 billion.
Business Outlook
Company's business performance remains uncertain during the pandemic. Management has refrained from issuing any guidance for FY2021. When we look at the past performance, the Food and Beverage business is expected to remain sound among the company's broad portfolio of offerings.
Associated British Foods PLC (LON: ABF) – Opening Primark stores in bits and pieces as lockdown relax
Associated British Foods PLC is a multinational company based in the UK and operates in 52 countries. The company operates under grocery, sugar, agriculture, ingredients and retail segment.
Trading Update - 1H FY2020 (as on 21st April 2020)
In 1H FY2020 (for 24 weeks ended 29 February 2020), company business performance was mixed as the grocery segment and Primark stores performed as per the company's expectation, whereas the sugar business witnessed growth. However, recent lockdown and closure of Primark stores have been challenging for the group's business. Sugar prices have deteriorated in the world market in the last few months.
In 1H FY2020, the company closed its cake business under grocery segment in Australia and sold a small business in China for net cash proceed of £2 million.
1H FY2020 Financial Performance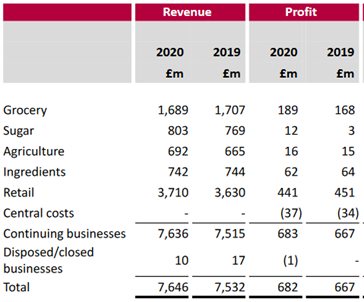 (Source: Company Website)
Substantial headroom for any uncertain cash requirement
At the end of February 2020, the company had a net cash balance of £801 million and a revolving credit facility of £1,088 million. The company withdrew all its credit facility to meet any uncertain cash requirement. The company will not pay any interim dividend. It is avoiding any unnecessary discretionary expense and has cancelled future orders for its Primark stores until further notice.
Recent Developments
4th May 2020- Primark reopened its first store in Austria after closing all its 378 stores across 12 countries during March end and April. Company is opening its stores in phases and has forecasted that its 281 stores will be operational by 15th June 2020 and the remaining stores will be reopened shortly. The company was losing approximately £650 million per months when all stores were closed. The stores which have opened have seen demand for children and summer clothes.
15th April 2020 - ABF received the commitment of funding from Bank of England under its Covid Corporate Financing Facility scheme. The scheme provides liquidity to firms which are disrupted due to pandemic.
8th April 2020 - Company considered looking out for a waiver for the covenant test for February 2021.
3rd April 2020 - Top leadership decided to take a temporary pay cut of 50% in the wake of the material impact on the company's business because of the pandemic.
Share Performance Analysis

Daily Chart as on 11th June 2020, before the market closed (Source: Refinitiv, Thomson Reuters)
Associated British Foods PLC's share was trading at GBX 1,940.50 on 11th June 2020 (before the market close at GMT 11.42 AM). (LON: ABF) 52 weeks High and Low were GBX 2,730.00 and GBX 1,554.00, respectively. The company had a market cap of GBP 15.82 billion.
Outlook
The management believes the company is well-positioned to sustain the current situation. All food production facilities are currently functioning, and the company is keeping a close watch on the supply chain. However, the opening and closing of Primark stores remain unpredictable.