UK Market: The UK stock market plunged on Friday amid a sharp selloff in the global stock markets due to Ukraine's nuclear fears. The blue-chip FTSE 100 index was down by 3.07%, while the mid-cap focused FTSE 250 index dipped nearly 3% to trade below the 20,000 mark for the first time since November 2020 after the British Chamber of Commerce reduced its UK growth forecast sharply to 3.6% from 4.2% earlier.
Ferrexpo Plc (LON: FXPO): The iron ore pellet producer was down by over 12%, with a day's low of GBX 125.20. The stock price continues to trade lower amid rising tension between Russia & Ukraine as the company carries out its mining operation in the Ukraine region.
Ten Lifestyle Group Plc (LON: TENG): The AIM-listed travel and lifestyle company was down by over 29%, with a day's low of GBX 75 after the company announced its half-yearly results for the six months ended 28 February 2022. Overall, the net revenue was in line with expectations. However, the rise of Omicron variant cases led to a reduced number of member requests during the period.
Evraz Plc (LON: EVR): Shares of the metal & mining company was up by over 61%, with a day's high of GBX 95.14. The stock saw some buying interest, witnessing a small recovery from the massive fall witnessed during the week. The company's stock will be demoted from the blue-chip FTSE100 index as part of the latest index review.
US Markets: The US market is likely to make a soft start despite upbeat non-farm payrolls data. The unemployment rate eased to 3.8% from 4% in the passing month. However, the futures indices indicate a lower opening amid global fall in equity markets. S&P 500 future was down by 42 points or 0.96% at 4,361, while the Dow Jones 30 future was down by 0.99% or 335 points at 33,401. The technology-heavy index Nasdaq Composite future was down by 0.92% at 13,899 (At the time of writing – 8:50 AM ET).
US Market News:
The salad chain operator, Sweetgreen (SG), was up by over 19% in premarket trading after the company reported strong sales growth in its quarterly results. The company's stock got listed in November 2021, and this is the first earnings report by the company.
The chip-making company, Broadcom (AVGO), was up by over 3% in premarket trading after the company reported its latest quarterly earnings. The company reported higher earnings during the period and its revenue guidance for the next quarter was above the market forecast.
European Indices Performance (at the time of writing):

FTSE 100 Index One Year Performance (as on 04 March 2022)
(Source: Refinitiv)
Top 3 Volume Stocks in FTSE 100*: Lloyds Banking Group plc (LLOY), Vodafone Group Plc (VOD), Rolls-Royce Holdings Plc (RR.).
Sector traded in green*: Utilities (0.18%).
Top 3 Sectors traded in red*: Energy (-3.58%), Consumer Cyclicals (-3.54%), Technology (-3.39%).
London Stock Exchange: Stocks Performance (at the time of writing)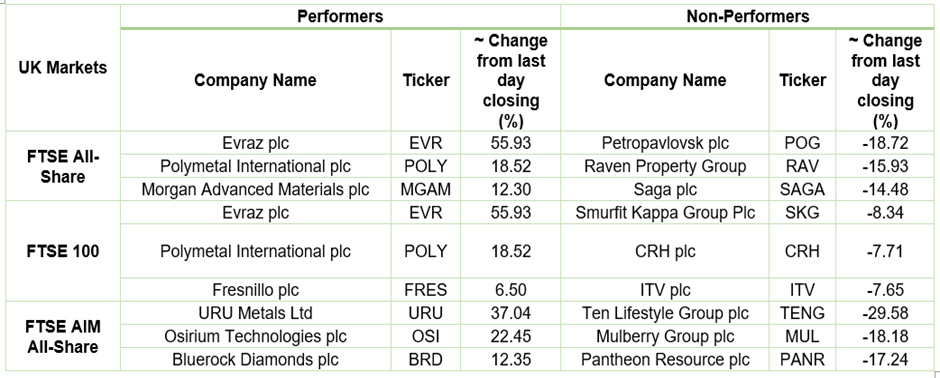 Crude Oil Future Prices*: Brent future crude oil (future) price and WTI crude oil (future) price were hovering at $114.32/barrel and $111.80/barrel, respectively.
Gold Price*: Gold price quoted at US$ 1,946 per ounce, up by 0.55% against the prior day's closing.
Currency Rates*: GBP to USD: 1.3243; EUR to USD: 1.0908.
Bond Yields*: US 10-Year Treasury yield: 1.779%; UK 10-Year Government Bond yield: 1.2750%.
*At the time of writing