US Markets: Broader indices in the United States traded in green - particularly, the S&P 500 index traded 55.75 points or 1.27 per cent higher at 4,451.39, Dow Jones Industrial Average Index surged by 526.83 points or 1.54 per cent higher at 34,785.15, and the technology benchmark index Nasdaq Composite traded higher at 15,029.90, up by 133.00 points or 0.89 per cent against the previous day close (at the time of writing – 11:45 AM ET).
US Market News: The major indices of Wall Street traded in a green zone after the weekly jobless claims had reignited the hopes of a delay in Federal tapering. Among the gaining stocks, BlackBerry (BB) shares surged by around 15.36% after the Company reported a narrow quarterly loss than the analysts' expectations. Darden Restaurants (DRI) shares jumped by around 5.83% after the Company had posted quarterly earnings better than the consensus estimates. Salesforce.Com (CRM) shares rose by around 5.15% after the Company had raised 2022 revenue guidance. KB Home (KBH) shares grew by around 3.20%, even after the Company had missed quarterly top-line and bottom-line estimates.
UK Market News: The London markets traded on a mixed note after the release of PMI data. Moreover, according to the latest data from the IHS Markit/CIPS, the UK manufacturing PMI came out to be 56.3 during September 2021 as compared to 60.3 for August 2021.The UK Services PMI stood at 54.6 for September 2021.
Mitchells & Butlers shares went up by about 2.28% after the Company's revenue over the past two months remained ahead of the pre-pandemic levels.
Global Market Action to watch out before ASX opens
FTSE 100 listed Rolls-Royce Holdings shares grew by around 2.62% after Berenberg raised the target price on the Company. Furthermore, it remained the top performer on the index.
Royal Mail had shown around 8.2% revenue growth for the five months period ended August 2021. Moreover, the Company had managed to reiterate the full-year revenue guidance. Meanwhile, the shares fell by around 0.29%.
Harbour Energy shares plunged by around 6.52% after the first-half revenue had missed the market expectations. However, the Company had maintained the full-year revenue guidance.
European Indices Performance (at the time of writing):
FTSE 100 Index One Year Performance (as on 23 September 2021)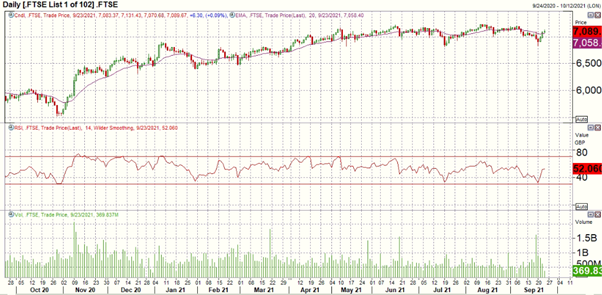 1 Year FTSE 100 Chart (Source: Refinitiv)
Top Volume Stocks in FTSE 100*: Lloyds Banking Group PLC (LLOY); Rolls-Royce Holdings PLC (RR); Glencore PLC (GLEN).
Top Sectors traded in green*: Financials (+0.52%), Real Estate (+0.41%), Healthcare (+0.21%).
Top Sectors traded in red*: Utilities (-0.50%), Technology (-0.32%), Consumer Non-Cyclicals (-0.22%).
London Stock Exchange: Stocks Performance (at the time of writing)
Crude Oil Future Prices*: Brent future crude oil (future) price and WTI crude oil (future) price were hovering at $77.15/barrel and $73.28/barrel, respectively.
Gold Price*: Gold price was quoting at US$ 1,751.50 per ounce, down by 1.53% against the prior day closing.
Currency Rates*: GBP to USD: 1.3735; EUR to USD: 1.1746.
Bond Yields*: US 10-Year Treasury yield: 1.398%; UK 10-Year Government Bond yield: 0.9050%.
*At the time of writing