US Markets: Broader indices in the United States traded in green - particularly, the S&P 500 index traded 9.21 points or 0.24 per cent higher at 3,923.18, Dow Jones Industrial Average Index surged by 91.81 points or 0.29 per cent higher at 31,585.15, and the technology benchmark index Nasdaq Composite traded higher at 13,938.68, up by 73.33 points or 0.53 per cent against the previous day close (at the time of writing, before the US market close at 10:30 AM ET).
US Market News: The major indices of Wall Street traded in the green zone driven by the rise of technology-related stocks. Among the gaining stocks, Deere & Co shares jumped by approximately 9.55% after the heavy machinery manufacturer posted an improved first-quarter net profit. Shares of Applied Materials went up by about 8.81% after the Company forecasted second-quarter revenue to be more than market expectations. Novavax shares surged by around 5.87% after it collaborated with global vaccine alliance Gavi to supply the Covid-19 vaccine. Among the declining stocks, shares of Uber Technologies plunged by about 0.90% after it lost a supreme court ruling in the UK.
US Stocks Performance*

UK Market News: The London markets traded in the green zone after sterling touched its nearly three-year high. FTSE 100 traded higher by around 0.10% pumped up by NatWest Group results, partially offset the disappointing retail sales data. The Office for National Statistics had reported an 8.2% month-on-month drop in UK retail sales during January 2021 as compared to an increase of 0.4% witnessed during December 2020.
British Bank NatWest Group had decided to wind down its Ireland business arm Ulster Bank due to its underperformance. The Company had reported a lower than expected full-year loss. Moreover, the shares jumped by around 3.68%.
Media giant Future shares surged by approximately 2.63% after its full-year FY21 profitability was set to remain ahead of market expectations. Furthermore, the Company had benefited from increasing online engagement during Black Friday and Christmas.
Real Estate Investment Trust Segro shares went up by around 3.12% after it had reported a 10.8% jump in full-year FY20 adjusted pre-tax profit. Moreover, the Company had declared a higher FY20 final dividend of 15.2 pence per share.
Utility-player Centrica went down by 1.07% after the GMB union carried out a four-day strike at Centrica British Gas starting from 19 February 2021.
European Indices Performance (at the time of writing):

FTSE 100 Index One Year Performance (as on 19 February 2021)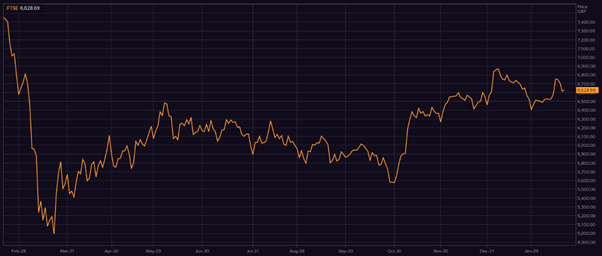 1 Year FTSE 100 Chart (Source: Refinitiv, Thomson Reuters)
Top 3 Volume Stocks in FTSE 100*: Lloyds Banking Group Plc (LLOY); Rolls-Royce Holdings Plc (RR.); Vodafone Group Plc (VOD)
Top 3 Sectors traded in green*: Real Estate (+1.65%), Financials (+0.93%) and Basic Materials (+0.82%).
Top 3 Sectors traded in red*: Healthcare (-1.26%), Industrials (-0.51%) and Consumer Non-Cyclicals (-0.33%).
London Stock Exchange: Stocks Performance (at the time of writing)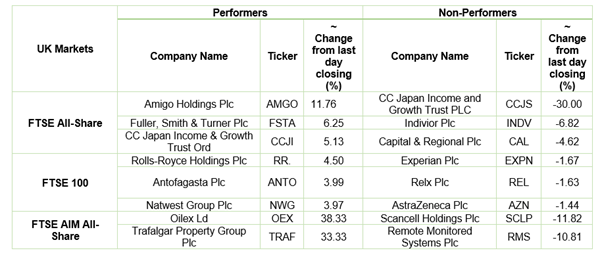 Crude Oil Future Prices*: Brent future crude oil (future) price and WTI crude oil (future) price were hovering at $62.70/barrel and $58.98/barrel, respectively.
Gold Price*: Gold price was quoting at US$1,777.10 per ounce, up by 0.12% against the prior day closing.
Currency Rates*: GBP to USD: 1.4015; EUR to GBP: 0.8647.
Bond Yields*: US 10-Year Treasury yield: 1.357%; UK 10-Year Government Bond yield: 0.698%.
*At the time of writing