US Markets: Broader indices in the United States traded on a mixed note - particularly, the S&P 500 index traded 4.94 points or 0.12 per cent higher at 4,296.74, Dow Jones Industrial Average Index surged by 198.87 points or 0.58 per cent higher at 34,491.16, and the technology benchmark index Nasdaq Composite traded lower at 14,506.80, down by 21.50 points or 0.15 per cent against the previous day close (at the time of writing – 12:45 PM ET).
US Market News: The major indices of Wall Street traded on a mixed note after an increase in the U.S. private payrolls. Among the gaining stocks, Bed Bath & Beyond (BBBY) shares surged by about 8.42% after the Company had forecasted better-than-expected sales for the recent quarter and subsequently raised full-year revenue guidance. Las Vegas Sands Corp (LVS) shares grew by about 2.71% following the reports that the border restrictions between Hong Kong and Macau would be expected to loosen up. Seagate Technology Holdings (STX) shares went up by about 0.72% after Barclays had upgraded the stock from "underweight" to "equal weight". Among the declining stocks, MongoDB (MDB) shares went down by around 4.71% after the Company would sell a significant number of shares to raise USD 889 million.
UK Market News: The London markets traded in a red zone after the release of disappointing UK GDP figures. According to the Office for National Statistics, the UK GDP contracted by approximately 1.6% during Q1 FY21 as compared to the previous quarter.
Indivior shares surged by about 6.47% after the Company had managed to raise full-year guidance boosted by better-than-expected business performance delivered in the first half.
Dixons Carphone stated that it had resumed dividend payments and witnessed a positive turnaround into full-year profit boosted by the online sales during the Covid-19 lockdowns. Moreover, the shares climbed by approximately 6.59%.
Serco Group shares dropped by around 0.73%, even after the Company had reported a growth of around 19% in top-line revenue during H1 FY21. Moreover, the Company remained on track to hit the guidance.
Wynnstay Group shares rose by around 5.98% after the Company had reported record pre-tax profit for the six months ended 30 April 2021.
European Indices Performance (at the time of writing):
FTSE 100 Index One Year Performance (as on 30 June 2021)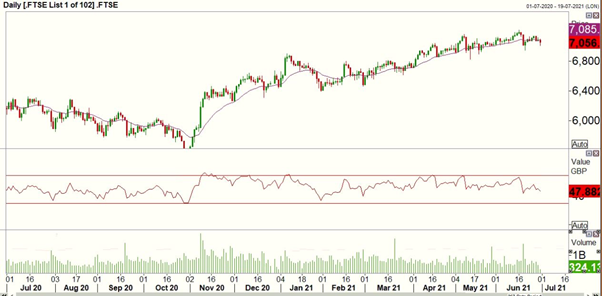 1 Year FTSE 100 Chart (Source: Refinitiv)
Top 3 Volume Stocks in FTSE 100*: Lloyds Banking Group Plc (LLOY); Rolls-Royce Holdings Plc. (RR.); Vodafone Group Plc (VOD).
Top 2 Sectors traded in green*: Energy (+0.17%) and Healthcare (+0.16%).
Top 3 Sectors traded in red*: Financials (-1.01%), Utilities (-0.77%) and Technology (-0.56%).
London Stock Exchange: Stocks Performance (at the time of writing)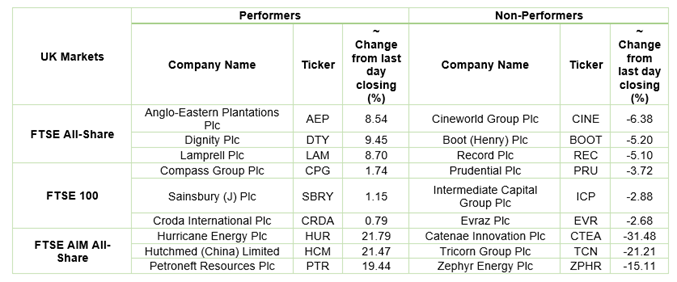 Crude Oil Future Prices*: Brent future crude oil (future) price and WTI crude oil (future) price were hovering at $74.75/barrel and $73.62/barrel, respectively.
Gold Price*: Gold price was quoting at US$ 1,769.05 per ounce, up by 0.31% against the prior day closing.
Currency Rates*: GBP to USD: 1.3807; EUR to GBP: 0.8584.
Bond Yields*: US 10-Year Treasury yield: 1.444%; UK 10-Year Government Bond yield: 0.7210%.
*At the time of writing