US Markets: Broader indices in the United States traded in green - particularly, the S&P 500 index traded 13.70 points or 0.32 per cent higher at 4,238.50, Dow Jones Industrial Average Index surged by 27.00 points or 0.08 per cent higher at 33,904.00, and the technology benchmark index Nasdaq Composite traded higher at 14,195.70, up by 54.22 points or 0.38 per cent against the previous day close (at the time of writing - 12:05 PM ET).
US Market News: The major indices of Wall Street traded in a green zone as investors waited for the Federal Reserve Chair Jerome Powell's remarks. Among the gaining stocks, CrowdStrike Holdings (CRWD) shares surged by about 7.92% after the Company was upgraded by Stifel Financial from "Hold" to "Buy". GameStop (GME) shares went up by about 4.93% after the Company had successfully raised USD 1.13 billion in the latest stock offering. Korn Ferry (KFY) shares rose by about 3.18% after the Company had reported quarterly earnings more than the consensus estimates. Among the declining stocks, MicroVision (MVIS) shares plunged by around 12.65% after the laser technology Company had decided to sell USD 140 million worth of shares.
Global Market Round Up || Here's Why British & US Equities Inched Higher
UK Market News: The London markets traded in a green zone, reflecting positive investors sentiments after reassuring comments given by the New York Federal Reserve President John Williams. According to the Office for National Statistics, the UK public sector net borrowing had decreased to 24.33 billion pounds in May 2021, while it was 43.76 billion pounds in the previous year.
Melrose Industries shares rose by about 2.12% after the Company had decided to return a significant amount of cash to shareholders post completing the sale of Nortek Air Management Business.
National Express Group had updated that the trading performance remained slightly ahead of the expectations and announced the acquisition of Spanish urban bus operator Transporters Rober. Moreover, the shares grew by approximately 1.51%.
Aston Martin shares dropped by around 1.48% after the Company commenced the legal proceedings against Nebula Project AG.
Packaging Company DS Smith shares went down by around 0.79% after the Company reported a sharp drop in annual profits due to higher cost and low price during the pandemic.
European Indices Performance (at the time of writing):
FTSE 100 Index One Year Performance (as on 22 June 2021)
1 Year FTSE 100 Chart (Source: Refinitiv)
Top 3 Volume Stocks in FTSE 100*: Lloyds Banking Group Plc (LLOY); Rolls-Royce Holdings Plc (RR.); Vodafone Group Plc (VOD).
Top 3 Sectors traded in green*: Real Estate (+2.55%), Energy (+2.26%) and Basic Materials (+1.02%).
Top 2 Sectors traded in red*: Healthcare (-0.91%) and Financials (-0.42%).
London Stock Exchange: Stocks Performance (at the time of writing)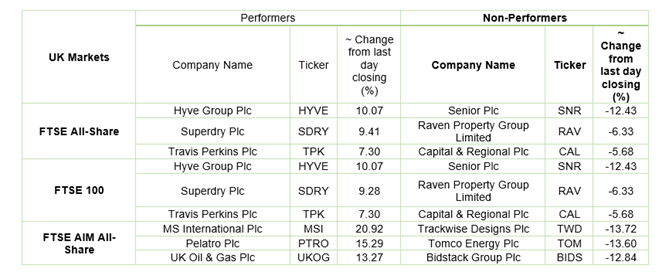 Crude Oil Future Prices*: Brent future crude oil (future) price and WTI crude oil (future) price were hovering at $74.69/barrel and $72.81/barrel, respectively.
Gold Price*: Gold price was quoting at US$ 1,777.95 per ounce, down by 0.28% against the prior day closing.
Currency Rates*: GBP to USD: 1.3941; EUR to GBP: 0.8563.
Bond Yields*: US 10-Year Treasury yield: 1.478%; UK 10-Year Government Bond yield: 0.7805%.
*At the time of writing