Highlights

Roofing systems specialty Marley Group is planning an LSE listing.
The group aims to have a 25 per cent free float making it eligible for an FTSE index listing on the main market.
The group has laid out a clear strategy for both organic and inorganic growth.
UK-based roofing specialist company Marley Group Plc confirmed its plans to float on the London Stock Exchange (LSE), on Thursday.
The group, which is the UK's largest maker of roofing tiles, said it plans to list on the LSE's main market and that it is seeking to apply for admission of its shares to the premium segment of the UK's financial regulatory body Financial Conduct Authority's (FCA) official list as well.
Marley Group's potential IPO highlights
The group is planning a 25 per cent free float, making it eligible for listing in the FTSE UK indices after admission of its shares.
Marley has hired investment bank Jefferies International Ltd and Peel Hunt LLP as its global joint bookrunner, sponsor and coordinators for the IPO deal.
Marley Group's growth strategy and financial performance
The group has a market share of 21 per cent in the roofing tiles industry. Marley aims to boost its growth via a two-pronged approach. Organic growth will be driven by focusing on market development and innovation measures, while its inorganic growth will be ensured via brand expansion and acquisitions, respectively.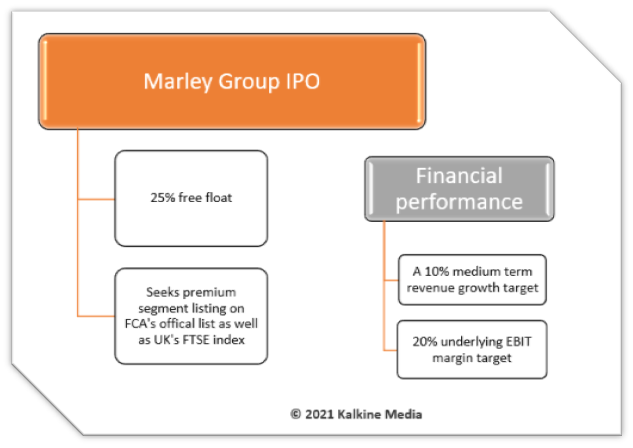 The group has set a medium-term organic revenue growth target of 10 per cent and plans to achieve sustainable underlying earnings before interest and tax (EBIT) margin of 20 per cent.
Marley had reported its underlying FY 2020 EBIT margin at 19.7 per cent, up from 18.8 per cent in FY 2019.
The company's 53 per cent of revenues come from the resilient and rapidly accelerating renovation, maintenance and improvement (RMI) market. Another key driver of the group's demand comes from a deep nationwide structural deficit of availability of new houses, a direct consequence of the UK's ageing housing sector.
Bottom Line
Marley is the latest in a recent flurry of IPO announcements following a bumper year of IPOs on the LSE.
The company plans to disrupt the ageing UK housing sector as it is positioned as a premium building material brand due to it having an almost century old history.
The company's CEO expects only 180,000 of a UK government's goal of 300,000 new homes will be built this year, supporting future demand in the sector which the company can benefit from in the medium to long term.