Highlights

The Her Majesty's Treasury, on Monday, in an announcement said that it will be regulating stablecoins as legal tender.
It is suggested that the Treasury's decision to regulate the stablecoin was highlighted during the Queen's Speech.
Earlier, Economic secretary John Glen, on 4 April, in a tweet, had suggested that there is a need to bring stablecoins under UK payments regulation.
At a time when the TerraUSD stablecoin's crash has gripped the whole world, there have been growing calls for stablecoin regulation to ensure that such an incident doesn't dent the investors badly.
Both US and UK have been prominent proponents of that, and now, in a significant decision, the UK Department of Treasury, or Her Majesty's Treasury, is said to have decided to go ahead with its decision to regulate stablecoins as legal tender. Though the crypto enthusiasts welcomed the decision, it does raise questions on its timing, considering the recent fall of the TerraUSD (UST).
Also read: What does Terra's (LUNA) realistic revival plan look like?
It is suggested that the Treasury's decision to regulate the stablecoin was highlighted during the Queen's Speech. Although the speech per se doesn't talk much about stablecoin regulation, Prince Charles announced that they would be bringing in a bill that will further strengthen legal powers to tackle illicit finance and reduce economic crime.
But the drama had been building up since 4 April since Economic secretary John Glen in a tweet, suggested that stablecoins will be brought into UK payments regulation. He added, by doing so, it would bring UK financial services sector to the forefront of technological advancement, allowing service providers to operate and invest.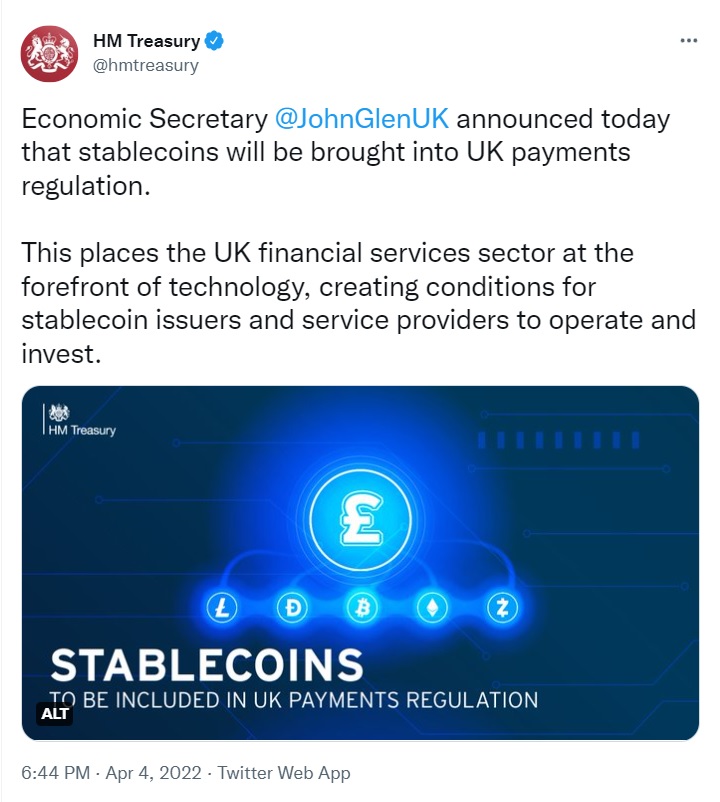 Image credit: Twitter @hmtreasury (HM Treasury)
What would this mean?
The timing of the decision has raised several eyebrows, considering the recent crash of the Terra ecosystem, which was expected to make regulators more stringent in the space. However, the recent decision seems to be the result of Rishi Sunak's vision to create UK a crypto hub.
Also read: What does UK Court's ruling to term NFTs as private property mean?
Surprisingly though, the Treasury, for now, does not plan to legalise the algorithmic stablecoins like TerraUSD. Instead, it aims to regulate the stablecoins like Tether (USDT) or USD Coin (USDC). Treasury hopes that with this, it can open up growth markets while ensuring financial stability.
Underpinning the fact that Terra's UST is based on different cryptos, the government wants to only focus on stablecoins that share the same characteristics as unbacked crypto assets.
Conclusion
In the final thoughts, it can be said that the timing of the decision is indeed a strange considering the overall market situation. What's even more surprising is the fact that it aims to regulate stablecoins such as Tether, which is pegged at dollar value and leaves our TerraUSD altogether.
But despite all this, it's essential to realise that crypto assets are always riskier assets; therefore, one has to tread carefully before entering the market. One must do their market research, study the trends, and then only make significant investment decisions.
Risk Disclosure: Trading in cryptocurrencies involves high risks including the risk of losing some, or all, of your investment amount, and may not be suitable for all investors. Prices of cryptocurrencies are extremely volatile and may be affected by external factors such as financial, regulatory, or political events. The laws that apply to crypto products (and how a particular crypto product is regulated) may change. Before deciding to trade in financial instruments or cryptocurrencies you should be fully informed of the risks and costs associated with trading in the financial markets, carefully consider your investment objectives, level of experience, and risk appetite, and seek professional advice where needed. Kalkine Media cannot and does not represent or guarantee that any of the information/data available here is accurate, reliable, current, complete, or appropriate for your needs. Kalkine Media will not accept liability for any loss or damage as a result of your trading or your reliance on the information shared on this website.