Highlights

The Ethereum foundation on 23 June announced that it is scheduled to undergo its Gray Glacier upgrade at 15,050,000 on 29 June.
Ethereum token was trading at US$1,149.78, with an overall volume of US$14,84,04,84,114 over the day, according to CoinMarketCap.
After Ethereum's Ropsten test network successfully merged with its Proof-of-Work execution layer on 8 June, the second-most preferred crypto is gearing up for its Gray Glacier upgrade.
Many market experts believed that the Ropsten test was a pivotal moment for Ethereum as it was considered the first hurdle in its eventual move to the Proof-of-Stake (PoS) protocol. The Gray Glacier upgrade could well be another upgrade that could provide Ethereum with the impetus to move further in its attempt.
On Thursday, the Ethereum Foundation announced that it is scheduled to undergo its Gray Glacier upgrade at 15,050,000 on 29 June. Revealing the news about the upgrade, Ethereum developer Tim Beiko tweeted that the Gray Glacier fork aims to push back the difficulty bomb.
The Gray Glacier upgrade
The Gray Glacier is aimed to change the constraints that Ethereum's Difficulty Bomb/Ice Age by pushing it back by 700,000 blocks. The Difficulty Bomb had been mainly introduced to raise the difficulty level of mining on a predefined block. However, the Difficulty Bomb elongated the normal block period, resulting in lesser rewards for miners, leading to network freezing.
Related read: Voyager crypto is witnessing a decline of over 15% today. Here's why
But following the Ropsten test, which saw the transition to PoS, the effects of the Difficulty Bomb will not be deployed on any testnet.
Binance has announced its support of the Ethereum Gray Glacier upgrade. In an announcement, it said that all deposits and withdrawals of ETH and ERC-20 tokens would be suspended on its platform from 29 June at 09:43 (UTC).
How is the news of the Gray Glacier upgrade affecting Ethereum's price?
Ethereum's Gray Glacier upgrade news seems to have caught the market's attention as the second-ranked crypto token witnessed a rally of 4.51% at 8:29 AM (GMT +1) on 24 June. The token was trading at US$1,149.78, with an overall volume of US$14,84,04,84,114 in 24 hours, according to CoinMarketCap.
Related read: Why is MoveZ (MOVEZ) crypto trailing today?
Following the upgrade, the MACD of Ethereum has seen a minor rise above the signal line. Although it is too early to predict a surge, the investors would be hoping it gains traction as the upgrade date nears.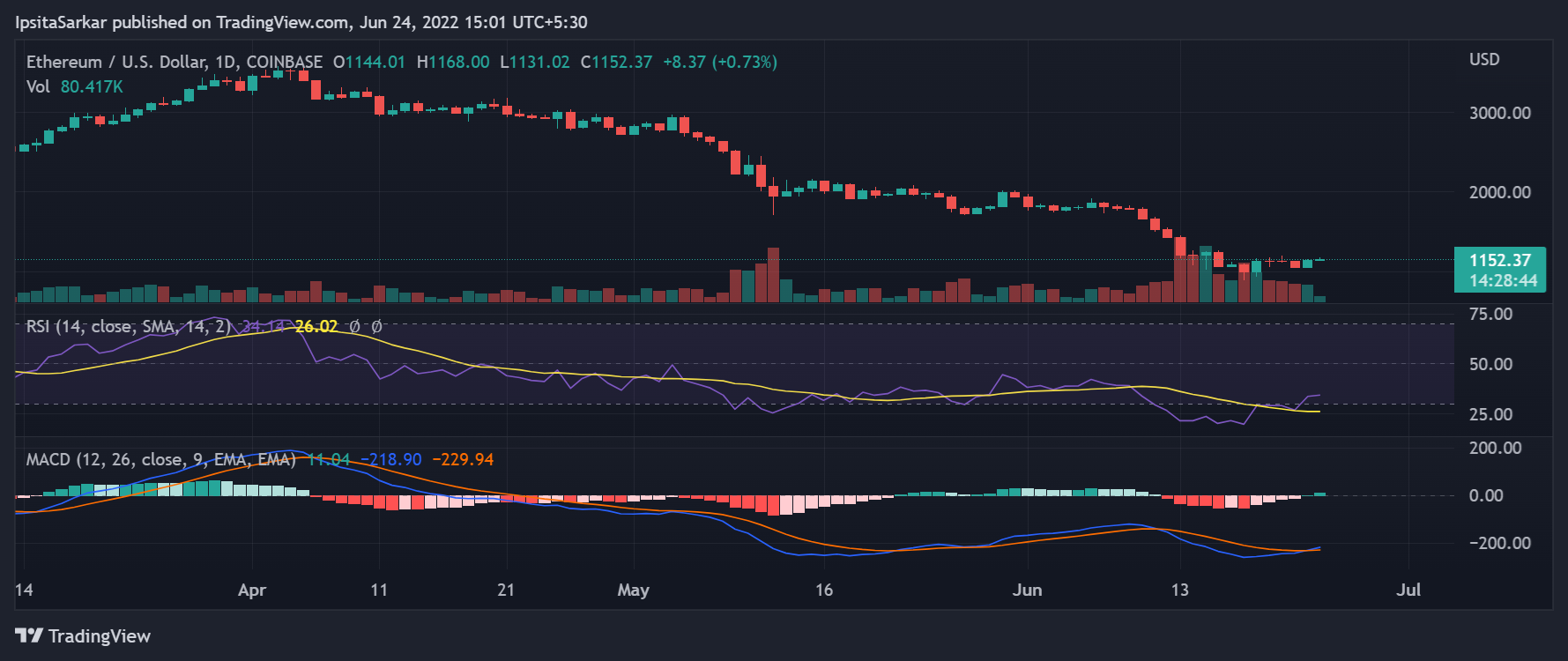 Image Credit: Trading View
However, Ethereum's RSI did see a sudden rise, climbing to 34.14 following the news. How Ethereum performs in the coming days will be interesting to watch, especially considering it lost over 76% of its value after achieving its all-time high last year in November.
But the market participants must make sure that they stay vigilant and do their market research to make sure they don't make any decisions without getting to get a full grasp of the market.
Risk Disclosure: Trading in cryptocurrencies involves high risks including the risk of losing some, or all, of your investment amount, and may not be suitable for all investors. Prices of cryptocurrencies are extremely volatile and may be affected by external factors such as financial, regulatory, or political events. The laws that apply to crypto products (and how a particular crypto product is regulated) may change. Before deciding to trade in financial instruments or cryptocurrencies you should be fully informed of the risks and costs associated with trading in the financial markets, carefully consider your investment objectives, level of experience, and risk appetite, and seek professional advice where needed. Kalkine Media cannot and does not represent or guarantee that any of the information/data available here is accurate, reliable, current, complete, or appropriate for your needs. Kalkine Media will not accept liability for any loss or damage as a result of your trading or your reliance on the information shared on this website.