Highlights

British YouTuber and rapper JJ Olatunji, also known as KSI, lost more than US$2.8 million in the current crash.
On 13 May, Terra lost 100% of its value and was trading at US$0.00001959 with a trading volume of US$408,542,399 over a day, according to CoinGecko.
It's been a TERRA-FYING week so far for the entire crypto market. On 12 May (Thursday), the crypto market registered its second US$200 billion-a-day loss of the month after the prices of Bitcoin were well below US$30,000. It was a day when Terra (Luna) crashed by over 97% because of which many investors suffered heavy losses.
While Thursday was a day of massive losses, on Friday (13 May), it became worse, as Terra lost 100% of its value and was trading at US$0.00001959 with a trading volume of US$408,542,399 over a day, according to CoinGecko. This is a massive change of fortunes for Terra, and once it lost its dollar peg for the second time in three days, it was a downward spiral for the Luna Foundation.
Also read: 3 times billions got wiped off crypto markets in 2022
Terra's bloodbath
Terra's bloodbath at the crypto market also resulted in one of Luna's biggest backers, British YouTuber and rapper KSI, losing more than US$2.8 million amid the crash.
Also read: Terra (Luna) crypto down by over 70%: Will it dip more?
The loss comes after rapper KSI purchased almost 100,000 Luna tokens on 11 May because he thought it was the right opportunity for him to invest in the token. He intended to hold it for a long term, aiming for a rebound. On Wednesday, the LUNA token dipped as low as US$1.07. But Thursday's loss changed the whole scenario.
Image Credit: Twitter @ksicrypto (KSICRYPTO)
However, the rapper was quick to tweet that he was at peace at the chain of events despite his losses. In a trail of tweets, KSI said despite the LUNA crypto now being worth less than US$50k. He added he is in a better phase and has learned a lot during this crypto phase.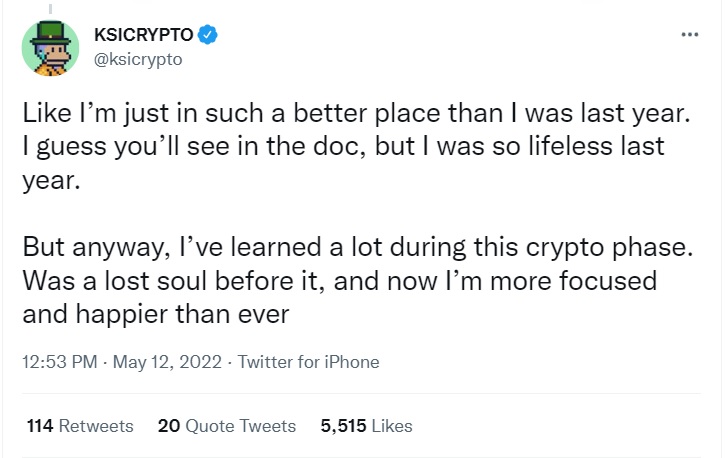 Image Credit: Twitter @ksicrypto (KSICRYPTO)
Terra blockchain halted
Meanwhile, Terra's continuous decline has prompted the validators of the Terra blockchain to halt network activity. The move is primarily designed to prevent government attacks after a series of devaluations of the token. The move follows a series of dramatic events that triggered an unprecedented decline in the price of LUNA and its associated TerraUSD (UST) stablecoin.
On Thursday, Binance had warned that it would delist the LUNA/Tether trading pair if LUNA's price fell below 0.005 Tether. However, by the time Binance made the announcement, it had adjusted its minimum transaction size and LUNA trading pairs.
Conclusion
The crypto crash, especially LUNA, has left several investors on the verge of bankruptcy. The market participants are waiting for the market situation to improve to cover up their losses. Therefore, amid all the volatility, it becomes more crucial for the participants to be extra careful and make sure they do their market research before entering the market.
Risk Disclosure: Trading in cryptocurrencies involves high risks including the risk of losing some, or all, of your investment amount, and may not be suitable for all investors. Prices of cryptocurrencies are extremely volatile and may be affected by external factors such as financial, regulatory, or political events. The laws that apply to crypto products (and how a particular crypto product is regulated) may change. Before deciding to trade in financial instruments or cryptocurrencies you should be fully informed of the risks and costs associated with trading in the financial markets, carefully consider your investment objectives, level of experience, and risk appetite, and seek professional advice where needed. Kalkine Media cannot and does not represent or guarantee that any of the information/data available here is accurate, reliable, current, complete, or appropriate for your needs. Kalkine Media will not accept liability for any loss or damage as a result of your trading or your reliance on the information shared on this website.